It seems a case of literally falling from the frying pan to the fire for the UPFA government this week.
For months now, it has been plagued by the fallout from the report of the UN Advisory Panel of Experts on alleged war crimes in Sri Lanka. In its wake came Britain's Channel 4 video titled Sri Lanka's Killing Fields. The multi-pronged official responses to the issues raised by them, though contradictory, have dominated the local media much more than it should have those abroad.
Now, a bagful of new issues have begun to confront the government. The country's main opposition, the United National Party (UNP) confirmed this week that it would not serve in a Parliamentary Select Committee (PSC) to formulate a package of proposals to address Tamil grievances. Earlier, the Janatha Vimukthi Peramuna (JVP) said it rejected the government's call and described it as a "delaying tactic".
The government claims that the military defeat of the Liberation Tigers of Tamil Eelam (LTTE) more than two years ago has paved the way for increased Foreign Direct Investment (FDI) and a booming tourist industry. In the case of the former, it is mostly for industries. In the case of the latter, luxury tourist resorts are mushrooming along the coast shooting up land prices. This week, there was bad news for them as well as all other sectors and most importantly all Sri Lankans.
Unannounced power cuts
Unannounced power cuts are being imposed in most parts of the country. Dwindling water levels in hydro reservoirs are said to be the cause. If no rains come on time, these power cuts would become official. Once, Power and Energy Minister Patali Champika Ranawaka declared there would be no more power cuts. On Thursday, he was offering 11 pots of water to the Sri Maha Bodhi in Anuradhapura to invoke the blessings of the gods for rain. The pots of water came from hydro reservoirs in Mousakelle, Castlereagh, Victoria, Kotmale, Randenigala, Bowatenna, Iginiyagala, Samanalawewa, Kukuleganga, Ukuwela and Uda Walawe. Water levels in most of these reservoirs have dropped to disturbing levels. He told those gathered at the ceremony that five thermal power plants, including the two main thermal power plants feeding the national grid had broken down resulting in an interruption of power supply to many parts of the country.
The Minister was honest enough, when honesty is largely lacking in politics, to admit that there has been a breakdown. That is creditable on his part. Alas, his officials lied to the public that the daily power cuts were not the result of dwindling water levels at the reservoirs or other breakdowns. A report elsewhere in this newspaper tells the story of how Sri Lankans have been fooled and misled with lies. Of course, Ranawaka is not the only Minister to prophesy that there would no longer be power cuts. Ten years ago, then Power and Energy Minister Anuruddha Ratwatte declared power cuts in Sri Lanka would be a thing of the past. Then, he was at a ceremony for the installation of a power generation plant at Sapugaskanda. An important question that begs answer is why there is no accountability when there are such break-downs which plunge the country in darkness. Why is the public, the large volume of electricity consumers, kept in the dark? Is there no mechanism for officials to take preventive action or issue warnings of a possible breakdown?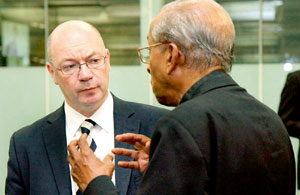 Alastair Burt, UK's Minister of State responsible for South Asia talks to Global Tamil Forum's President Father S.J. Emmanuel.
Why is no action taken against officials who may be responsible for such shortcomings? The frustration of such power outages weighed heavily on a judge who was hearing the White Flag case this week. A power interruption on Monday forced the adjournment of hearings. Judge W.T.M.P.B. Warawewa, a member of the three-judge bench, said colossal amounts of money were being spent on unnecessary things but there was no generator in the court house. He said eight million rupees had been spent to construct a car park at the Hulftsdorp Courts Complex. But in this court complex where 20 to 30 judges were hearing cases attended by lawyers and litigants, the absence of a generator was causing much inconvenience. There were hundreds of decision makers in the state and private sector who could not give vent to their feelings about the colossal loss of human hours and productivity.
It is only five more months to go for 2012, the year targeted by President Mahinda Rajapaksa to ensure every household in the country is provided with electricity. In his speech outside the Presidential Secretariat, after being sworn in for a second term as President on November 19, 2010, he said, "The massive power projects now under construction will ensure that by 2012 every home and family in our country will have electricity. Therefore, the land that was freed from terrorism will by 2010 be a land that is freed of darkness. You will soon hear the hum of industry that is powered by this energy."
Later in his address to the nation on national day, February 4 this year, from the sacred city of Kataragama, Rajapaksa declared, "Similar to the success of our conviction that terrorism could be defeated, we have also shown our ability to build large power stations at Norochcholai, Upper Kothmale and Kerawalapitiya, build massive ports in Hambantota and Colombo, develop major irrigation schemes as in Moragahakanda and Uma Oya, and make Colombo and our other cities clean…."
Norochcholai power yet to generate
The Norochcholai coal-fired power plant built with a loan of US $ 455 million from China and commissioned in March last year, just ahead of the parliamentary elections, is yet to generate the required full output. Ceylon Electricity Board (CEB) engineers say the plant that was to generate 1200 Gigawatts in the dry season is now producing 200 GW or 15 per cent of the output forecast. This, they claim, is the result of outages that have occurred at least four times including the last one on July 3. They also point out that breakdowns result in 20 days of cooling before repair or maintenance work could be carried out. The cooling system uses sea water. Engineers say they are cautious about linking power from here to the national grid for fears that the grid itself could breakdown.
The Ministry of Power and Energy and the Chinese authorities involved in the project have also not seen eye to eye on a number of issues related to the project. One source alleged that concerns expressed by the Ministry had not been heeded -- a charge denied by the Chinese. A Ministry official said Chinese authorities have rejected their appeal to change their technology to accommodate lower specifications for coal. This is because the power plant now uses high calorific coal which is available in commercial quantities in Indonesia and India. A Ministry source claimed that specifications "for the coal to be used was about 6,000 calorific value. It cost 40 per cent more than if coal of about 4,000 to 5,000 calorific value was used." This naturally impacted on the cost of power generated, they argue. The chemical composition of the coal is defined in terms of its proximate and ultimate (elemental) analyses.
The Chinese authorities have complained of an instance where the CEB's former chairman Vidya Amarapala, (who was replaced) refused to post 75 Chinese personnel to run the plant. He had resisted management contracts being given to them for two years reportedly on the grounds that the local staff could be trained. Issues notwithstanding, the second and third phases of the Norocholai power project are now in the pipeline. Work at Kerawalapitiya power project was initially delayed due to a fuel supply dispute with the Ceylon Petroleum Corporation (CPC). However, repairs are now under way to overcome a problem caused by overloading.
In the light of these crises, coupled together with lowering levels of water in the hydro reservoirs, prolonged power cuts, CEB officials warn, would be inevitable. That is if there is no rainfall in the catchments areas. However, the crisis will be a boon to companies waiting to cash in with the sale of power generators. Contrary to boasts by ministers responsible for the subject of power, periodic electricity disruptions and boom time for those marketing power generators seem to come periodically. It is a recurring cycle. In between, the only other thing that happens is increases in power costs to the consumer.
Sub-standard fuel
Another shock in the past days was for vehicle owners. Those who unsuspectingly filled up their fuel tanks in a number of stations were in for a rude shock. Their engines began to misfire or seize. Most found their fuel motors out of commission. Fuel station owners said their pumps were damaged. This was all the result of contaminated fuel. Some 20,000 tons of refined fuel, imported from Dubai, were found to be sub-standard and mixed with ethanol. The customary practice of testing the fuel before it is released for public use had not been followed. At first, Petroleum Resources Minister Susil Premajayantha blamed it on Fuel Stations. He said they had waited till their stocks hit the bottom of their tanks where there was water.
As more and more motorists complained, Premajayantha, a senior minister in the Rajapaksa administration, was forced to eat his words. It came to light that the fault was not with fuel stations but with poor quality fuel ordered after an unusually hurried tender by the Ceylon Petroleum Corporation (CPC). The supplier who bid successfully, it is pointed out, is not the lowest. His Ministry soon announced that a help desk with three different phone numbers has been set up to take complaints from the public. By yesterday, nearly 900 complaints have been received from motorists in different parts of the country. One motorist said he spent Rs. 155,000 to clean his petrol tank and replace a fuel pump of his brand new car. Another had paid Rs 55,000 to attend to a similar problem. Among those affected were tourists returning to the Colombo airport after a tour of Sri Lanka. Some were stuck along the Negombo road.
Trade unions in the CPC have repeatedly alleged widespread corruption in their organisation and complain that the calls for probes had gone unheeded. In this backdrop, Titus Jayawardena, Secretary to the Ministry of Petroleum Resources, was moved out of his post. Like in the case of the looming official power cuts, the government has not chosen it fit to issue a statement on what happened so the public could be kept informed. The practice often is to point the finger outside and not inside. A story on the chaos caused by sub- standard fuel appears elsewhere in this newspaper.
Arsenic content in pesticides
Another issue is the allegation that there was a high arsenic content in pesticides causing a serious threat to rice and other food items. A campaign to caution the UPFA government is being carried out by one of its own constituent partners, the Jatika Hela Urumaya (JHU). Its leader, Ven. Athureliya Rathana Thera warned at a news conference that no other government in the world allowed such high permissible limits for use of arsenic in fertilizer -- a serious charge that came despite comments earlier by agricultural experts that there was no danger. A new regulation in this regard, he warned, would affect 31,000 varieties of food exported from Sri Lanka. Co-sponsoring the news conference was the National Patriotic Front, a body backed by Minister Wimal Weerawansa.
Such crises have even hit the field of sports. Former Sri Lanka cricket captain, Kumar Sangakkara, declared at Lord's, the mecca of cricket, early this week, "from a volunteer-led organisation run by well-meaning men of integrity, Sri Lanka Cricket has transformed into a multimillion-dollar organisation that has been in turmoil ever since." He was delivering the Spirit of Cricket lecture last Monday. He said, among other matters that, "Players from within the team itself became involved in power games within the board. Officials elected to power in this way in turn manipulated player loyalty to achieve their own ends. At times board politics would spill over into the team causing rift, ill feeling and distrust. Accountability and transparency in administration and credibility of conduct were lost in a mad power struggle that would leave Sri Lankan cricket with no consistent and clear administration. Presidents and elected executive committees would come and go; government-picked interim committees would be appointed and dissolved.
"After 1996 the cricket board has been controlled and administered by a handful of well-meaning individuals either personally or by proxy, rotated in and out, depending on appointment or election. Unfortunately to consolidate and perpetuate their power, they opened the door of the administration to partisan cronies that would lead to corruption and wanton waste of cricket board finances and resources.
"It was and still is confusing. Accusations of vote buying and rigging, player interference due to lobbying from each side and even violence at the AGMs, including the brandishing of weapons and ugly fist fights, have characterised cricket board elections for as long as I can remember. We have to aspire to better administration. The administration needs to adopt the same values enshrined by the team over the years: integrity, transparency, commitment and discipline. Unless the administration is capable of becoming more professional, forward-thinking and transparent then we risk alienating the common man. Indeed, this is already happening. Loyal fans are becoming increasingly disillusioned. This is very dangerous because it is not the administrators or players that sustain the game -- it is the cricket-loving public. It is their passion that powers cricket and if they turn their backs on cricket then the whole system will come crashing down……."
A week ago, Sports Minister Mahindananda Aluthgamage dissolved the Interim Committee of Sri Lanka Cricket amidst allegations of financial mismanagement. That left Sri Lanka, the co-hosts of the World Cup Cricket series with US $ 69 million unpaid. The International Cricket Conference (ICC) that met in Hong Kong issued a directive that cricket administrations have to be free of political interference and must consist of elected officials by June 2013. Aluthgamage, who then offered to clean up SLC, reacted angrily at Sangakkara's remarks. He has called for a full report on the grounds that Sri Lankan players were bound by a contract that debarred them from making public statements. Yet, the story that vote buying and rigging, player interference due to lobbying from each side and even violence at the AGMs, including the brandishing of weapons and ugly fist fights, characterising Sri Lanka Cricket Board elections is now known by anyone and everyone who is familiar with international cricket. So are accusations of political interference and cronyism in cricket, the country's widely played national game.
Meanwhile, as exclusively revealed in these columns last week, the United National Party (UNP) announced last Wednesday that it will not take part in the proposed Parliamentary Select Committee (PSC) to evolve measures to address Tamil grievances. According to President Rajapaksa, the proposed PSC is to be called upon to formulate proposals after the government decided it would not enforce any more provisions of the 13th Amendment to the Constitution. This included the granting of land and police powers to Provincial Councils. "We will not agree or take part in the deliberations as the government is playing delaying tactics. The government should put forward its proposals for us to decide," the head of UNP's Message Committee, Mangala Samaraweera told a news conference.
Addressing the media at the official residence of the Opposition Leader at Sir Marcus Fernando Mawatha, Samaraweera said, "We believe in order to have sustainable peace in the country and in order to develop the country based on the peace achieved, the ethnic conflict should have a meaningful and proper solution. So far to achieve this solution the problem has been the LTTE. During the former regimes of late J.R. Jayewardene, late Ranasinghe Premadasa and Chandrika Bandaranaike Kumaratunga, all attempts to resolve the conflict were obstructed by the LTTE. It did not want devolution within a united country, but a separate state.
"Though the common Tamil man did not demand a separate state, the LTTE believed that there was no other solution. The Sinhala community was not willing to share power. It is on this basis that they interrupted any possible solution. But today the LTTE has been destroyed. It is time that we gave a genuine solution. We should give a speedy solution. During the APRC meeting two proposals were brought by the expert committee. But there are common points in their proposals. Thereafter Prof Tissa Vitharana headed another committee. There were 78 sessions held, and they came out with a 28 paragraph report which was sent to the President. Under these conditions there is no necessity to have a Parliamentary Select Committees to carry out studies. Now the government should be able to put forward a package based on the proposals which are already available with it. After the government puts forward its proposals the UNP can join the discussions. The UNP can point out the shortcomings and make its own suggestions."
On Wednesday when Samaraweera made the statement at a news conference, UNP General Secretary, Tissa Attanayake told the media another story. He said that a decision on whether or not the UNP would take part would be decided only upon the return of party leader, Ranil Wickremesinghe, who was away from Sri Lanka. Despite Samaraweera's pronouncement, this made clear, there was still no formal decision by the party albeit its main policy making body, the Working Committee or its leader. This became even more clearer during a meeting Wickremesinghe had with UN Secretary General, Ban Ki-moon.
Confusion in the UNP
UNP Leader Ranil Wickremesinghe took a somewhat different line when he spoke with the UN Secretary General Ban Ki-moon in New York this week (Please see page 1 story). He told the UN Chief that the UNP had a wide support base among more than fifty per cent of Sri Lankan Tamils who lived outside the North and East. He said their concerns were not so much devolution, but normal democratic rights that were being eroded by the Rajapaksa administration. He said the UNP would decide what position to take vis-à-vis the PSC as a "responsible national multi-ethnic party".
This apparent confusion in the UNP prompted us to ask the UNP Leader on his return what the actual line of the party; is it taking part in the PSC, or not. His answer was that the party would watch and see if the TNA would take part in it, and its decision will depend on it.
President Rajapaksa has made clear that his government now wants the PSC to formulate a political package to address Tamil grievances. This is why he told a visiting high level Indian delegation that remaining provisions of the 13th Amendment to the Constitution (including land and police powers) "and more" would no longer be on offer. He said that he was willing to implement whatever proposals brought forth by the PSC.
It is now clear that two major stake holders in the proposed PSC, the UNP and the JVP, will not be party to the formulation of any political package as of now. That leaves the TNA and constituent parties of the UPFA. This week, the government-TNA dialogue made little progress with the latter still unable to obtain outlines of proposals. Their next meeting has been scheduled for August 4. "Nothing serious was discussed at the meeting. They promised to submit in writing their proposals, but that too was not brought," TNA parliamentarian Suresh Premachandran told the Sunday Times.
He said, "There was also a discussion about the proposed PSC. However, the terms of reference were not given to us or even discussed. He said there is a strong view among the TNA members that they should not take part in the PSC."
Premachandran added, "We also want to know the mandate, the basis on which the PSC is being appointed".
A long postponement of the dialogue, the TNA parliamentarian said, was reportedly because the ministers are involved in the local elections and that they have overseas visits. He added, "Surely for an important discussion of this nature they should be able to find time. You need a maximum of one or one and half hours a week. We are disappointed on this as well"
Contrary to expectations, the appointment of a PSC was not listed in the Order Book for Parliament sittings on Friday. The next sessions will be on July 20. UPFA sources said Minister Nimal Siripala de Silva was still busy formulating the terms of reference of the proposed PSC. TNA's Premachandran says that most of their members are not in favour of the PSC. If the TNA decides not to take part, it would then be an exercise for the UPFA government only.
In this backdrop, there were some significant developments overseas. Main among them is the visit to London by Rajiva Wijesinha MP. Wijesinha first addressed an audience at the Sri Lanka High Commission last Tuesday. The Sri Lanka High Commission said in its website, "A cross section of academics, journalists, opinion makers and members of the Sri Lankan Diaspora in the UK met at the Sri Lanka High Commission in London on July 5th with Adviser to the President on Reconciliation Prof. Rajiva Wijesinha. In his opening remarks, Prof Wijesinha noted that the Darusman Report, (Reference is to the report of the UN Advisory Panel) as well as the selective coverage by Channel 4 of what they had termed 'Sri Lanka's Killing Fields' had contributed to polarization amongst Sri Lankans which inhibited efforts at reconciliation. Such forces, which often worked in tandem, presenting the same biased and often doctored material in different guises, were then used by separatist forces operating outside the country. Prof. Wijesinha's presentation entitled 'Reconciliation in the Context of Channel 4 allegations" also included a comprehensive briefing on post-conflict re-building endeavours……"
Wijesinha was also interviewed on the BBC programme Hard Talk by Stephen Sackur. Here are extracts from the 23 minute interview:
"BBC: Do you believe that it is important to get to the truth of what happened during the closing stages of the war between the Sri Lankan Army and the Tamil Tigers.
"RW: Truth is always important. I think truth sometimes has various connotations which falls at its will. Truth should be confined to facts always bearing in the mind that the future is much more important.
"BBC: Facts are important aren't they? I just wonder why for example it seems the Sri Lankan government, two years and two months after the end of the war still doesn't have any clear idea how many civilians were killed.
RW: I think we have a very clear idea how many were killed altogether.
BBC: How many were killed
RW: The figure I have sought have given, which I said two years ago it is 5,000 altogether
BBC: Let's be clear, we are talking about the final stages of the offensive, five months in 2009 or may be the tail end of 2008 as well.
RW: I think that is the important part, because of course one of the factors I think you should recognize we ourselves are deeply concerned about civilian casualties. I was head of the Peace Secretariat during that period and I would monitor every morning what appeared on the Tamilnet (a website banned in Sri Lanka) and have a report, and if it struck me that there was something excessive I would ask for reports from the Air Force and the Army.
BBC: The problem is that though, nobody regards the figure you have just given me as 5,000 civilians killed as credible. The UN panel set up by the Secretary General reckons that there is credible evidence that 40,000 civilians were killed in the final stages.
RW: I think if you read the UN panel report thoroughly which very few people have done. It was not actually a UN panel report. It was appointed by the Secretary General to advise him on an accountability issue. Unfortunately certain people, including your former Foreign Secretary decided from the beginning that there needs to be a war crimes tribunal. He said in the House of Commons and unfortunately some people sitting on this Advisory Committee also took up that approach. We had evidence that for instance in May 2009 people were applying to sit on a War Crimes Tribunal that the UN was setting up.
BBC: I am sorry. Are you calling into question the integrity of the people sitting on the Panel.
RW: No I am calling into question their judgement. I am also calling into question that they seem to have decided to sit in judgement when that was not what they were meant to do. For instance when Sri Lanka decided that they were not coming to the country the Secretary General said that was fine because they are there to advise me. They protested, they saw themselves as sitting on an inquiry board.
BBC: They clearly felt that not being allowed into the country inhibited their ability to actually investigate what had happened.
RW: Well if the Secretary General thought that it shouldn't, it was not what they were appointed for.
BBC: The Secretary General was not doing the investigation, but they were. They were all highly credible people. To go through the former Indonesian Attorney General, a South African lawyer who sat on the Truth and Reconciliation Commission, and one of America's leading lawyers Steven Ratner.
RW: Steven has written accusing the Sri Lankan government of being an apartheid regime which is complete nonsense - Darusman the former Attorney General, if you remember was the former head of the Indonesian Human Rights Commission and at that stage he did not allow investigations to many things and since then taken up, let's say a very remarkable active career working for the UN. But let us say that they are sincere people, but you have also to recognize the fact that there is a human rights industry and seems to look at things from a particular perspective not the political positions.
BBC: You can call into question the ability of their findings, but there is a problem for you at the moment. The UN panel and the video evidence all point in one direction. To quote the UN panel "The conduct of the war represents a grave assault on the entire regime of international law and there is the video evidence to back that suggestion".
RW: Well rather I think you put the cart before the horse. I don't know whether you heard of that someone got a second copy of the paper to make sure the first said was true. This is what really we have got. If you go through the "Darussman report" a lot of it is based on two sources, one is the Channel 4 material because of a lot of things they say without saying from where it came from, the second lot of things were taken from a book by a man named Gordon Weiss who worked for the UN in a junior capacity in Sri Lanka and who tends to corroborate what they say. When we say …
BBC: Hang on a minute. Your answers are very complicated. But they are very simple things we should address. The Sri Lankan armed forces shelled hospitals, makeshift hospital, but with Red Cross' very visible locations which have been given to the Sri Lanka Army by the ICRC, we know that is a fact.
RW: I have with me the documents I collected. You thought you cared for the civilians, I did as well. I got these reports every day and if you look at the number of times that the Tamilnet alleged the number of times a hospital was shelled it could not exist at all. During January, the Americans I thought gave us very well-constructed questions. They actually helped us by saying that we had reports that these areas were shelled but our aerial photographs showed it was intact………"
BBC: You have refused to acknowledge culpability regarding the shelling of hospitals even though you have accepted that shelling at hospitals took place. Do you also refuse to accept culpability when it comes to the images of detainees, prisoners, being shot, summary executions?
RW: I accepted responsibility for shelling of weapons. Culpability is a different word. You are responsible for shelling weapons. If it falls on civilians there is collateral damage. That is not culpability.
BBC: I said you are not accepting culpability, you are accepting the shelling had taken.
BBC: Summary execution?
RW: If details of any clear allegations are put before us we will investigate it. When Channel 4 first aired the video in August 2009 we asked them for the video. They did not give it to us. When UN's Philip Alston asked them they did not give it to him. He had to get it and it was an altered video.
BBC: When you say altered video, what do you mean?
RW: The video sent by Journalists For Democracy to Alston's experts is saliently different from the video shown by Channel 4…….."
Visit by Wijesinha to Britain
The high profile visit by Wijesinha to Britain, immediately after a similar visit to Australia, and his assertions made abundantly clear the government's official position both with regard to the report of the UN Advisory Panel on alleged war crimes in Sri Lanka and the Channel 4 video. The message is that the government rejects both, the first as a factually inaccurate document intended to advise the UN Secretary General Ban Ki-moon. The Channel 4 video, it now charges, has been doctored. This effectively shuts the door for any investigation, either domestic or international as demanded by some countries. This is despite two factors notwithstanding.
One is the upcoming final report of the Lessons Learnt and Reconciliation Commission (LLRC) which may address some of the issues in focus. Here again, it would be without any formal recognition being given to the UN expert panel's report. The other is the voluminous report still being prepared for the UN Secretary General Ban Ki-moon. Though not a direct response to the report by the UN Advisory Panel, the government document deals at length with pre and post war developments. Several state agencies including intelligence organisations are contributing to this report. Periodic conferences are being held to knock it into shape.
Also on Tuesday in London, 39 British parliamentarians were among those who attended an event hosted by the All Party Parliamentary Group of the House of Commons for Tamils. It was arranged by the Global Tamil Forum in a building in the House of Commons. A statement by the All Party Group said, "Speaking on behalf of the Government, Alistair Burt MP, Parliamentary Under-Secretary of State for the Foreign and Commonwealth Office, emphasised that reconciliation and long-lasting peace in Sri Lanka could only be achieved through a credible and independent investigation into the allegations of war crimes committed during the final stages of Sri Lanka's military conflict.
"The Parliamentary Under-Secretary of State for Business Innovation and Skills and former Liberal Democrat Foreign Affairs Spokesman, Edward Davey MP, reiterated his support for the European Union's on-going withdrawal of GSP+ trade concessions with Sri Lanka, in light of the poor human rights situation on the island. He gave his assurance that he would continue to work with the Tamil community in the UK to further the case for justice and peace in Sri Lanka. He also called on building an international coalition to mobilise international support for a political solution in Sri Lanka.
"Emma Reynolds MP, Shadow Minister for South Asia, stated that there should be an international element to the investigations into the allegations of war crimes, in order to ensure a credible and transparent accountability process. Having visited the island in October 2010, Ms Reynolds said she had come away with a number of great concerns regarding the resettlement of displaced people and the treatment of arbitrarily detained alleged former combatants in Sri Lanka's rehabilitation centres….."
These developments come in the backdrop of another event -- the screening of Channel 4 video Sri Lanka's Killing Fields both in Australia and India this week. In Australia, the ABC network, ignoring a request from the Sri Lanka High Commission in Canberra, screened the video in the widely viewed Four Corners programme. The move prompted Australia's Foreign Minister (and one time Prime Minister) Kevin Rudd, who saw the video, to tweet that an "international investigation should be conducted into allegations."
Last Thursday, the Australian Senate unanimously adopted a resolution moved by Greens leader, Bob Brown. The five point resolution notes that "Sri Lanka's Killing Fields" aired on Four Corners on 4 July 2011 contained further shocking images of alleged war crimes committed during the civil conflict in Sri Lanka." It "calls for allegations of war crimes committed by the Government of Sri Lanka and the LTTE to be investigated and verified." It also "urges the Australian Government to press the government of Sri Lanka to take steps for meaningful accountability in Sri Lanka for alleged violations of international human rights and humanitarian law."
In India, Headlines Today and Aaj Tak (TV networks belonging to the India Today group) screened the Channel 4 video Sri Lanka's Killing Fields last Thursday, Friday and Saturday. The Indian Communist Party National Secretary D. Raja said in a statement thereafter that his party would call upon the central government to play a "more proactive role" on the issue of Sri Lankan Tamils. On Friday night, the TV network picked a select group for a discussion on a programme titled Centre Stage and hosted by Rahul Kanwal, Executive Editor. Among the participants were Abhishek Manu Singhvi, spokesman, Congress Party, M Thambi Durai, MP, AIADMK, Sharat Kumar, MLA (film star), David Miliband (recorded), Mark Toner, spokesman, US State Department (recorded), Maj. Gen. Ubhaya Medawela, Sri Lanka military spokesman (live from Colombo), and Dr. Ezhilan Naganathan, activist. The video link to the Congress Party representative failed. Others directed a series of questions from Major General Madawala.
In the past, an Indian network screening such a video would have been unimaginable. However, this time it has not only been broadcast throughout India, but more opinion building against Sri Lanka is to be carried out. Tamil Nadu Chief Minister Jeyalalithaa Jeyaram is to be interviewed next week on her impressions of the Channel 4 video. When the video was screened for the first time, one of the reporters of the TV network saw the programme with a Tamil family living in Bangalore. Later, he was to report on the critical views of the family. Plans are afoot to screen the video to different groups in Chennai.
Parliamentarian Wijesinha has declared war in London with Sri Lanka's opponents after articulating the government's position. The showing of the Channel 4 video in Australia and India has caused ripples against Sri Lanka that could increase to stormy proportions. With that, there is little doubt that many challenges lie ahead for the government.
Comments

From : raj
Just appointing a commission will not save us from war crime
accusations or resolve all the problems.
From : ken dan
Don't worry about these white tigers. They are all in the pay of LTTE.
Hard Talk is produced by LTTE money and the 39 British MPs were all
given a yacht each as gift from the LTTE.
From : chandran
For how long can the Sri Lankan government hoodwink the world. During
the final stages of the war, despite large scale demonstrations by
Tamils world over, the truth was hidden or ignored.
It is time to bring these criminals to book and find a just and
permanent solution to the grievances of the Tamils. This is a duty and
obligation of the International governments.
From : Saro
As the real truths about this government's continued deception on
accountability issues and resolution of the ethnic conflict is known
to the outer world a firm stance for instituting an international
investigation will become inevitable.

From : ella
The CPC became notorious with the hedge fund deal that made us lose a couple of milions. There was an outcry resulting in the resignation of the Chairman who went scot free. This is what had happened in the past and looks as if history is repeating itself. Now with the import of
sub standard petrol the Secretary, who was the acting Chairman, has filed papers for retirement and is likely to live happily ever after.

The Minister is scratching his chin without a reasonable excuse. It is time to punish these crooks if we are to prosper as envisaged. The ex captain's remarks are rife with truth and has to be considered in that light and those who packed their bags and went home should be brought to book to make the cricket loving public cheer the team yet again.

Channel 4 producers and the team were in for a rude shock when major General Shavendra Silva confronted them and threw out an open challenge to reply him within 48 hours , which they never did for it was obvious that it was all a fictious drama telecast as a movie.