Sri Lanka's potential to offer a variety of film locations and recreate different parts of the world was proved when the two major international movies 'The Emden Men' and 'Midnight Children' completed their principal photography in Sri Lanka with the production support of location service provider and line producer, The Film Team recently.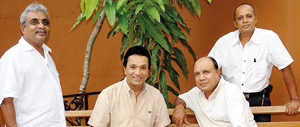 The Film Team
The Film Team provided the location for German director Berengar Pfahl's 'The Emden Men' (Die Manner der Emden) which was based on the true story of 50 German sailors who went on an incredible journey of 10.000 miles in 1914.
This breathtaking real-life odyssey slated to be released internationally in February 2012 was shot at a location in and around Colombo, Galle, Dikwella and the Tele Cinema Village at the Ranmihithenna.
According to the story 50 men have to cross infinite stretches of sea and desert, avoid enemies, find allies and finally make it home to Germany, when their ship was sunk during the first world war, in the Indian ocean.
Sri Lanka was one of the locations selected from among Malta, Tunesia, Greece and Germany. In order to create a near actual structure of the rotten half wreck ship called 'Ayesa' the Film Team transformed a luxurious yacht named 'Raja Laut' brought from Malayia with false wooden exterior.
In addition to provide location, a group of talented artistes like Bimal Jayakody, Rajah Ganeshan, Geetha Rajini, Sulochan Weerasinghe and Roshantha Weerawansa were also got opportunities to play in the film.
'In January 2010 internationally renowned Set Designer and the Production Designer, Errol Kelly received the invitation from Berengar Pfahl with whom he had worked earlier to shoot parts of a WWI epic "The Emden Men" and the director was looking at filming scenes in Islands off Sri Lanka,' said Mr. Gopi Dharmaratnam, Marketing Director of The Film Team.
Pleased with Errol's competence to select suitable locations which could be converted to cover a major part of the film, the director decided to make the movie in Sri Lanka. Subsequently, Errol built a British Radio Station like in the Cocos islands on a school playground in Dikwella.
Director's next worry was to take some scenes that had to be done in the cargo hold and cabin of the ship, and this was a problem as these places were not proper working environments for filming.
"Errol who is like a silver bullet ready to offer anything that filmmakers required took Pfahl to National Tele Cinema Village studio at Ranminithenna and showed the ability to build the interior cargo hold and cabin sets at the studio there," said Mr. Dharmaratnam. Not only the studio scene but the film also captured some of the exterior scenes on the street sets at Ranminitenna marking the first International Motion Picture to be done at the National Tele Cinema Village.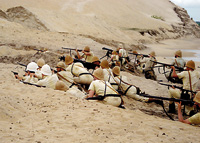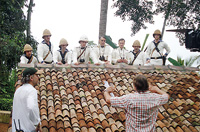 scenes from 'The Emden Men'
Under Errol's direction, a number of Sri Lankan art directors and set designers like Welegedera Ranasinghe and Lal Harendrenath joined this project. Among the leading Sri Lankan team members who assisted in the movie was Prasad Pereira who played the role of key Assistant Director.
Convinced by Errol's ability and the country's cinematic locations, the filmmaker decided to do some additional scenes in Sri Lanka, which originally had to be done in Tsingtao China, Padang Port in Indonesia and a railway station that had to be done in Marseilles, France.
Immediatly after 'The Emden Men' which was controversy ridden the Canadian based filmmaker Deepah Mehta's latest film 'Midnight Children' was shot based on Salman Rushdie's prize winning novel.
The making of a movie out of what was called an unfilmable novel was a real challenge for Deepa and producer David Hamilton and the script required 62 different locations with a staggering scope, location been from Karachi to Kashmir to Old Delhi to Bombay filming period from 1917 to 1974. Deepa's answer to this was Sri Lanka where she did the Academy nominated 'Water'.
In many ways, Colombo made a better Mumbai than the real city – more of the century-old architecture has survived here, while India's frenzied building boom has swallowed much of what Deepa Mehta was looking for in Mumbai.
She also was confident that the world renowned production designer, Errol Kelly would meet her expectations and deliver the goods as he did in 'Water'. Finally the required 62 different locations were established in and around Colombo including the Mayor's House, Wesley, St Joseph's and St Thomas's Colleges, The Welikada Prisons, numerous streets in Colombo, the old Town Hall in Pettah, Kelanimulla, Maradana railway station and Police Park.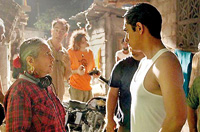 Deepa Mehta directing 'Midnight Children
In addition a slum set was built from scratch in Applewatte and the film which was shot for 70 days from February 5 this year was fully supported by the Sri Lanka Army and Air force together with the Police for some very big scenes.
In addition to the foreign cast including many well-known names from Indian cinema Shabana Azmi, Seema Biswas, Rahul Bose, Anupam Kher, Shriya Saran, Soha Ali Khan, Rajat Kapoor and Ronit Roy, a number of actors and actresses from the Sri Lankan theatre acted together in a large number of additional cast.
"There were nearly 2000 Sri Lankans altogether that played a part in this film," said Ravindra Randeniya, chairman of the Film Team. "With these projects we were able to expose our own talent to the international cinema, while keeping to the international professional standards," Gopi Dharmaratnem said.