Heat and rain. We sigh in relief when the welcome showers come. No thought, however, is given to the spectre that arises with intermittent rains – the spectre of dengue.
Disease and death spread by a tiny insect, Aedes aegypti and Aedes albopictus, the hardly visible mosquito with white dots on its legs which is more likely to bite in the morning between 6 and 10 and early afternoon-evening between 3 and 6.
Remember to do a round of your house and surroundings at least once a week, keeping a sharp look out for all those small places or things which may have even a few drops of water, for the dengue mosquito is a container-breeder which relishes clean water unlike other mosquitoes, MediScene understands.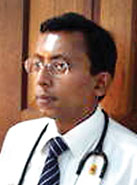 Dr. LakKumar Fernando
This mosquito loves yoghurt cups, rigi-foam boxes, polythene wrappers, flower vases, bird baths, the pots near the front door with those white jasmines floating as well as gutters with leaves stuck in them making room for small water collections and potted plants with leaves that may hide drops of water at their base.
The other stuff to look out for are the half-peel of a rambutan, a discarded thambili, a tyre kept as a weight on roofing sheets or even a large leaf blown from a tree which can become a tiny vessel. All these can harbour the eggs of this dealer of disease and death.
The modus operandi of the mosquito is to feel the side of any smooth-surfaced container and lay eggs on that surface even with a few drops of water. Once it lays eggs on the surface, just above the water-line of a container carrying clean water, even if the water evaporates, the eggs do not die. When a drop of water falls on the eggs, maybe even a year later, they will hatch releasing the larvae which grows into the adult mosquito, it is learnt.
Yoghurt cups and rigi-foam boxes should be crushed and put into garbage bags and tied up and not left in the open and not only should the water in a flower vase, bird-bath or pot be thrown out but the side of those vessels scrubbed to destroy the eggs.
Prevention is the best, stresses Consultant Paediatrician Dr. LakKumar Fernando of the Gampaha General Hospital, pointing out that a majority of patients he has treated had contracted dengue from their homes itself or the very near neighbourhood.
If, however, a person has fever for more than two days, it is advisable to seek medical attention. Time is of essence, warns Dr. Fernando, adding, "Don't delay in taking the suspected dengue victim to hospital."
When a child is having fever it is important to check the temperature with a thermometer and record it along with the timings to help the doctor.
The correct dosage of paracetamol and no other drug should be given and sponging, between these doses done with tap water and not cool or iced water. Rest is also very important--a child with fever should not be sent to school. Adults should not go to work, he says.
Both Paediatricians and Physicians are well-equipped in handling all strains of the dengue virus after groups of doctors learnt from the bitter experiences of Thailand which has had a long battle with this disease and come up with the most effective way of managing it.
Immense had been the benefits due to the discussions they had with two Thai dengue experts, Prof. Suchitra Nimmannitya and Prof. Siripen Kalayanarooj at the WHO Collaborating Centre for Case Management of Dengue Fever (DF), Dengue Haemorrhagic Fever (DHF) and Dengue Shock Syndrome (DSS) at the Queen Sirikit National Institute of Child Health in Bangkok.
Later, the Guidelines for Diagnosis and Management were introduced by the Health Ministry and all information can now be accessed on the website of the Epidemiology Unit (www.epid.gov.lk).
Early diagnosis life saver
Early diagnosis and close monitoring with proper management are the only way to stop men, women and children dying of dengue, MediScene learns.
"Monitoring any critical or vital change and dealing with it, is crucial and dengue deaths are preventable," underlines Dr. LakKumar Fernando. He should know because he and his team at the Gampaha Hospital's Paediatric Ward have snatched many a child from the brink of death.
As healthy and well-nourished children and adults seem to be more vulnerable to dengue, don't be misguided by impressions if they walk into hospital, he advises his colleagues, explaining that they can go into shock very soon and succumb.
There are four strains of dengue -- DEN-1, DEN-2, DEN-3 and DEN-4, anyone of which can cause both Dengue Fever (DF) and Dengue Haemorrhagic Fever (DHF).
Infection with one strain provides immunity only to that strain, MediScene understands, while if a person gets another strain, the antibodies created in the body by the first infection will make the second more severe.
The key to saving lives lies in distinguishing between the "twins" of DF and DHF as they look very similar in the first two days of illness. The main pointer to whether it is DF or DHF is whether there is plasma leakage or not.
There is NO plasma leakage in DF, emphasizes Dr. Fernando, explaining that DF will never end in DHF. A major danger signal of DHF is plasma leakage from the blood vessels to body cavities such as the abdominal cavity and the pleural cavity. Objective evidence of leaky capillaries must alert the doctors to the fact that it is DHF, as there is no plasma leakage in DF.
While a drop in the platelet count will direct the doctor towards the diagnosis that the patient may be suffering from dengue, the haematocrit count and ultrasound or X ray evidence of fluid in the chest (pleural cavity) or abdomen (peritoneal cavity), essentially need to be taken into account when identifying DHF, the dangerous form of dengue. Tests like serum albumin and cholesterol level can also help when it is difficult to determine whether it is DF or DHF, MediScene understands.
DHF has three important and distinct phases and that is why it is important for dengue patients to be monitored "closely and intensely" – not two-hourly but half-hourly with detailed charts being kept by both the junior doctors and the nurses. The Paediatrician or the Physician needs to be accessible and alerted IMMEDIATELY if there is a change.
The three phases are: Febrile, Critical and Recovery.
Febrile phase – The sudden onset of high fever lasting between 2-7 days. There may be flushing of the face, skin redness or rash, muscle and joint pain and headache. Some may also develop a sore throat, infected pharynx and conjunctival (eye) infection. Nausea and vomiting are common. These features will be present in both DF and DHF, with a tender liver indicating a tendency towards DHF.
Critical phase – Lasting between 24 and 48 hours, this phase comes towards the end of the febrile stage. Almost never occurring in the first two days of the disease, the critical phase could grip the patient any time from the 3rd day, commonly on the 4th or 5th day or even as late as the 7th day. At this stage, the fever may come down rapidly but the patient's general condition will not improve, unlike in other viral infections. Sometimes he may improve if there has been minimal or no plasma leak. However, the leakage of a large volume of plasma will make the patient critically ill.
Recovery phase – Lasts 3-5 days but may be longer in adults. The plasma leakage stops and the fluid that leaked out during the critical phase is re-absorbed. The patient's well-being and appetite improve. The movement of blood stabilizes and urine output starts increasing. May develop a recovery rash which has white areas on a red background, along with generalized itching. A rise in the platelet count will be preceded by a rise in the white blood cell count.
Will the patient live or die and complications will depend on how well the Paediatrician or Physician has managed him during the 24-48 hour "critical phase", it is learnt.
His life is in the palm of the doctor, says Dr. Fernando, giving a day-by-day management plan.
Day 1 & 2 -- the patient should be hydrated, reversing any losses due to vomiting. If there is vomiting, he should be given fluids only to maintain the usual body functions. It is unlikely that the patient will get into the critical phase.
Day 3 -- if the patient has DHF, don't give large amounts of fluid freely to prevent an overload. It is better to restrict fluids to some degree only to maintain a "just" adequate urine output.
CRITICAL STAGE -- A platelet count of less than 100,000, an increase of haematocrit (packed red blood cells in a proportion of blood) by 20%, low albumin or cholesterol detected by frequent blood tests and/or the presence of fluid in body cavities detected through X-rays and ultrasound scanning will alert the doctors.
Fluid leakage will reach a peak after 24 hours, slowing down thereafter and stopping after 48 hours. This is why it is of utmost importance to gauge the exact start of the leakage and administer the fluid spread across the 48 hours. It is also essential to work out the total fluid volume that should be given to each individual patient according to the ideal body weight.
If the patient comes in late after leakage has started and in shock, it may be an indication that leakage has already gone on for about a day. Then fluid intake should be spread across the next 24 hours only.
Electrolyte solutions such as Jeevani should be given orally without sticking to plain water and those in the critical phase put on intravenous fluids at a minimal level as well. Close monitoring is essential, because as the patient peaks the leakage stage and shock is detected, the fluid infusion rate should be increased rapidly. If not, the patient will die.
As many patients appear conscious and very alert until the last stage of shock, health personnel are gulled into believing that they are doing well. To see the early signs of shock, pulse and blood pressure need to be measured frequently.
Shock comes in different forms, says Dr. Fernando. The patient may become restless briefly before going into shock and becoming pulseless needing quick action to resuscitate him.
Whenever pulse, blood pressure or urine output drops or haematocrit increases the rate of infusion may have to be increased but once they stabilize the rate should be reduced, preventing a fluid overload, he reiterates.
The four essential criteria in the clinical definition of DHF are
Fever or recent history of acute fever
Haemorrhagic manifestations
Low platelet count – 100,000/mm3 or less
Objective evidence of leaky capillaries – elevated haematocrit (20% or more over baseline), low albumin/cholesterol and pleural or other effusions