The issue regarding the National Flower is gaining concern. As correctly pointed out by Prof. Deepthi Yakandawala of the University of Peradeniya (Sunday Times, November 7, 2010), the picture used popularly to depict the National Flower is wrong, while its scientific name is correct.
'Manel' (Nymphaea nouchali)
The National Flower of Sri Lanka is 'Manel' (not 'Nil-manel'), scientifically named as Nymphaea nouchali which is also referred to as Nymphaea stellata in some texts (synonym). Although the National Flower was officially adopted in 1986, no picture was associated with the name, "Manel'. This has led to the use of the wrong flower to depict the National Flower in the government's official website, stamp issued to commemorate it, posters in Sri Lankan missions abroad, the worldwide web and many books on the flowers of Sri Lanka (Sunday Times, January 9, 2011).
The National Atlas of Sri Lanka (1st Edition published in 1988 by the Survey Department - Chapter FLORA by A.H.M.Jayasuriya, pp. 52-53) clearly mentions the National Flower of Sri Lanka with a colour photograph of the correct species (This flower was photographed in February 1988 and the location was the drying up and muddy periphery of the Hinukkiriyawa wewa between Habarana and Kekirawa). The 2nd Edition of the National Atlas (2007) also mentions the National Flower of Sri Lanka, although the original photograph was not reproduced (Chapter FLORA by A.H.M Jayasuriya, p.76).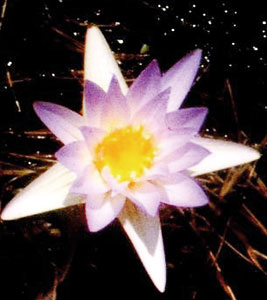 The National flower, 'Manel' , scientifically named Nymphaea nouchali
An early aesthetic depiction of 'Manel' flowers, albeit without technical accuracy, is found among the Sigiriya frescoes (5th Century). 'Manel' flowers have been painted on the hairdo of some female figures ('apsaras' or celestial nymphs) and on floral salvers held by them [Central Province Biodiversity Profile and Conservation Action Plan by A.H.M.Jayasuriya, published by the Ministry of Environment & Natural Resources, pp. 83-84 ( 2008)].
Evidently, the earliest botanical illustration (line diagram) of Nymphaea nouchali appears in Van Rheede's Hortus Malabaricus: Vol. 11, plate 27, p.53. (1692). This is an illustrated inventory of plants growing in and around Cochin, Kerala State, India prepared by this Dutch Commander stationed in India at that time. Botanical names, such as Nymphaea nouchali, did not exist then and the illustration also had a local Malayalam name 'Cit-ambel' (meaning entangled water-lily). However, today it is known by 'Ambel' in Kerala.
One of the earliest botanical paintings of the flower (named as Nymphaea stellata and with its English name, Star water lily) appears in Curtis's Botanical Magazine: plate 2058 (1819). The flower was drawn from a plant cultivated in early 19th Century in UK, possibly in the Chelsea Botanic Garden. A paper titled Wild Flowers of Ceylon by J.E. Senaratna published in Tropical Agriculturist Vol. 110, p.289 (1954) has an accurately coloured painting of 'Manel' (named as Nymphaea stellata). A recently published book by J & J de Vlas [Illustrated field guide to the flowers of Sri Lanka, p. 84 ( 2008)] gives the correct name and a colour photograph of Nymphaea nouchali.
The species occurs naturally in Sri Lanka, India and extends to New Guinea. Variation in flower colour and size has been noted by many botanists. J.D. Hooker has even recognized three taxonomic varieties occurring in India based on flower colour and size [Flora of British India, Vol. 1, p.114 (1875)]. Such varieties are also believed to occur in Thailand (see elsewhere). With reference to Sri Lankan 'Manel', Henry Trimen (1893) and M.D.Dassanayake (1996) also have noted these variations. This warrants close research on different populations of this species to see whether such varieties do occur in Sri Lanka.
'Nil manel' is possibly Nymphaea caerulea, an exotic species that seems to have been introduced (illegally) to Sri Lanka in the late 20th century. Incidentally, the National Botanic Gardens were not instrumental in this introduction. This is known by names such as Blue water lily, Blue lotus, Egyptian lotus and Blue lotus of Egypt and it is native in Egypt extending to Central Africa [Tropica by A.B.Graf, p. 1041 (1978)]. Its species name, caerulea appropriately indicates the colour of its flower [caeruleus means blue, especially the blue of the Mediterranean sky at midday [Botanical Latin by W.T. Stern (1966)]. Nymphaea caerulea had been regarded as the National Floral Emblem of Egypt [Tropical Planting and Gardening by H.F. Macmillan, 6th Edition, p.601 (1991)]. However, Nymphaea lotus (Egyptian white lotus or White lotus) is now considered as the National Flower of Egypt [http://www.angelfire.com/journal2/flowers/pcd11.html].
J. & J.de Vlas [Illustrated field guide to the flowers of Sri Lanka (2008)] has given the scientific name, Nymphaea nouchali variety caerulea, to the Blue water lily ('Nil manel') that occurs in Sri Lanka. This name cannot be accepted as no such variety or name exists, and the correct name for this plant is Nymphaea caerulea.
Due to its relatively intense blue-purple, larger and showy flowers, the exotic 'Nil manel' apparently has displaced the native and relatively less showy 'Manel' in the public mind and in official acceptance / use as evidenced by its appearance in so many official documents.
Selection of the National Flower of Sri Lanka
The cabinet decision to declare the 'Manel' (not 'Nil manel') flower as the National Flower was taken on February 26, 1986. This was based on the recommendation of a committee (panel of judges) that reviewed the entries received from the public as the result of a request made by the government through the media. However, the notes annexed to the recommendation made by the committee indicate that an element of confusion existed in that impressions of both 'Manel' and 'Nil manel' were mingled in their minds. Nevertheless, the final recommendation ('Manel' flower as the National Flower) was clear enough.
There was another flaw in that the selection did not meet one of the eight criteria that the committee itself had formulated to select the National Flower ["it was decided to avoid those species already used by other countries as national symbols"]. Evidently the committee was not aware of the fact that Nymphaea nouchali had been adopted as the National Flower of Bangladesh in 1971 (http.www.angelfire.com/journal2/flower). The species is locally known as 'Shapla' in Bangladesh.
Some recent observations on Thai water lilies have indicated that Nymphaea nouchali, also native in Thailand and furthermore exists in two varieties (cyanea and versicolor), evidently hybridize (by a genetic process known as introgression) with a water lily complex, known as 'Suthasinobon', that has genetic links with an introduced South African species Nymphaea capensis.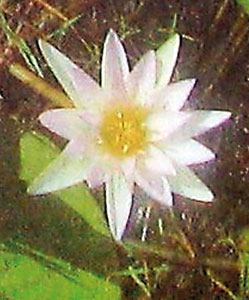 The National Atlas depiction of the correct flower
The result is the origin of a large number of intermediates or 'mongrels'. Since 'Suthasinobon' is a beautiful plant that is highly adapted to various conditions in Thailand, it has been planted in ponds and ditches almost everywhere. Its brightly coloured and fragrant flowers attract bees that can travel far and visit native water lilies including Nymphaea nouchali.
As a result, hybridization (introgression) is taking place even in remote natural areas which has led to the loss of native water lily species due to competition with vigorous 'Suthasinobon' and its hybrids [The role of 'Suthsinobon' water lily complex in introgressive hybridization by N.Chomchalow & N.N.Chansilpa in Journal of the Assumption University, Vol.11, p.67 ( 2007)].
At a time that numerous ornamental plants are illegally introduced to Sri Lanka, a favourite source being Thailand, the survival of our aquatic species such as 'Manel' will be in imminent danger.
Another important threat is the spread of invasive aquatic plants, such as Salvinia, 'Japan Jabara' and 'Hambu' etc. in habitats in which 'Manel' grows. Pollution of water bodies and other development pressures also contribute to the diminishing populations of our National Flower.
A suggestion
If the 'Manel' flower is to be retained as the National Flower of Sri Lanka, the picture of the correct species has to be used in all future publications, as advised by Prof. Yakandawala. The name 'Nil manel' should not be used as it refers to an exotic species of Nymphaea.
My sincere thanks are due to Dr. Siril Wijesundara, Director General, Department of National Botanic Gardens for providing me with access to the libraries of the National Herbarium and Peradeniya Botanic Garden and for useful discussions held with him.
(The writer is a Senior Consultant, EML Consultants (Pvt) Ltd, Colombo, former Director, Plant Genetic Resources Centre, Department of Agriculture, Peradeniya, and former Curator of the National Herbarium, Department of National Botanic Gardens, Peradeniya)