It is the oldest psychiatric treatment still in use. First administered in the 1930s, it is still considered the most effective treatment for some mental disorders, although the disturbing film, 'One flew over the cuckoo's nest' generated much negativism.
The mode of administration of what in layman's parlance is "shock treatment" has now changed drastically. It is now given under anaesthesia using strict guidelines, MediScene learns.
Electroconvulsive therapy (ECT) where a current is passed through the brain for a short time works wonders, in those suffering from severe depression, mothers with newborns who go into depression, some types of schizophrenia and for those in a manic state due to bipolar affective disorder, explained Consultant Psychiatrist Dr. Raveen Hanwella attached to the National Hospital in Colombo. On some occasions, it is also used to lessen the effects of Parkinson's disease.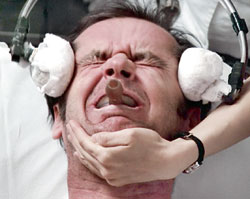 A still from the film, 'One flew over the cuckoo's nest' where ECT was depicted in negative light
It is never used for anxiety disorders, panic attacks or obsessive compulsive disorder, unless complicated by severe depression, it is understood.ECT got a bad reputation because those days it was administered without anaesthesia and the electric current made the patient unconscious, with the convulsions making them fall off the bed and suffer fractures. It was also used as a punishment in mental institutions.
Although no one has deciphered how ECT works to improve the condition of those suffering from depression, Dr. Hanwella who is also a Senior Lecturer at the Colombo Medical Faculty said the decision to give ECT is made only by the Consultant Psychiatrist and not a junior doctor, with informed written consent of the patient or if he/she is unfit to do so, the next of kin being taken.
Once the patient gives his/her consent, the Psychiatrist will specify the dose and how many times a week, whether two or three, it has to be given. A course will generally be six doses, he says, stressing that the patient can withdraw his/her consent at any point.
The ECT is given using sophisticated apparatus. A controlled current to suit individual patients is sent through the brain of the patient after he/she is administered an anaesthetic to last 4-5 minutes. "The side-effects are minimal and may be just a headache or short-term memory loss," says Dr. Hanwella.
While it can be given even during pregnancy or to the elderly, the limitation for others may arise from the dangers that anaesthesia may pose in the presence of other illnesses.
The advantage of ECT is that it works fast as a life-saving therapy because patients with severe depression who may stop eating and drinking can die of malnutrition. There is absolutely no evidence of ECT causing brain damage in adults, he adds.
Be careful with children
When treating mental disorders in children, the Psychiatrist is more cautious about administering ECT because the long-term effect on the growing brain is not known, stresses Dr. Hanwella. ECT should not be given to a child unless really necessary, according to him.
The first shock
Discovered by accident, the electric current which is passed through the brain as well as the resultant convulsions seems to alleviate depression, says Dr. Hanwella, digging into history and relating how an Italian Professor of Neuro-psychiatry Ugo Cerletti who been using electric shocks to produce seizures in animal experiments along with colleague Lucio Bini in 1937 experimented for the first time on a person with a mental disorder they had picked up at the Rome railway station.
The description of the results of the first use of ECT on a person, MediScene found on the web states: "They thought, 'Well, we'll try 55 volts, two-tenths of a second. That's not going to do anything terrible to him'. So they did that. This fellow — remember, he wasn't even put to sleep — after this major grand mal convulsion, sat right up, and said, 'What the f.... are you a……. trying to do?' Well, they were happy as could be, because he hadn't said a rational word in the weeks of observation."