Heard of Amdan? Maybe in school when friends shared a few crude jokes about him. Or maybe he was likened to someone who is tough, manipulative and crafty- someone you wouldn't want to cross. While 'Amdan' is a popular slang word in Sinhala and Tamil language, its origins go far beyond the Indian Ocean; to about a century ago in troubled Germany.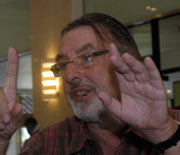 Prize-winning German filmmaker Berengar Pfahl. Pic by Saman Kariyawasam
It was in 1914, when the First World War erupted and the German Navy was a competing overlord of the seas with their monstrous dreadnoughts, battleships, battle cruisers and submarines. Among their fleet of war ships, was a light cruiser. A cleverly designed light cruiser the SMS 'Emden' boasted a band of ruthless sailors. And that's where the bold Sri Lankan ruffian- Amdan, gets his name.
The SMS Emden is particularly known for its deceptive design. While most German cruisers had three funnels, the Captain of the SMS Emden constructed a fake fourth funnel, a distinctive feature of British ships- their enemy. Being well known for its guile the Amdan, shares the attributes of the Emden crew, and of course once rolled off south Asian tongues, 'Emden' came to be pronounced as 'Amdan'. What's truly intriguing is that the SMS Emden's notoriety had spread to Sri Lanka, and in 100 years become so deeply integrated into the languages that its origins have been washed away and it's now a common word in Sinhala and Tamil.
When German filmmaker, Berengar Pfahl, known for his prize-winning movies Britta and Tanja visited Sri Lanka, he was so intrigued that he decided to shoot a film about the SMS Emden here in Sri Lanka. "It is interesting because the idea came from here in Sri Lanka by someone who was talking to me" explains Berengar. "He said, 'he's a real Amdan'. I didn't know this expression in English. I thought it was an English vocabulary I didn't know." Later Berengar during his research found out more about the ship. The stories were fascinating and Berengar chose to tell her final story- her ruin at the Battle of Cocos.
"Fifty people survived in the Indian Ocean while their battle ship was destroyed" he relates. "They were marooned on the island and they tried to go back to Berlin, to Germany. So that was for me an interesting adventure. It is not a war film, it is a film telling the people, how you can survive in a difficult situation; if you have the power and if you believe in yourself. Trust in yourself."
"This film in a way is a new experience [for me], because the story is historical. It happened in 1914 and so we needed a lot of costumes and decorations to create that feeling of 1914. And that is why I decided to come to Sri Lanka, even though the story touches only a little bit on Colombo," he says, adding that in 1914 the British brought their prisoners to Ceylon, and some of them included Germans. "So I decided [to shoot] all these things in Sri Lanka because I find, there are some good old buildings which are renovated and are in good condition and they still have the atmosphere of the colonial time."
The ship met its end at Cocos Island which is south of Sumatra and is quite similar to Sri Lanka in landscape according to Berengar. Having the right landscape, the atmosphere and the colonial buildings , Berenger was convinced Sri Lanka was the ideal location for the shooting of 'Emden Men'.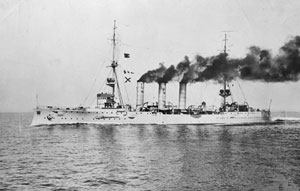 The SMS Emden: Courtesy ozebook.com
The part of the movie that involves Sri Lanka, is less about the SMS Emden and more about historical fact. "The civilian story is fiction, it needs to be a fiction. And this is a story running parallel," Berengar elaborates. "In those days, like England had Hong Kong, Germany had Tsingtao, in China. And Tsingtao is until today touched by German atmosphere and German style, the famous Tsingtao beer."
"So 1914, there were many Germans living in Tsingtao and the German battle boat- the Emden, was placed there, at the basic harbour to take coal, water and so on. And that is why I'm telling this story of the couple- a soldier and a girl who fall in love in Tsingtao. But the boat has to leave and now go to war. And the Germans who are waiting there for the end of the war cannot remain there because the Japanese Army is attacking Tsingtao and pushing away the Germans there."
The young couple is torn apart by the war. The girl and her family try to flee Tsingtao to Germany and the soldier goes aboard the SMS Emden to fight in the Battle of Cocos. The passenger boat the girl and her family attempt to escape in is intercepted by the British Navy, they are taken prisoner and duly brought to Sri Lanka.
"This is a true story in the way that, civilians had to run away from Tsingtao and find a way to come back to Germany and but my story deals with specially that family. So it is a fiction- based on historical truth," clarifies Berengar, having done an immense amount of research for his movie.
The film was shot towards the latter part of 2010 up until January this year (2011) in Galle, Colombo, Dickwella and the Ranminithana studio. Berengar here in Sri Lanka, wasn't able to get a colonial designed boat and had to commission one from Thailand. The boat needed a little work, and the crew had to rebuild the cabin in the studio.
"We constructed that in the studio and made it mobile so that we had the imitation of the movement of the boat and that is still in the studio. It's a nice part. When you go in there you have the feeling that you're really in a sailing boat. And if it starts moving you're looking for the exit because it is a strange feeling," Berengar laughs, pleased with what they had created. The mobile cargo cabin will remain on display for anyone interested in visiting the studio.
Berengar thanks the Sri Lankan service provider team 'The Film Team (Private) Limited', the cast of extras and all those involved in shooting the movie a success. He is currently back in Germany editing and preparing 'Emden Men' for screening at the Berlin Film Festival, in February 2012.