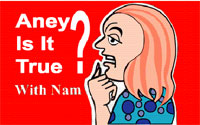 Big Matches are also in the fray these days. A certain school's team has brought in a top bowler to strengthen their outfit. However a consultant who is not happy with the entry of this new lad has in a way of punishment, sent the lad to the outfield, wearing pads and had enjoyed the sight of this top wicket taker, fielding in this unusual outfit!
Super covers
Covers to protect the wicket are costly items. However 32 covers have been brought for an ongoing big contest that is on now. Normally the covers cost Rs. 50,000 but these new covers cost around Rs. 132,000. They certainly must be super duper covers!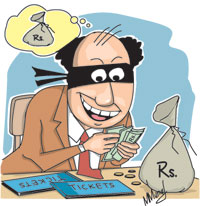 Private call
There is a standard rule to say that umpires are not allowed to use mobile phones at matches. However an umpire who used the mobile during a recent tour came under close scrutiny by the ICC. What with match fixing and strange things going on and off the field, one cannot be too careful whilst taking calls, even in a private capacity.
The big question
Still on the same subject, a guy who had bought 500, Rupees 50 tickets (don't ask how), had managed to sell these tickets for Rs. 1000 each for a big game where the local team was featured. He netted a profitable income and is now smacking his lips in anticipation of further easy pickings. When obtaining tickets, specially now, it is like climbing Mt. Everest, how come this particular guy managed to clear 500 of them. This is the big question?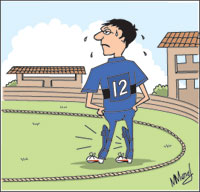 Food not for all
Umpires are a private lot. They are not allowed to mix with others at games. However a set of umpires were taking a break at a room in a hotel were disturbed by an outsider who also happened to be one of the said lot. Now another rule has been introduced stating that in no way can anyone barge into private meetings of this nature and nor can they help themselves to the food that is available at these private meetings!
Upwards push
A person who has nothing to do with umpiring is supposed to be in charge of the umpiring lot these days. It looks as if this chap has been given a push upwards by a certain individual who is a big wig in the said circles.
Red faces
The talk is now centered on the big event that is on now. Some urgent uniforms had been sent down from India to be sent to a now famous venue. The uniforms were packed carefully, counted and sent to the far away place. However when the parcel was opened eight of the said uniforms were missing from the original 150 that was sent. The uniforms included trousers, shirts, pouches, caps and rain coats. When the loss was discovered there were several red faces. Now who could turn so low down to pinch these uniforms?