First she raised eyebrows by boasting about her 'ladette' lifestyle of heavy drinking and one-night stands, lifting the lid on her wilder young days. And now the wife of the Commons Speaker has given another racy interview in which she reveals how 'sexy' she finds living in Parliament.
Wrapped in nothing but a sheet with Big Ben lit up outside the window, Sally Bercow told how moving into luxury Speakers House had given her love life a boost. The mother-of-three, who is an aspiring Labour MP, also claimed that her husband's job had led to both her and him being 'hit' on by the opposite sex.
Mrs Bercow, 41, spoke to the Evening Standard's magazine - the same publication where she laid bare her earlier partying lifestyle in 2009.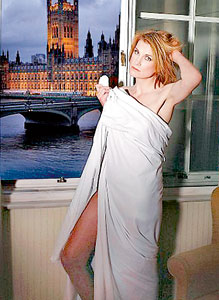 No holds barred: Sally Bercow posing in just a sheet on the front of the Standard
She said: 'The view from Speaker's House is incredibly sexy, particularly at night with the moon and the glow from the old gas lamps. 'When John and I were first courting we used to walk along the South Bank and look at the Houses of Parliament.
'I never realised how sexy I would find living under Big Ben with the bells chiming.' Mrs Bercow told the magazine that her husband's election to the plum role, which followed Michael Martin's eviction, has made him a hit with the ladies.
'Politicians as a breed aren't particularly sexy but I think politics can be sexy because power is an aphrodisiac,' she said. 'Since John became Speaker, the number of women who hit on him has gone up dramatically. I don't get jealous because more men have hit on me, too.
'I think it's hilarious that I have been referred to as the Carla Bruni of British politics.' Mrs Bercow claimed today that she had done the photoshoot as a 'bit of fun' and that it was 'meant to be a Valentine thing'. Mrs Bercow, who lost a bid to become a Labour councillor last year, has come under fire for using Twitter to attack members of the Government.
She has previously branded George Osborne 'mental' and William Hague a 'selfish husband'.
She also attacked members of the Cabinet over their personal wealth and suggested all Conservatives refuse to use the NHS.
Courtesy Daily Mail, UK