Prime Lands (Pvt.) Ltd having completed one and a half decades of memorable service to the country has won the admiration of the customers and envy of the competitors. Several recent projects launched by Prime Lands (Pvt.) Ltd have added some more shiny feathers to Prime Lands' cap.
The record of the recent past and the history of more than 15 years, have confirmed the fact that Prime Lands (Pvt.) Ltd is the Real Leader in the Real Estate Industry, who is now ready to launch yet another project by the name "PRIME EXCLUSIVE"
'Prime Exclusive' comprises of a 5 acre plot of flat land that is surrounded by the most breathtaking environment full of flora and fauna, making it one of the most serene locations which no doubt will be a nature lovers' paradise. The Sunday Times Supplement Desk spoke to Mr. B. Premalal, Chairman and Managing Director of Prime Lands to find out more about their latest venture 'Prime Exclusive'.
"As the very name suggests this is a project
Exclusively located
Exclusively developed for
Exclusive People who would be
Exclusively inspired by the very features of this special project. At present a total of 65 blocks of land are available out of which more than 15 are already reserved. The land is surrounded by a well developed road network and offers the basic amenities which include tap water and electricity etc. which are synonymous characteristics of all Prime Lands projects", says Mr. Premalal.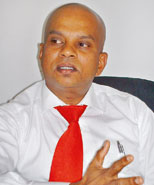 B. Premalal, Chairman and Managing Director of Prime Lands
The land is perimetred by a parapet wall and a gate ensuring a secure environment at all times. The price structure of the project starts from Rs. 375,000/- onwards a perch. Finding an ideal location that is in close proximity to Colombo can be a very challenging task. However, Prime Lands has found the ultimate solution for this through 'Prime Exclusive' which offers an exceptionally rare natural environment very close to the Colombo city.
In conclusion Mr. Premalal said, "Locations such as this which are situated in close proximity to the Malabe town are at present in very high demand. Malabe is a city which is presently experiencing fast paced development however our location at Kahantota road offers an isolated nature lovers' environment whilst being close to a modern township like Malabe, thereby 'Prime Exclusive' offers the best of both worlds which is why this is the ultimate location for one to build his Exclusive dream home.
In addition to Malabe, we do have launched the following attractive projects you will be able to make your desired choice from -: Prime Elegant-Thalawathugoda, Samagi Mawatha, Prime Glamour-Kiribathgoda, Mahara, Prime Space-Kiribathgoda, Meegahawatta, Prime Blossom-Panadura, Malamulla, Prime Lush-Athurugiriya, Habarakada, Prime Life-Paiyagala, Prime Primrose-Nattandiya and Prime City-Matara."