Russia which not long ago in 2006 bought 43 % of Sri Lankan tea is now only buying 28 % and this drop in market share has occurred without any drop in the quality, according to Minister of Plantaion Industries Mahinda Samarasinghe.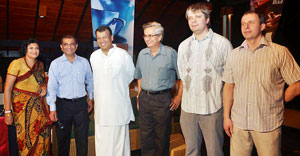 The Minister with IMPRA tea officials
"We are not happy at all with this loss of market share with one our biggest tea buyers. This is not an acceptable situation. On our last visit there we met the Minister of Agriculture in Russia and discussed ways of increasing our market share for Ceylon Tea in Russia, as it is well known for its quality which has never been compromised.
We will in the near future launch an aggressive marketing campaign to recover our lost tea market in Russia," noted Mr Samarasinghe, speaking at a function organised by Impra Tea Co held to felicitate Russian tea buyers in Colombo recently. Speaking to the Business Times, Impra Tea Managing Director Jayantha Karunaratne said the company exports around three million kilos of tea to Russia annually. "We hope to increase this to four million kilos. This is all value added exports as it is being shipped under a brand. Russia in total purchases around 45 million kgs of tea and only around 20 million kilos are branded exports. Our exports come within that. This in terms of value translates to around $15 million."
Asked about the bad weather experienced and its effect on the tea crop, he said that in January the crop is down by about 30 % of an average monthly crop of around 20 to 24 million kgs but this will be recovered from the February crop.
Commenting on the lost market share in Russia, Mr Karunaratne said the gap created by this loss has been filled by other tea producing countries such as Indonesia, Korea, Kenya, India, Vietnam and China.
One of the main reasons for this loss is the price. Our tea price is on average about a dollar more that the others offered. As a result tea from other counties is imported in bulk into and packed in Russia. If this trend continues it will only be a matter of time before Ceylon Tea is forgotten by the Russian consumers, he added.
"We bear a high cost in packing our tea. These costs must be brought down, other brands like Liptons are now packing their tea in several countries. Also we are not allowed to import tea into the country as the protests from the producers are strong. To counter this situation we must find a strategy or suffer the consequences," he said when asked for suggestions to handle lost market share.