Pradeep Ratnayake, whose performances and compositions on the sitar have received wide acclaim in Europe will present his Pradeepanjalee XVI concert on January 22 at 7 p.m. at the Lionel Wendt, sponsored by HNB Assurance.
Pradeep is well known for his efforts to bring a Sri Lankan identity to the sitar and he uses the traditional melodies of his homeland in his music. While being a classical musician, Pradeep is also a composer who experiments with other forms of music. Elements of jazz, Sri Lankan folk music and Western classical music can be found in his work and his performances.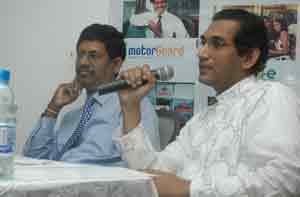 Manjula de Silva and Pradeep Ratnayake at a news conference
The show that will be held on the 22nd is also a result of four fusion experiments. Mussaladi Vannama (Haawa Vannama) will be presented by fusing Hindustan, Western and Eastern music using a Western choir, sitar and a wedding drum (getaberaya).
Though Shudda Kalyani Ragaye is performed through tabla, the piano will be used together with a sitar instead of tabla. Leading musicians like Karunaratne Bandara, Eshantha Joseph Pieris, Alston Joachim, Upula Madhushanka, Sumudu Suraweera, Chandralal Amarakoon, Surekha Amarasinghe and the Menaka Singers will be on stage with Pradeep Ratnayake.
Managing Director of HNB Assurance Manjula de Silva said they are proud to be associated with renowned musician Pradeep Ratnayake in whom they have a lot of confidence, witnessing the tremendous impact Pradeep created on the audience last time.
His most recent work, the Kuweni Concerto for sitar, cello and orchestra premiered in Germany with the Neubrandenburg Philharmonic Orchestra in May 2010 and received a rapturous standing ovation from the German audience- the concerto based on a Sri Lankan dance melody to which both orchestra and the audience could relate to was screened to the press.
"We have to recognize and facilitate performers like Pradeep and the best way to facilitate them is to give them an opportunity to perform and bring that value back to the home country and the music loving public of this country," Mr. de Silva said.
Pradeep Ratnayake has received the State Award for Music in Sri Lanka and the Bunka Award from the Japanese Embassy in Sri Lanka. He currently works as a Senior Lecturer in the Department of Languages and Cultural Studies, in the University of Jayewardenepura.
Tickets for the show are available at the Lionel Wendt, priced at Rs 1500, 700 and 500.