Aviation experts believe China may have started testing a new stealth aircraft -- putting it well ahead of Western predictions that a revamped air force would not be ready for take-off for another decade. Photographs of the J-20 taking high-speed taxi tests at an airfield have appeared on several websites, fuelling speculation that Beijing is not particularly concerned about keeping its latest weapon under wraps -- at least unofficially.

Ready for take-off? Aviation experts believe China may have started testing the J-20 stealth aircraft
The plane photos surfaced just one week after a U.S. naval commander warned that China is stepping up testing on a space missile that could sink American aircraft carriers in the Pacific. The Chinese military are also expected to launch their first aircraft carrier next year -- a year earlier than anticipated by U.S. experts.
But China's Foreign Ministry insists its military is one of peace, saying: 'We pose no threat to other countries.' According to the Aviation Week website, security at the airfield where the J-20 was photographed was slack and the prototype could be viewed from several public areas.
The 'leak' supports earlier claims by the Chinese military that a stealth aircraft would be airborne by 2011 and could be operational by 2017. U.S. Defence Secretary Robert Gates dismissed that idea at the time, claiming that China would not have stealth fighters operational before 2020.
Stealth aircraft -- which can evade detection by radar, infrared and other tracking devices -- have been in development since the end of World War II. Experts point out that the Chinese version is larger than most observers expected -- 'pointing to long range and heavy weapon loads'.
The plane, coupled with the aircraft carrier and the ballistic missile in development, means China will be a global military power. The missile system requires state-of-the-art guidance systems, and some experts say it will take China a decade or so to field a reliable threat.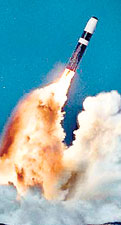 China is developing a ballistic missile designed to sink an aircraft carrier, jeapordising U.S. naval supremacy in Asia
But if the plane's development is any sign, it could be much sooner. The missile is considered a key component of China's strategy of denying U.S. planes and ships access to waters off its coast.
At its most capable, the DF 21D could be launched from land with enough accuracy to penetrate the defenses of even the most advanced moving aircraft carrier at a distance of more than 900 miles.
That could seriously weaken the United States' ability to intervene in potential conflicts over Taiwan or North Korea, as well as deny U.S. ships safe access to international waters near China's 11,200-mile-long coastline.
As for the new stealth plan, 'The J-20 is a single-seat, twin-engine aircraft, bigger and heavier than the [Russian] Sukhoi T-50 and the [U.S.] F-22,' Aviation Week noted on its website.
'Comparison with ground-service vehicles points to an overall length of 75 ft and a wingspan of 45 ft. or more, which would suggest a takeoff weight in the 75,000-80,000-lb. class with no external load. 'That in turn implies a generous internal fuel capacity. The overall length is close to that of the 1960s General Dynamics F-111, which carries 34,000 lb. of fuel.
'The main landing gears retract into body-side bays, indicating the likely presence of F-22-style side weapon bays ahead of them. 'The ground clearance is higher than on the F-22, which would facilitate loading larger weapons including air-to-surface munitions. Chinese engineers at the Zhuhai air show in November disclosed that newly-developed air-to-ground weapons are now required to be compatible with the J-20.
'The major open question at this point is whether the J-20 is a true prototype, like the T-50, or a technology demonstrator, with a status similar to the YF-22 flown in 1990. That question will be answered by whether, and how many, further J-20s enter flight testing in the next 12-24 months.'
Courtesy the Daily Mail, UK