A Sri Lankan woman was reported dead in Jordon a few days ago, just two weeks after she went there to work as a domestic aide, raising the death toll among Lankan migrant workers to its highest level this year.
According to Sri Lankan foreign ministry officials, her post-mortem examination showed poison in her blood. While the police in Jordon continued investigations, the foreign ministry officials here said indications were that the 21-year-old woman from Kandy committed suicide.
As many as 29 Sri Lankans apparently committed suicide abroad this year. The data, provided to the Sunday Times by Sri Lankan foreign ministry's consular division in Colombo, was for the period between January 1 and December 23.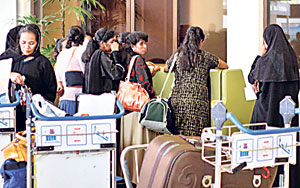 A group of Sri Lankan women workers who returned to Sri Lanka on Friday from a West Asian country.
For the same period, a total of 460 Sri Lankan deaths were reported to the foreign ministry from 41 countries. Close to 70 percent of the deaths were due to natural causes followed by accidents, suicides and murders.
According to Sri Lanka's Foreign Employment Bureau, 333 Sri Lankans died overseas in 2009, an increase of 4.8 percent in comparison to the toll in 2008. Officials from the research unit of the bureau said that 14 Sri Lankans including seven women had reportedly committed suicide abroad in 2009.
This year, according to the consular service officials, five suicides were reported from Kuwait and three from Saudi Arabia. Other countries that reported two cases each included Lebanon, Qatar, the UAE, Bahrain and India. An FEB report last year estimated that 1.7 million Sri Lankans worked abroad, sending home Rs 382,801 million which comprised 47.3 percent of this country's total foreign exchange earnings.
Saudi Arabia, Qatar, Kuwait, the UAE and Jordon were the highest labour receiving countries last year taking 86 percent of the Sri Lankan work force. Also this year, nine Sri Lankans living abroad were allegedly murdered. The consular service officials said four cases had been reported from Italy, two from Saudi Arabia and one each from Malaysia, Qatar and Pakistan.
While the four Sri Lankans allegedly killed in Italy were unregistered workers doing menial jobs there, a businessman of Sri Lankan origin was allegedly killed in Malaysia. Personal disputes appeared to be reasons for the murders. The officials said most investigations into the alleged murders of Sri Lankans abroad were still continuing.
More than 100 deaths due to accidents were also reported this year. Road accidents killed most in this category. The highest number of 36 deaths due to accidents was in Saudi Arabia where more than one million Sri Lankans work.
Migrant workers from Sri Lanka to the Middle East are usually faced with adjustment issues related to weather conditions and food. Such problems, the consular service officials said often lead of deaths due to natural causes.
The Sri Lankan foreign ministry is sometimes faced with problems related to the repatriation of human remains. The Sri Lankan mission in Riyadh for instance has been complaining to the Sri Lankan foreign ministry in Colombo about problems in sending home the bodies.
In its correspondences with the consular service, the Sri Lankan mission is understood to have cited "lethargic bureaucracy" (in Saudi Arabia) was one of the main reasons for such delays.