WASHINGTON (Reuters) - Hollywood has long had a weak spot for renegade computer hackers. In the 1983 film "War Games," a teenage whiz breaks into military data networks and almost sets off World War III. In "The Matrix," the 1999 blockbuster, a rebellious programmer fights for humanity against soulless machines. And in this year's model, the hero of "Inception" hacks into, and manipulates, people's dreams.
Dream-hacking is still probably beyond the capabilities of Julian Assange, the 39-year-old Australian-born computer programmer who created and, until his recent arrest, served as editor in chief of the website WikiLeaks.
But Assange, relatively unknown until earlier this year, has masterfully manipulated elite media outlets. He has exasperated and humiliated the US government and its diplomatic partners by creating a resilient, hard-to-kill worldwide network of websites that reveals their secrets. And he has in short order turned WikiLeaks and himself into household names, demonstrating how reality can be stranger than Hollywood fiction.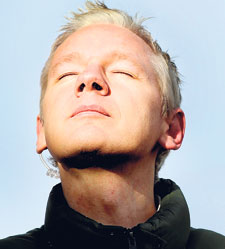 WikiLeaks founder Julian Assange pauses as he speaks to the media outside Ellingham Hall, the home of his friend, journalist Vaughan Smith, in Norfolk, England December 17. Reuters
With his ghostly complexion, floppy white hair (when it is not dyed or cropped to disguise his identity) and droning bass monotone, Assange not only behaves like a character sprung to life from a science-fiction screenplay but he even looks and sounds like one.
For eight days, Assange sat behind bars in a Victorian British prison awaiting a London court hearing on Tuesday on a request from Swedish authorities that he be extradited to face questioning in a sexual misconduct case. He was released on bail on Thursday while the world continued to debate whether his activities -- his systematic exposure of government and business secrets - have made him an arch-villain or a superhero.
At the same time, many are trying to figure out exactly who is this young Australian who has thrust himself into the spotlight, warts and all. An examination of a somewhat surprisingly long paper trail he has left behind -- including an archive of Internet blog posts on subjects ranging from dense computer codings to spacey metaphysical essays -- provides possible glimpses into his way of thinking.
Numerous interviews with close associates of Assange and others who have dealt with him extensively paint a picture of a man who can be brilliant and charming one minute but insufferable the next, who has alienated many of those around him and whose erratic personality risks undermining his mission.
Wiki-stands
Where you stand on Assange can depend on where you sit. Top US officials, including the Secretaries of State and Defence, have denounced WikiLeaks. Attorney General Eric Holder has indicated his prosecutors are brainstorming creative legal strategies to bring criminal charges against the WikiLeaks front-man.
Others advocate more aggressive action. Former Alaska governor Sarah Palin has called for American authorities to pursue Assange with the same zeal that they hunt al Qaeda and the Taliban. Newt Gingrich, another potential Republican presidential candidate, has called Assange an "enemy combatant". Former Arkansas Governor Mike Huckabee -- also a potential presidential hopeful -- has said: "Anything less than execution is too kind a penalty."
Assange's supporters are equally vehement in their admiration, though some praise his achievements while distancing themselves from the man himself.
Jack Shafer, press critic for the online magazine Slate, wrote that Assange "possesses such an ego-swollen head it's a miracle that he can walk without toppling over." Shafer also wrote that he believes WikiLeaks' disclosures have shaken mainstream journalists out of complacency and reminded the media and the public to be sceptical of official and corporate secrecy.
At a London court hearing last week, British film-maker Ken Loach, known for his depictions of gritty working-class life, and Jemima Khan, a wealthy socialite and heiress, appeared before the judge, each offering to contribute to a 180,000 pound bail fund that Assange's lawyers and supporters were organizing.
In a Twitter message last month, Jemima, daughter of the late financier Sir James Goldsmith -- who was so right-wing he created his own political party to challenge Britain's Conservatives -- wondered whether Assange was "the new Jason Bourne," a reference to Robert Ludlum's fictional rogue secret agent. (The Guardian reported that the Twitter message was subsequently removed from the Internet.)
Turbulent family background
By most accounts, Julian Assange is a dazzling, world-class computer programming wizard. On a personal and political level, however, he is a complex, volatile, sometimes inscrutable, often difficult man, according to people who have worked with him.
Assange has described himself to collaborators, only partly in jest, as "somewhere on the autistic spectrum."
Assange guards his privacy so ferociously that when he turned himself in to British police in connection with the Swedish sex case, he refused to be fingerprinted, photographed or swabbed for a DNA sample. Once in court, he refused to tell the judge his address, offering first a post-office box and then an Australian address where he lived several years ago.
The "red notice" sent out by the international law enforcement group Interpol, which came after Swedish authorities issued their European warrant for his arrest, listed Assange's age as 39, and his place of birth as Townsville, Australia.
According to press reports, including an in-depth profile published in the New Yorker magazine in June, shortly before WikiLeaks' first dump of Pentagon files, Assange's early life and family background were almost as turbulent as the recent events surrounding him.
Published accounts -- including stories cited by Assange's lengthy entry in the online data bank Wikipedia -- say that when he was one year old, his mother married a theater director, with whom she collaborated on touring productions. At one point the family lived on a rock outcropping known as Magnetic Island, where, according to the New Yorker, their house burned down.
The magazine says that when Assange was eight years old, his mother left his father and took up with a musician, with whom she had another child. That relationship then soured, causing a bitter custody fight over Assange's half-brother. In turn, Assange's mother took up an itinerant existence in an effort to avoid the ex-boyfriend, who Assange told the New Yorker may have belonged to a sinister cult known as "The Family."
By the time he was 14, Julian and his mother had moved 37 times. For education, Julian was partly home-schooled, but also heavily self-taught. "I spent a lot of time in libraries going from one thing to another, looking closely at the books I found in citations," he told the magazine.
At some point in his early teens, according to the New Yorker's account, Assange's mother rented a house across the street from an electronics shop. Assange wrote his first programmes on a primitive Commodore 64 and was immediately hooked by the wonders of technology.
Later, he acquired a modem, which enabled him to plug into primitive computer networks. This in turn introduced him to the world of computer hacking, a pastime he is reported to have embraced with gusto.
Using the nickname "Mendax" -- a classical Latin word for "liar" -- Assange joined two other fledgling hackers to form a posse which called itself the "International Subversives." The group launched forays into the computer systems of some of America's most sensitive government installations, including nuclear weapon labs.
But according to a book about the budding hacker subculture called "Underground," for which Assange served as Australian author Suelette Dreyfus' researcher, he and his pals tried to operate by what in hindsight sound like a notably benign set of self-imposed guidelines: Don't damage or crash networks you hack into; don't mess with the data and share information.
Before he was out of his teens, Assange's involvement in the hacker subculture involved him in clashes with authority. At one point, Australian police raided his residence and confiscated his computer gear, though they later gave it back.
In the early 1990s, Australian federal authorities launched a major investigation into the International Subversives, which, according to an account offered in the book he researched, fuelled Assange's own growing paranoia. "Mendax dreamed of police raids all the time. He dreamed of footsteps crunching on the driveway gravel, of shadows in the pre-dawn darkness, of a gun-toting police squad bursting through his backdoor at 5 am."
According to the New Yorker, Assange became so strung out waiting for the knock on the door that his teenage sweetheart, whom he had married, found his behaviour so intolerable that she moved out, taking with her their young son. He subsequently became embroiled in a bitter child custody fight with the child's mother; Assange's mother told the magazine this inculcated in her son a deep antipathy to bureaucracy which he believed was "squashing people."
She and Julian even launched an organization to campaign against local child protection authorities.
Eventually the police also arrived on Assange's doorstep, arresting him and charging him with 31 counts of computer-related crime. However, after years of pre-trial litigation, when the case finally came to court, even though he pleaded guilty to 25 counts, he got away with paying a small sum in compensation.
No one wants to save the world
Burned out by his epic legal battles, Assange toured Asia, took on freelance work as a computer consultant and studied physics at the University of Melbourne. He also began blogging his thoughts to the world on matters both technical and metaphysical. His blog entries, which can still be found on the web, are a mixture of pseudo-scientific and philosophical gibberish, cultural and literary observations ("Kurt Vonnegut is dead."), extremely technical computer coding sequences and often jumbled political statements. But they also contained germs of ideas that seem to offer insights into Assange's psyche and signposts to his future pursuits.
In one lengthy September 23, 2006 post, he reprints an essay by somebody named Grady Towers musing about the late William James Sidis, a math prodigy who had a brief but spectacular academic career but suffered an equally rapid decline into destitution.
According to the essay, Sidis had an IQ somewhere between 250 and 300 and by age three had become a New York Times reader and had taught himself Latin and Greek. He matriculated at Harvard at age 11, became the youngest professor in history and propounded some of the earliest theories about the existence of black holes. But he subsequently had a psychic meltdown, drifted between menial jobs, rarely bathed and died a virgin at age 46.
The essay uses this woeful tale as the touchstone for a meditation on gifted children, concluding that despite Sidis' unhappy end, science subsequently demonstrated that, as Towers put it: "The gifted are not weak or sickly, and ... they are generally thought to be better looking than their contemporaries: they are not nerds." But it also quotes a dark observation Aldous Huxley made about the Sir Isaac Newton: "The price Newton had to pay for being a supreme intellect was that he was incapable of friendship, love, fatherhood and many other desirable things.
As a man he was a failure; as a monster he was superb." Another essay, this one almost incomprehensible, is headlined: "Everyone and no one wants to save the world." Also featured in Assange's blog are postings like a 2006 item entitled "What are the origins of hactivism," in which he talks about how U.S. government networks in 1989 had been penetrated by a worm whose source Assange claims to have traced to Melbourne, Australia, his own backyard.
From these and other more technological ruminations Assange began to create the concept, and later the physical and electronic architecture, of what became WikiLeaks. According to his web-postings, he was deeply affected by the incident in Somalia involving the American military helicopter that was the inspiration behind the film "Black Hawk Down."
Blog entries from December 2006 include an item headed: "Black hawk down, white wash (sic) up" and another entitled: "The pending total annihilation of the US regime in Somalia." Around this time, the fledgling WikiLeaks posted its first purported leak: some kind of secret edict from a Somali rebel leader. Soon, Assange was touting the merits of his website to a conference of left-wing activists in Kenya, where he stayed for several months.
By December 2007, Assange was plugged in deeply enough into the world of international computer outlaws to find himself at the annual conference of the Chaos Computer Club, a German hacker group with a pedigree going back to 1981, the cyberspace equivalent of the Stone Age.
At the conference, he met up with like-minded hacktivist Daniel Domscheit-Berg, a German programmer who received his first computer at age eight. Domscheit-Berg, according to a blurb for a WikiLeaks book he is writing -- which Reuters has reviewed -- once worked 420 hours over four weeks trying to rescue a computer project in Moscow which had become fouled up.
At the time he met Assange, Domscheit-Berg was working as a troubleshooter for the international data services firm EDS.
For him, WikiLeaks was initially a hobby. But in early 2009, Domscheit-Berg left his job to join WikiLeaks full-time, and for the next 18 months, he and Assange were partners and soulmates.