Christmas usually heralds the seasonal shopping season. The Sunday Times spoke to several shop owners and consumers regarding the state of business and their different expectations. There were mixed reactions from the two groups.
R. Sivakumar, a saree shop owner on Main Street, Pettah claimed with entry of a large number of new shops in the area, sales had dropped. He added the low income he received, was making it difficult for him to continue in his trade.
"There is hardly any demand for sarees, this season," he said M.S.M Shaffy, a salesman in a footwear shop said, business during the Christmas season is balanced but have not peaked as in previous years.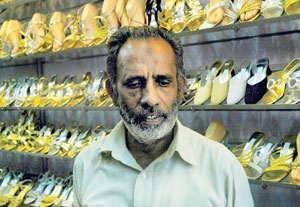 Shaffy: Higher taxes eat into our profits. Pix by Saman Kariyawasam
"Suppliers are demanding higher prices for their products, we are therefore forced to raise our prices to ensure we too make a profit," Shaffy said.
He added taxes were higher this year and many entrepreneurs were making a loss. A salesman at the Faazim Flower shop at Main Street in Pettah, said there were fewer customers calling at his shop and resultantly the level of income had dropped during the past two to three weeks.
"We have never experienced such low levels of income during the Christmas season before. We are thoroughly disappointed", the salesman said. A sales person at a well-known electronics firm down Main Street in Pettah said the price of goods as well as company taxes had been reduced recently.
Resultantly the prices of their goods were low, however as people were forced to spend more on basics, they could not afford to spend on electronic items he said.
"The volume of sales has dropped as compared to the previous years. A 21-inch TV costs between Rs. 25,000 to Rs.30,000; the cost of a pedestal fan varies between Rs. 2,500 to Rs. 5,500; while a lowest priced radio costs Rs. 4,500. However Chinese manufactured radios are sold at lower prices than others" he said.
A curtain dealer in Pettah claimed business was better than it had been two to three months ago.
"We are having customers this season, but they are mainly the richer people... I think middle class people are not in a position to purchase curtains.
"They have more basic expenses to look into because of the rising cost of living," the dealer exclaimed.
A veteran businessman and owner of Hi Style Textiles, also from Main Street Pettah, said people were not in a 'Christmas mood' as yet. The quantity of clothes purchased this year is low, he said.
"So far there has not been an improvement in sales. We are hoping business improves by next Friday after people get their Christmas bonuses etc. Perhaps then they will buy our products," he said.
Arpico Pettah Manager Angelo Perera said there had been a growth in business compared to the previous season. "We are glad about it", he said.
Main Street in Pettah, told its own story, unlike during previous years the road was devoid of crowds.
On the other hand the up-market shopping mall at the Majestic City in Bambalapitiya was colourfully decorated and offered goods at discounted rates to attract customers.
Not surprisingly most shops were crowded with customers A customer Mrs. T. Perera said her Christmas shopping was going well. We are happy to buy things, she said.
"Our purses get empty when we come for Christmas shopping, but shopping is good for the kids they really enjoy shopping at the mall. We visit the Majestic City annually to purchase dresses for my children".
Mrs. Ratnayake, a shop owner of a children's dress corner at the Majestic City told the Sunday Times that the seasonal business was not bad. But the volume of sales was less than that of last year.
"I don't know why people are not in the Christmas mood. There are fewer people in my shop compared to previous years." She said.
There were only a limited number of parents in her shop and they were purchasing Christmas dresses for their little daughters. The Sunday Times team visited a toy shop at the Majestic City where a gaggle of children were selecting their Christmas gifts. The colourfully decorated shop was loaded with the latest electronic gadgets and the children seemed to be having a wonderful time.
Ms Nirosha, a customer at one of the toy shops, said she's very happy with her purchases because of the wide selection and the discounts. "It's tempting to buy a large number of toys when there are good discounts on offer," she said.
Ms. Princy Silva said she enjoyed shopping at the Majestic City. "It's far better than last year, she said. She said she appreciated the discounts on offer. Shri, a CD shop owner, said, though people purchased CDs of Christmas carols, sales were down this year.
A bag shop dealer, A.W Anton, at the MC shopping mall said while Christmas season reached the peak at the end of year, this year saw fewer shoppers than during the previous seasons. "I can't say that the business is good" said Mr . Anton, "it's ok, but I think there is more room for improvement" he added.
Ms Heera from Bangladesh said she does her Christmas shopping in Sri Lanka. She said she came to the Majestic City every year especially for this purpose. She told the Sunday Times crew the selection of clothes and bags had improved. She seemed quite satisfied with the things she had already purchased.