David Du Prez from Southern California developed an interest in Buddhism as a college student when he followed a course on world religions. His interest then was only academic. As a young man he served in the army (it was compulsory) with a stint in Vietnam as well. Returning home he was "experimenting with drugs, then playing the hippie while free-wheeling and dealing around half the globe to Nepal."
After meeting the Tibetan lamas, whom he refers to as his "gurus", he became more interested n Buddhism. He moved to India and got a taste of Theravada Buddhism when he followed a course by the renowned meditation teacher Goenkeji.
As he writes in his autobiography 'One Night's Shelter' it was "the beginning of a conscious search for self-understanding and Truth - the journey of gradual spiritual awakening, characterized by intense introspection and struggling against the ego's old habits ending with my ordination as novice monk in Sri Lanka."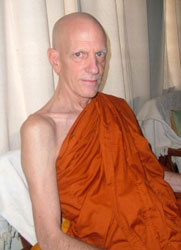 Before getting ordained he followed meditation courses in India and in Sri Lanka at the Kanduboda mediation centre. He was ordained at the Gothama Thapovanaya at Kalapaluwawa in the outskirts of Colombo. That was 35 years ago. He recalls the days before his ordination. "After two weeks Ven.Vagisa informed me that he would schedule my ordination ceremony for that coming Vesak full moon day. He said that it was an auspicious day and he felt I would be emotionally and intellectually ready by that time. I hadn't even thought of it before, but it did sound like just the perfect time. My future preceptor added that I would be receiving lower samanera or novice initiation at this time. This acts as a training/adjustment period to prepare one psychologically for the higher bhikkhu ordination and more austere committed life."
He was given the name Yogavacara Rahula. "The full name Yogavacara Rahula had a nice ring and I could relate to it. Having the word yoga included seemed to fit the particular blend of vipassana meditation and yoga practice that I was doing. It was just another image to substitute for the defunct hippie image, but one that I had felt would have a positive influence and deeper meaning," he writes in his autobiography.
Meeting him recently in Colombo, Ven. Rahula told me when he got back from Sri Lanka he felt homesick and wanted to return. And he did - in 1980 when he spent six years mostly at Unawatuna and Nilambe. After a trip to the Himalayas, he was back in the States and joined Ven. Dr. Henepola Gunartana Mahathera at the North America Bhavana Society in West Virginia. He continues to visit Sri Lanka at least once in five years. "I am on long sabbatical now," he said.
I asked Ven.Rahula why there is such a lot of interest in the West about Buddhism. "Buddhist teachings are very practical - they are rational and realistic. Buddhism is about what goes on in daily life. It talks about suffering and how our mind keeps on creating suffering for us. Buddhism makes one see life the way it is - the impermanence and teaches how to control our mind.
Outside forces cannot help us when we feel frustrated and burnt out, when we are anxious and worried. That's when we don't know how to relax - both in body and mind. Yet we tell the others to control themselves. No one else can help us - only we can help ourselves, only we can control our mind. That's not something we can pay and obtain or get someone else to do. Many have been trying various methods including gadgets to control the mind but nothing has worked. "
He went on to discuss how meditation helps people to control the mind and how meditation is now being widely practised. He believes the best way to get a grasp of meditation is to first learn the basics by going to a centre which teaches meditation. Following a class regularly or attending a weekend workshop would be ideal. "Guided meditation is useful. Trying to do meditation at home is difficult. There are so many distractions," he stresses. Once you grasp the basics, longer retreats will be helpful. With so many books available today, reading too helps.
Quoting 'anapana sati' and 'metta bhavana' as the most common forms of meditation, he said: "Anapana sati' teaches concentration techniques and is a simple way for someone to practise mindfulness. Use the breath to keep the mind in one place and not to get distracted. Then one can move on to 'vipassana'. Practising meditation helps to understand how the mind works and how the mind can be kept on the right track."
Talking of how Buddhist meditation practices are being increasingly used as a tool for stress management, Ven Rahula said that these practices teach one to observe emotions and reactions before taking action on them. One can watch how they arise but not identify them - how they lose their steam and there is no need to react. One can observe with more detachment. The term used for these programmes is 'Mindfulness-based stress reduction' with no reference to Buddhist meditation though they are based on Buddhist practices.
During his recent visit to Sri Lanka, Ven.Rahula had the good fortune of visiting Venerable Nanadipa - the Danish monk who has been in solitude in the forests since ordination in 1968. The latter rarely sees visitors and prefers to quietly go on 'pindapata' once a day to collect his alms. Ven. Rahula sums up his meeting with Ven.Nanadipa in his blog:
"At the end of our discussions I asked for any kalyana mitta (spiritual friend) advice he might have for me. He replied that though what I had been doing for spreading the Dhamma in the world was a good thing, he thought that 30 years of outward service was enough. I had paid my dues, put in my time in that regard. Now I was near the normal retirement age. He advised that I should come back to Sri Lanka and spend my twilight years here meditating in more solitude to finish the Dhamma business that was started over 35 years back.
Good advice!! Indeed, that is what I have been inwardly longing for over the past few years. This is part of the reason why I have separated myself from active involvement with the Bhavana Forest Monastery in West Virginia, to help facilitate this gradual transition. There is a saying: "Be careful what you wish for; it might come true."