Swim Holdings (Pvt.) Ltd., is an ICTAD registered company established in 2003. The company is a swimming pool builder and total water management provider with the necessary credentials to design and install any type of pool or spa of the highest international standards. The company is the sole agent for 'PINA' swimming pool products from Europe. Swim Holdings posses a management and staff team with over a decade of experience in the industry and envisions becoming the exceptionally well managed and leading total water management solutions provider in Sri Lanka. Currently Swim Holdings maintains a strong position in the market and is one of the fastest growing total water management solutions providers in the country.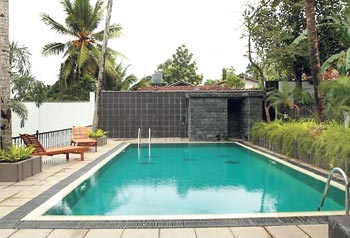 Most people today are under the impression that investing in a pool is a luxury that only the privileged few can afford. However owning the pool of your dreams can be as simple as investing in a secondhand vehicle. Having one's own pool has become a sign of prestige and also it shows that you are an individual who likes to indulge in the luxuries of an elegant lifestyle. However it is only a handful of people who have actually realized that this is one dream that is affordable to a wider market segment. There are many other benefits associated with owning a pool and it is not only limited to improving your own social stratus. By becoming the proud owner of the pool of your dreams you and your family can enjoy long weekends of quality time swimming and relaxing in the comfort of your home. Say goodbye to spending unwanted amounts of money to enjoy swimming in luxury hotel pools when this can be done in your own premises where you can also entertain guests. In addition to this think of the health benefits attached to having your own pool. You can finally bid farewell to those expensive gyms and get that perfect workout and enjoy every moment of it.
Having been in the trade for almost ten years, Swim Holdings began from very humble beginnings and today has become a true force to reckon with in the industry. To date the company has completed an estimated 250 pools locally as well as internationally. Having completed several successful projects in the Maldives, Swim Holding's most recent project venture is in Sudan. Currently Swim Holdings has around 15 pools under construction, and specializes in domestic pools for individual clients as well as commercial pool constructions especially for the hotel sector. Over the years the company has built up a sound and enviable reputation in the industry which includes a wide client base. The Sunday Times Supplements Desk met Mr. Roshan Nettasinghe, Managing Director of Swim Holdings to find out more about their services.
"We possess the ideal blend in leadership, technology and experience that is multiplied by total commitment which has made us a formidable water management provider in the industry within a very short period of time. While our main focus is on designing and construction of swimming pools together with our vast construction expertise we can therefore offer the most cost effective swimming pool and spa services which include supply and installation of steam rooms, saunas and hydrotherapy spas as well as a host of other value added services such as designing and construction of waste water plants, repair and refurbishing of swimming pools, maintenance of swimming pools or spas as well as the complete package providing everything from swimming pool equipment and accessories to chemicals and spare mechanical parts", says Mr. Nettasinghe.
All Swim Holdings equipment is imported from Europe, where raw materials such as tiles, sand and steel are the only local materials used. A ten-year warranty is provided for the pool's concrete shell and two-year warranty for the pool equipment. One of the latest additions to the market by the company are the saltwater pools, which although is a concept new to Sri Lanka is one that has become immensely popular the world over.
"Saltwater pools are chemical free pools and at the moment we have constructed around 10 such pools island-wide, which have become very successful projects as these types of pools are much lower in maintenance cost, when compared to the normal pools. The main reason for this is the fact that these saltwater pools do not require the use of chlorine and other types of chemicals that the normal pools do. Salt water pools are very healthy as they are free of chemicals and therefore do not present any form of allergic reactions such as itching, rashes, red eyes or asthma etc.", further stated Mr. Nettasinghe.
Swim Holdings has a well trained team of staff members as well as 10 highly experienced technical officers who work in the field. The company has invested heavily with regard to staff training, where certain staff members are sent overseas for further international training and exposure. Swim Holdings also offers island wide after sales and maintenance services for all their product. However maintenance services are further extended to any customer that requires their services.
The company has the expertise to construct pools according to the customer's needs and spending capacities. Customers now have the option to opt for cut and polished concrete instead of pool tiles which is cost effective, easy to maintain and provides a natural look to your pool. In addition to this the construction and maintenance of saunas, steam rooms and Jacuzzis are also other types of services provided by Swim Holdings. With regard to Jacuzzis the company offers imported Jacuzzis as well as those which can be built into ones pool, which is another very unique cost effective alternative.
In conclusion Mr. Nettasinghe said, "We are proud of the fact that we have achieved our objectives to date whilst also ensuring that customer care and satisfaction is always top priority. We therefore are very much working inline with our mission which is to contribute towards the enhancement and value addition of our Sri Lankan lifestyle."
For further details contact: Roshan on 0777310389/2814025