The Awards Ceremony of the 'Best Environment Friendly School of the year 2010' organized by the Green Forest Association for the third consecutive year, with the theme 'Ekwemu Godanagamu Haritha Lowak' was held on July 10 , 2010, at John De Silva Memorial Hall. Minister of Education Bandula Gunawardhana and Minister of Environment Anura Priyadarshana Yapa, graced the occasion.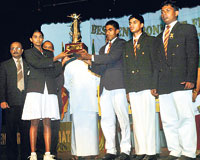 1st -Sri Siddartha M.V., Ampitiya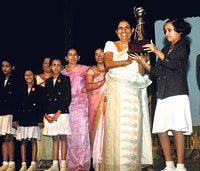 2nd - Sri Sangamitta B. V., Colombo 10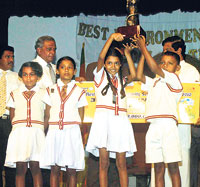 3rd - Molagoda Primary School, Kegalle
Students from over 2000 schools from 24 districts participated in this competition in which 250 schools were selected as finalists. Ampitiya Sri Siddartha Maha Vidyalaya from the Kandy district won the first place, while Sangamitta Balika Vidyalaya of Colombo and Molagoda Primary School of Kegalle were placed 2nd and 3rd respectively. Schools that made it to the top 15 were awarded trophies as a token of encouragement and appreciation. Presentations were done in the form of songs and dances.
The programme was organized by the Green Forest Association with the aim of promoting awareness among the students about the need to conserve and protect the environment. Green Forest Association has successfully carried out 37 huge projects and nearly 1500 small projects in all parts of the country.
This association was established in 1999, by Mr. Harendra Serasingha, Executive Director in order to conserve the environment without any foreign assistance.
"I started this association with the target of spreading the message of keeping the environment clean through children themselves," Harendra said. He also proudly said that the intake for this competition has increased, even the schools in the war torn areas have applied this year.
"Last year our school was able to win the title of best school in the Central province, so this year too we applied with a lot of expectations of winning the all island title. All credit goes to our Principal, teachers, students and parents of our school," said the Agriculture teacher of the school, Ms. R.M.C.K. Ranasinghe Madusha Ratnayake, a student of the school said, "We are a very poor school with only 500 students.
With little resources, money and manpower we have planted trees and cultivated in every possible bare land in the school. Moreover, we don't cut lessons; we stay after school or come on Saturdays to work on this."
"We have carried out 37 different projects in our school. All of them are eco friendly. We sell local food at our canteen. We don't use polythene, we have a nursery, herbal gardens, waste management system, well kept classrooms and besides we have disciplined and obedient students", says Ms.Ranasinghe.
The students of this school as well as the other schools who took part in this competition have proven to be citizens who love their country and want to create a better Sri Lanka for the future generation. Therefore, as citizens of mother Sri Lanka let's put our hands together to conserve our environment and create a better tomorrow.