The Navy is set to expand the boat service for passengers in Colombo's canals as moves to popularise the service get under way. Currently the service is operating between Nawala and Wellawatta for the transport of people and has proved to be a success meeting most of the project's objectives so far, Navy spokesman Captain Athula Senarat told the Sunday Times.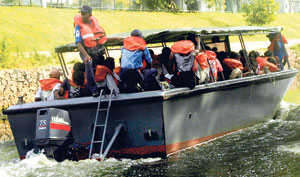 Above:The journey starts near the Open University at Nawala and (top) passengers who have opted for the boat ride to avoid the hassle of road traffic. Pix by Saman Kariyawasam
"The purposes of the project include creating an effective transport system capable of reducing the number of hours travelled, reducing the traffic congestion in Colombo and making the canal system environmentally clean, " he said.
He said the expansion of the project to other canals in the city such as the San Sebastian Canal in Grandpass and the Dematagoda Canal, is expected to reduce traffic in the city. "The environmental problems of the canal have been reduced as the Navy has cleaned and dredged it. The people living close to the banks of the canal have been educated not to pollute the canal", he said.
Passengers using the boat service said now that the canal has been cleaned the stench had been reduced. A. Samarasinghe, an official of the Open University told the Sunday Times the service is more convenient than that of the bus, which is slower and often crowded.
Open University student Udana Helauruwan said "I have been using this means of transport for four months and the service is good, with no pollution and no health hazards." A high school student Thulini Chapa said it takes less time to travel to her destination with the cost not being expensive.