Sweating in the muggy air and burdened down by his equipment, photographer Devaka Seneviratne is nevertheless very much at home in the mangroves that border Wilpattu National Park. It's a place few tourists find, and Devaka would love to see it stay that way.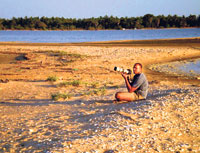 Devaka at Kalpitiya and below, scenes from Pettah, and the stunning beauty of Horton Plains as captured through his lens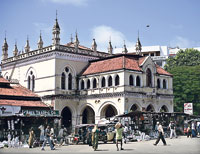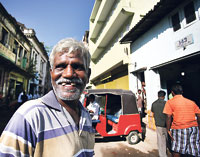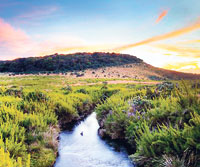 He's even working on a book on Kalpitiya – "keeping a record of what the place and the people were like before it all changes for good." The 31-year-old describes Kalpitiya as one place that's really close to his heart. "There is a sense of wild beauty and harshness to the whole peninsula, especially the northern bit around Dutch Bay, but in the last few months every trip I've made there has seen more and more places blocked off and cleared up."
Development projects are sprouting up everywhere; and like many others, Devaka worries that projects aimed at constructing a major hotel and casino in the area could not have taken into consideration the fragile environment and the people that depend on it.
"As a traveller and photographer you do get to see lots of places that are unspoiled but you only preserve it for posterity in your photographs.
These can be useful in making people more aware but it is frustrating to see places change and be destroyed and it makes you seem pretty powerless," he admits ruefully. Devaka, who has also undertaken documentary photography for UNHCR and IFRC, counts big corporate names like Toyota, Airtel, Dialog and SriLankan Airlines among his clients.
When not hard at work on his commercial photography projects, he says he enjoys nature and social documentary photography. "My favourite subjects are the average Sri Lankans you meet all over the place. It's interesting how having a camera and walking around taking pictures makes people friendly...even the shy ones will always give you a chance before flitting off!"
In the meantime, Devaka heads out as often as he can. "Sometimes work takes you places and at other times it keeps you stuck in a studio working away but that's what pays the bills!" he says, adding that he does however make it a point to take a trip out at least once a month - "it's work too." (find Devaka on Flikr at www.flickr.com/photos/devakaseneviratne/)
Devaka recommends:
What to eat where: Seafood and hot rice, Siebel's Sea Food Restaurant, Palavi, Puttalam. The whole country is full of great things to eat and some super places to get them from but Siebel's is a no nonsense place that definitely knows the essentials of getting together a proper combination of hot rice and curry, prawns and crab.
Where to visit: This is a hard one! You might need to add a supplement to this feature. To keep it simple though, a dawn walk through Fort and Pettah on a Sunday.
Most people who live in Colombo hardly know how interesting the older parts of the city are. Relaxed security means you can now even take your camera along.
Look out for some stunning but faded colonial architecture, interesting faces and great street-food.
What to read: Carl Muller. There's tons of really good Sri Lankan writers both now and in the past. But I really love the way in which he captures a way of life that has unfortunately, for the most part at least, slowly faded away.
What to listen to: The tyre hum on a four wheel drive that's cruising along a lonely road at speed way before dawn. It means you're going somewhere interesting and that can only be a good thing.
What to watch: A sunset or sunrise at Horton Plains National Park. The amazing vistas all around, the nip in the air and the combination of colours and scents are pure, untouched nature in all its glory--a heady mix that gives a new meaning to being alive.