The Rajapaksa Government made it very clear during its first term that it was against privatization of state enterprises and halted the process of privatization. The policy of the government was to retain ownership and management of "strategic" enterprises such as state banks, electricity and utilities and make them profitable. Making public enterprises profitable has remained an impossible task.
Losses in public enterprises reached a record level last year and this year's losses are likely to be larger. It has now extended its policy to acquire other strategic enterprises and "manage them in the national interest".
The government announced, at a press conference, that it was buying back 51 per cent of Shell Gas Sri Lanka that was owned by Shell Co. The government already holds the balance 49 per cent. The negotiations are likely to succeed as Shell has decided to move out of the LPG business in Asia as it is not profitable. Once the negotiations are completed it would become a fully owned enterprise of the government and would probably be called Sri Lanka Gas or Sri Lanka LP Gas. Prior to privatization the company was known as Colombo Gas Co, a hopelessly inefficient one.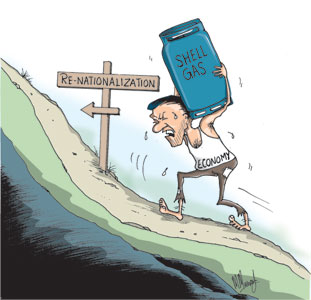 There has been a process of government gaining control of several key institutions through purchases of shareholdings and obtaining a controlling interest in them. A notable example was the purchase of shares of the NDB Bank by several public institutions to become the main combined shareholder. This, despite the Banking Act that prohibits any one company or group holding more than 25 per cent of the shares of a bank. Government institutions as a group probably now hold about 40 per cent of the shareholding of NDB Bank. The ownership is by state banks, EPF, ETF and Insurance Corporation. This led to a dispute about representation on the Board. In effect this amounts to the re-nationalization of the NDB Bank that was privatized more than a decade ago.
The regaining of government ownership of the Insurance Corporation is another instance of re-nationalization. This also resulted in the former Apollo Hospital being owned by the Insurance Corporation and being re-branded as Lanka Hospital. The government has recently purchased large shareholdings of private banks as well. These moves indicate that the government intends to own many key business enterprises. This is a reversal of the economic policies pursued after liberalization of the economy in 1977 and continued under President Chandrika Kumaratunga who privatized several key enterprises such as Telecom, NDB and the management of the State Plantations.
What are the implications of this policy? First: this buying back operation is costly and would further strain the stringent financial resources of the government. It may have to borrow domestically as well as use borrowed foreign funds. In either case it would increase the public debt and the massive debt servicing costs that were so high that the total revenue of the government was inadequate to service the debt last year. Although the money may not come from the budget, the economic implications of expending resources to buy these enterprises does not make much difference as funds from institutions like EPF and ETF would starve government obtaining resources for its expenditure. Besides, since these are foreign exchange payments such as in the Shell and SriLankan airlines purchase of the shareholding, it would strain the balance of payments.
Whether EPF and ETF funds should be used is another key question. There is an element of risk in such investments that funds kept in trust should not be used. It can be argued that there is an implied guarantee from the government. But if at any time budgetary resources are used for paying EPF and ETF benefits then instead of these payments coming from the resources of the employees and employers, the public would be funding it.
There are other serious implications of re-nationalization. It would deter foreign investment as there could once again be some uncertainty about the government's policies towards the private sector. While other countries like China, Vietnam and India have moved towards privatization, we are moving in the opposite direction. Foreign investors would note this shift and be wary of investing in Sri Lanka. The policy of re-nationalizing would be a serious setback to the country seeking larger amounts of foreign investment.
Another risk is that the reacquired enterprises may be run inefficiently due to many reasons.
Among these is the appointment of unsuitable heads and interference in appointments to other positions. There is a very real possibility that these enterprises would be overstaffed with unsuitable employees. This is the case with most public enterprises such as the SLTB, CEB, Petroleum Corporation, etc. Already government owned enterprises are a huge burden to the government. These additional enterprises could result in further losses. The past performance of the government running commercial enterprises is dismal. Last year the operational losses made by just six public enterprises amounted to nearly Rs 50 billion. This is a huge slice of revenue. The Minister of Energy and Power disclosed that that CEB alone will make a loss of Rs 40 billion this year. Will the current policy of takeovers add to the already heavy burden of public debt and debt servicing costs?
The current policy may be a return to a state dominated economy and a dirigisme economic regime. It has been clearly shown that dirigisme regimes in Sri Lanka achieved much lower economic growth than the liberalized regimes. Besides this, the international experience has demonstrated that economies that are largely private sector dominated ones have ushered in much faster economic growth. It is for this reason that Communist regimes such as China, and Vietnam have opted to move to a reliance on private enterprise. The outcome is likely to be that Sri Lanka would be an unattractive destination for foreign investors in comparison with countries like India, China and Vietnam.
There are several interpretations on why the government is attempting to buy and run enterprises. One of the interpretations is that it is a means of consolidating its dominant political power by commanding a larger share of key economic enterprises. There is even a view that the nationalization of enterprises is an extension of Sinhala nationalism. What is clear is that this move will have an adverse impact on private investment, especially foreign investment.
The efficiencies of the enterprises taken over are likely to deteriorate for the reasons adduced earlier. These enterprises could also be a burden on the public purse as is the case of the several large business enterprises owned by the government. Overall this is a move in the wrong direction that will add further burdens on the public and weaken economic growth.