Troops in varied attire clutching assault rifles went through their drills many a time during rehearsals. Their battleware - tanks, armoured personnel carriers, vehicle mounted Multi Barrel Rocket Launchers, artillery guns - were ready to roll before Government leaders, officials and Colombo-based diplomats last Thursday. Television cameras were to bring those visuals live to the homes of Sri Lankans countrywide.
Alas, the weather gods decided against the historic event - the first anniversary of the military defeat of Tiger guerrillas.
The Media Centre for National Security (MCNS) announced that the ceremonies were postponed. However, the events will be held as soon as good weather prevails in the coming weeks.
Instead, the Government had to deploy troops to help Police to fight a formidable enemy of a different kind. It was the incessant rains and the raging floodwaters in not only Colombo city but also many towns across the country. Roads turned into lakes. Attendance in state and private sector offices was low. So was it in schools.
Drugs shortage
A week earlier, the acute shortage of essential drugs, including basics like saline, became a major problem in state-run hospitals. The only C-130 Hercules transport plane of the Sri Lanka Air Force (SLAF) had to fly to neighbouring India to ferry stocks. That such a life-threatening situation was created for large numbers of Sri Lankans who cannot afford private medical care is a scathing indictment on the former Health Minister Nimal Siripala de Silva and his senior officials. Even a gram seller in a street corner knows that when stocks run low, they would have to be replenished. The Treasury Secretary went on record to say that artificial scarcities were created by persons in the State Pharmaceutical Corporation so that they could rake in commissions as much as 30% through emergency orders.
There are just two lessons in this for the new Health Minister Maithripala Sirisena. Firstly, he has to ensure such an ugly situation does not occur again. Secondly, he also has to be vary of those officials responsible for these corrupt practices. They are still of the bureaucratic coterie. The medicinal drug trade is one, which will flourish as long as human civilisation exists. People become patients and some die. Others need medical care. The need for drugs is there forever. This is what has caused the drug industry to be both lucrative and competitive. The cut-throat competition from would-be suppliers hinges on how influential and how much kickback they could gain.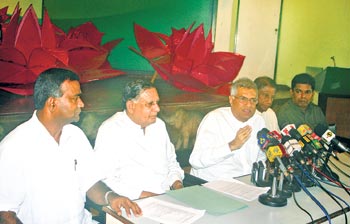 UNP leader Wickremesinghe addressing Thursday's news conference to announce measures the party was taking to deal with the leadership crisis. Pic by Berty Mendis
Similarly, this week's heavy rains and flash floods, which the Meteorological Department said would continue, come as an eye opener to all ministers sworn in only last month. Roads, particularly in the city of Colombo turning into lakes are the result of gross neglect in planning and development. One of the major contributory factors here again is bribery and corruption.
It was only last week, the Sunday Times reported on the front page how files at the Urban Development Authority (UDA) have gone missing. These relate to approvals granted for the construction of high-rise buildings. Allegations have surfaced that some officials took fat bribes to approve the construction of a number of storeys beyond the stipulated limit. Such limits vary from one part of the city to another. Some buildings were located on water retention areas after those responsible were charmed into granting approval. This week's flash floods showed how much such construction activity has ignored conformity with water drainage requirements.
Ban of foreign travel
Thus, instead of rejoicing over the military defeat of Tiger guerrillas last year, the Government had to focus on too much water affecting the day-to-day lives of the people. President Mahinda Rajapaksa placed a ban on foreign travel for his ministers and urged them to attend to the needs of those affected in their electorates. This was whilst other critical reports and statements over the war last year kept pouring in from abroad. They were all synchronised for the first anniversary.
The Sri Lankan security forces and the Liberation Tigers of Tamil Eelam (LTTE) repeatedly violated international humanitarian law during the last five months of their 30-year civil war, claimed the International Crisis Group in a report. It called upon countries like United States, Australia, Britain and France not to deport guerrilla suspects in their country and to conduct what it called "an independent international inquiry."
The Amnesty International said that the United Nations must set up an independent investigation into what it called "massive human rights violations" committed by both the Government and the LTTE. The AI said it was focusing worldwide attention on the "continuing impunity" in Sri Lanka with members around the world holding events today and in the coming weeks. "New evidence of wartime abuses by Sri Lankan Government forces and the separatist Liberation Tigers of Tamil Eelam (LTTE) during the armed conflict that ended one year ago demonstrates the need for an independent international investigation into violations of the laws of war," declared the New York based Human Rights Watch. Joining in was Britain's Channel 4 television network with a new report of what it claims are abuses during the war last year.
Accountability issues
As the Government was preoccupied with the rains and floods, there was diplomatic pressure building overseas. The responses of the international organizations on the first anniversary, all in harmony, were to further pressure United Nations Secretary General Ban Ki-moon to appoint a panel of experts to advise him on accountability issues during the war last year. It was only this week, President Mahinda Rajapaksa appointed former Attorney General and eminent lawyer C.R. de Silva to head an eight-member Lessons Learnt and Reconciliation Commission.
His successor at the Attorney General's Department, Mohan Peiris told UN Secretary General (UNSG) Ban that this Commission would address the accountability issues raised by his officials. Hence, there was no need for a panel of experts to initiate a further probe. However, one of Ban's spokespersons had declared that the UN chief's panel and Rajapaksa's commission "were two different concepts." The message, therefore, was clear. The Government has to brace itself for a major diplomatic initiative to deal with Ban's panel and the consequences that would follow. This is whilst there were informal soundings within Colombo's diplomatic community that the new Commission incorporates some internationally known eminent persons - a request that was shot down promptly by some ministers. One of them said that would only "internationalize a domestic issue."
Such diplomatic initiatives are already on the drawing boards of the External Affairs Ministry. The official ban on foreign travel for ministers will not apply to G.L. Peiris, the External Affairs Minister. Officials at the ministry are busy preparing for a meeting Peiris plans to hold with US Secretary of State, Hillary Clinton possibly next week. Peiris also wants to seek a meeting with Britain's Conservative Government's new Foreign Secretary, William Haig. This week, a group from Friends of Sri Lanka in the United States headed by former Assistant Secretary in the Department of State, Richard Armitage, visited Colombo. He held extensive talks with Economic Development Minister Basil Rajapaksa.
The Presidential travel ban will also not apply, it would seem, to Basil Rajapaksa, whose Gampaha district was badly affected by the ravaging flood waters. He is expected to leave for New Delhi early next week in preparation for his brother, President Mahinda Rajapaksa's scheduled State visit to India on June 8. It is clear that Indo-Sri Lanka bi-lateral relations will continue to be directed by Basil Rajapaksa rather than the Ministry of External Affairs.
This is the outcome of the Rajapaksa brothers taking over Indo-Sri Lanka relations during the testing days of the final assault on the LTTE. Both Basil Rajapaksa and Defence Secretary Gotabaya Rajapaksa, together with Presidential Secretary Lalith Weeratunge dealt directly with the then Indian High Commissioner, Alok Prasad and the Indian Establishment by-passing Foreign Minister Rohitha Bogollagama, who was Foreign Minister minus India. The same seems to apply to G.L. Peiris.
Peiris however said that he is in close contact with his Indian counterpart, S.M. Krishna. At news conferences and through media statements he stated that he had held two rounds of talks with Krishna on the sidelines of the SAARC summit in Bhutan and the G-15 summit in Iran in the span of three weeks. However, Peiris was silent on a serious issue emerging in Sri Lanka-India bilateral relations.
Indian consulate in Jaffna
This is on the issue of the opening of an Indian consulate in northern Jaffna. Why Peiris didn't wish to inform the Sri Lankan public of this request from India remains a mystery. A page one lead story published in the Chennai-based The Hindu newspaper on May 17 states:
"Sri Lanka President Mahinda Rajapaksa will visit India on June 8 to discuss the development of infrastructure in northern Sri Lanka and resettlement of the internally displaced persons. "India will also discuss proposals for an additional consulate in Sri Lanka, revising old communication links and stepping up economic ties".
Later in the report, it states "With a consulate already in Kandy, both countries are now deliberating on one in Jaffna to ensure documented movement of people between northern Sri Lanka and south India. An agreement could be initialed during Mr. Rajapaksa's visit, said a Government source".
It is a well chronicled fact that it was India that instigated the northern insurgency in Sri Lanka during the Indira Gandhi era to destabilize Sri Lanka that was then seen as pro-western. In recent months India has got a little nervy with Sri Lanka's galloping ties with China, and clearly wants to establish a firmer foothold in north Sri Lanka.
For years the Sri Lankan Foreign Ministry kept this issue on the backburner for obvious reasons. A consulate is usually opened up only in areas where a country has many of its citizens living. Just the other day, India opened up a visa section in Jaffna to facilitate northerners obtaining their visas to travel to India without having to come to Colombo. While this was a salutary move, strategic studies analysts are more than a little concerned at the need to open up a consulate in Jaffna when there are no Indian citizens, or certainly not in large numbers to warrant the opening up of a consulate.
Even the shelf life of the Indian consulate in Kandy has passed its use by date with the completion of the Sirima-Shastri Pact and the repatriation of 'stateless persons' of recent Indian origin, the use of such a consulate is also passé.
The opening up of an Indian consulate in Jaffna would surely see the Indians by-passing Colombo in their dealings with north Sri Lanka, which the Defence Ministry has recognized as a powder-keg that has not fully been doused despite the military defeat of the LTTE, and this would certainly be a matter of utmost security concern for the Sri Lankan government to handle with care.
If he was not among the invitees for the planned victory parade on Thursday, retired General Sarath Fonseka, who led troops to victory, made up for it by addressing a news conference in Parliament on the same day. He said guerrilla leader Velupillai Prabhakaran's body was among 35 recovered after fierce battles on May 18 and the next day (May19), last year near the Nandikadal lagoon astride the Mullaitivu coast.
If a victory mode shifted to one of coping with the floods for the Government, for the main opposition United National Party (UNP) the leadership crisis continued. A joint meeting of their parliamentary group and the Working Committee, the main policy making body, heard the findings of the six-member committee chaired by former Speaker Joseph Michael Perera and comprising Kabeer Hashim, John Amaratunga, Lakshman Kiriella, Wijeyadasa Rajapaksa, all MPs and Ronald Perera, Attorney-at-Law.
The committee had been tasked to recommend reforms in the party. UNP leader Ranil Wickremesinghe, embroiled in a crisis after his party's defeat at the presidential and parliamentary elections, made a brief speech. He made clear that the joint meeting was summoned expressly to discuss the report of the six-member committee headed by Joseph Michael Perera.
He read out a three-page report signed by five members. The signature of Lakshman Kiriella (Kandy District) was missing as he had gone to Kandy for a funeral. The highlight of the committee's recommendation was that the five key posts - leader, deputy, assistant leader, national organizer and chairman - be elected by secret ballot "in the event of any competition." Ideally, the committee noted that the five top rung leaders of the party, coming from the Working Committee, "shall be elected by consensus." The six-member team has recommended that a committee comprising the leader, deputy leader, assistant leader, national organizer, the chairman and the general secretary, appoint all other office bearers.
In their covering letter to party leader Wickremesinghe, the committee members said they were satisfied with the allocation of duties and functions to party office-bearers, but that there would be a need to look into this matter further only after the designations and number of office-bearers had been finalized.
"We are also of the view that the party constitution should be replaced with a new constitution considering present requirements and those of the foreseeable future enabling the party to move forward in a vibrant manner and to re-organise in the grassroots level with a view to gaining power", the covering letter dated May 20, 2010 said in conclusion.
The committee actually continues to function as several aspects of the principle of electing the party leader need to be spelt out. For instance, can anyone become a party leader? No, was the view of the committee though this was not committed to paper. The committee was concerned that there would be a need to identify some pre-qualifications (as stated in these columns last week) for someone to become a party leader. Should he or she be a Member of Parliament, and if so, how many years must he or she have been an MP. A set of pre-qualifications will need to be drafted as the next stage of these recommendations.
Then, the committee has also not spelt out the method of proposing a name, how consensus would be reached, and by whom, should there be more than one candidate for the post of party leader, on what basis will any challenger or candidate be asked to step down. The only decision is that voting will be by the Working Committee and by secret ballot should there be two or more contenders.
"This is only the beginning of the party re-organisation," Wickremesinghe told a news conference that followed the joint meeting. Both events took place at Siri Kotha, the UNP headquarters in Kotte. We need to bring in new blood at different levels and create new leaders," added Perera. Galle district parliamentarian Gayantha Karunatilleke has been named spokesperson to comment on matters relating to party reforms. Colombo district MP Wijeyadasa Rajapaksa will assist him on legal issues.
Earlier on Friday, the joint session of the UNP parliamentary group and the Working Committee accepted in principle the recommendations of the six member Reforms Committee. From May 31 until June 3, UNP leaders will discuss its recommendations with their members in Provincial Councils, Pradeshiya Sabhas and other grassroots level bodies. Thereafter, it will go before the party's convention at Siri Kotha on July 17. Since the reforms require changes in the UNP constitution, the process will take more time.
Wickremesinghe said yesterday that he himself had asked the Reforms Committee to formulate the criteria for the election of the party's top five. Such criteria were to include the period of office and related modalities.
A notable feature during the deliberations of the UNP Reforms Committee was the absence of Hambantota district parliamentarian Sajith Premadasa. The committee had written to him to make representations. However, he had chosen not to respond. It was only last week Premadasa hit out at both Wickremesinghe and his ally Ravi Karunanayake. Speaking at a Jathika Jeewaya rally in the Yatinuwara electorate, he said he was not one who called Toppigala a jungle when troops secured control of the area - a direct reference to UNP leader Wickremesinghe.
Nor did he refer to the capture of Elephant Pass (Alimankada) as taking control of Pamankada - a reference to Ravi Karunanayake. He said he was one who took a "modern political path" by criticizing the "the government constructively." Yet, the criticism within the UNP was that Premadasa had not on any occasion criticized the Government nor spoken on behalf of his own party. While he certainly did not refer to Thoppigala as a jungle nor Alimankada as Pamankada, he was not known to have said anything at all during the war against the LTTE. Some of them said he had not even held a party Bala Mandala (branch) meeting in the Hambantota electorate in the past two years.
Premadasa chose to remain silent throughout the 75-minute meeting of the parliamentary group and the working committee. One could say that his silence was deafening. It was Ananda Kularatne, a former UNP parliamentarian for Mulkirigala (Hambantota district), who spoke first. He differed from the committee's recommendations that the leader of the party be elected if no consensus could be reached. The remarks were to draw a sharp retort from Dayasiri Jayasekera (MP - Kurunegala district). He said, "we have decided to go ahead with reforms." Backing his assertions was Asoka Abeysinghe from the Kurunegala district. He had joined the UNP ranks from the UPFA only a few months ago.
He proposed that Wickremesinghe be elevated to an advisory post, something akin to a patron. He wanted to know what his future plans would be. "I will tell you about my future at the next meeting of the Working Committee. I have told Deputy Leader, Karu Jayasuriya, General Secretary, Tissa Attanayake and members of the Reforms Committee," replied Wickremesinghe.
Actor turned politician Ranjan Ramanayake struck a conciliatory note by calling upon Wickremesinghe and Premadasa to work closely together. He said he joined the UNP because Wickremesinghe was a clean leader. At one point, he touched on media reports that said Wickremesinghe had not accounted for a large amount of funds received by the party. He said people were asking where the money had gone.
The UNP leader was to interrupt him to name the Editor of a Sunday newspaper and charge that Rs 11 million was paid to the group during the presidential election campaign. The money had apparently been given to the newspaper group by a friendly MP who came and asked for a reimbursement from the party.
Ramanayake also criticized a television channel that had turned critical of Wickremesinghe. However, both Wickremrsinghe and his Deputy, Karu Jayasuriya rose to defend that channel by saying that it had always backed the UNP.
Ramanayake's references in Sinhala to some sexual trysts angered Badulla district MP Lakshman Seneviratne. "This is a Sinhala Buddhist country. Don't make such remarks," he said. Wickremesinghe was to intervene thereafter to advise him "don't bring religion into this."
Dayasiri Jayasekera was critical of UNP General Secretary Tissa Attanayake. He said the UNP Working Committee at a previous meeting had decided that the post of leader downwards should be elected. However, Attanayake had gone before a news conference to say the opposite thing - that there was no decision to elect the leader. He said it would come necessary to tape record proceedings if they were not recorded correctly. Wickremesinghe was to remark that "we know who gives these things to newspapers."
Retorted Jayasekera, "Sir, You also give things to English newspapers." That retort angered Wickremesinghe who was to point out that Jayasekera had told a TV channel on May 17 that through the Jathika Jeevaya, he and others proposed to carry the party reforms to grassroots level. He had then called upon people to be ready to get to the streets to save the UNP. Wickremesinghe charged it was wrong for Jayasekera to make such remarks when the Reforms Committee was still deliberating.
K.N. Choksy, the former UNP National List MP was to ask his party leadership to first distribute widely the constitution reforms in the party. Thereafter, it would have to be subject to further discussion. "Yes, yes Mr. Choksy, we will do that," said Wickremeisnghe impatiently. Kabeer Hashim (Kegalle district) explained the mandate of the Reforms Committee after Ravi Karunanayake made a request for such an explanation.
As the meeting neared its end, Upali Piyasoma, rose to say he received a letter appointing him to the Working Committee. However, days letter, he had received another letter revoking the appointment. Wickremesinghe was to point out that he wanted to call upon at least six members of the committee to step down. This was to accommodate new members. And when Batticaloa's A. Sashitharan rose to ask why an Opposition Leader had not been appointed to the Eastern Province Provincial Council, Wickremesinghe said "we will discuss those matters on another day" and immediately thereafter, adjourned the meeting.
The end result seemed to be a kind of compromise that made those campaigning for the ouster of Ranil Wickremesinghe as party leader feel that they have moved forward in getting general agreement that he must stand up and be counted if he wants to lead the party; while others ask what kind of democratisation is this if the party leader is to be elected by only some 75 selected members of an elite Working Committee and not the vast membership of youth, womens branches, trade unionists, district organisers, even MPs and general hardcore members of the party who have not switched sides like many other leaders have.
These however remain the internal problems of the UNP. For Sri Lanka, the problem remains that the country's second largest political party, and the main opposition party is in disarray and squabbling for posts while its duty as the main parliamentary opposition is not properly done.
I am ready to go: Ranil
"I don't want to hang on. I have no problem in going. It is a matter for the party to decide. My duty is to ensure the party has a line up of capable faces to lead. They must be dedicated to the UNP."
That was UNP and Opposition Leader, Ranil Wickremesinghe's response when the Sunday Times asked him to comment on his future as leader. This is in the wake of recommendations by the Reforms Committee that the top five party leaders should be elected.
Wickremesinghe said he had already briefed his deputy Karu Jayasuriya,
General Secretary Tissa Attanayake and the Reforms Committee on his future plans.
Here are the answers Wickremrsinghe gave to questions posed on the recent developments.
Q: What is your response to the Reforms Committee recommendations?
A: I accept them in principle. On certain matters, I have a difference of opinion. However, we have to put it for discussion. We must allow the party membership at all levels to discuss the issues.
Q: The Reforms Committee says the leader should also be elected. Do you agree?
A: I am for it. We have to work out details including the time frame, manner of elections, how it takes place etc. We have enough time for it.
But the committee first wants a leader picked on consensus. It should work out the mechanisms for such a consensus.
It is essential to re-structure the National Executive Committee. It should have the last shot in resolving major issues.