Mudiyanse Appu, a middle-class young man visits Ralahamy, a well-to-do land owner in the village to seek permission to marry Ralahamy's daughter. While in the process of conveying the intention of his visit – the proposal- an argument erupts between the two over ownership of property. The dialogue that emerges thereafter in Digeka Yanna Avith, gives a different humorous twist to the play based on Anton Chekhov's famous play 'The Proposal'.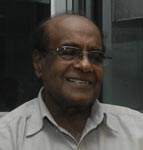 Director Namel Weeramuni
Two one act plays Digeka Yanna Avith and Kandoskiriyawa both directed by veteran thespian Namel Weeramuni will go on the boards at the Lionel Wendt on May 21 at 7 p.m.
Kandoskiriyawa, written by Somapala Gunadheera depicts an entertaining scene that occurs at a polling booth when a Returning Officer is harangued by his staff and compelled to listen to their personal woes. "The story is not based on election stunts, but it is purely a light comedy on how the officer gets harassed by the staff," says Namel.
"In comedies you cannot convey a heavy moral. These two plays show the weaknesses of individuals and how they react to different situations," he says.
"I have been doing a lot of serious plays such as Madyawediyakuge Asipatha and Nattukkariya in the past seven years. Although the latter was a tragic-comedy what registered in the minds of the viewer was the tragedy aspect of it. But people prefer humour. They say they want to have laughter in the evening before they go home after their hectic schedules," he says.
The cast for both plays includes veteran actors and actresses such as Wijerathna Warakagoda, Malini Weeramuni, Daya Tennakoon, Grace Ariyawimal, Lalith Rajapaksha, Senate Dikkumbura, Anusha Dissanayake, Anil Wijesinghe, Pabath Manohara and Nilan Fernando.
Tickets can be obtained from Punchi Theatre, Lionel Wendt or at the entrance. For inquiries call Punchi Theatre on 2672121.