This story has more than one beginning. I might as well start with the beginning of my friendship with George Keyt …
Some time in 1982 or so I was invited by Rupavahini to script a TV documentary on Sri Lanka's greatest artist George Keyt to celebrate his 83rd birthday on April 17, 1984. The last, and only, time I had met Keyt earlier was over 50 years before as a schoolboy in Kandy, when I accompanied my father D.T. Devendra who called on him to collect the drawing the artist had gifted to be the front cover of the Dharmaraja and Mahamaya College Souvenir for their Exhibition and Fun Fair. (I wonder whether either school has preserved a copy of this historic magazine.)
As for script writing, I had known next to nothing till I participated in a brief course conducted by the American documentary film-maker Dr. Wilbur T. Blume. However, Anura Gunasekera of Rupavahini, unlike me, was confident of my capacity to do the job. And so to work…...
The first thing to do was to meet Keyt. His fellow-artist and my colleague in the administration, Stanley Kirinde, readily accepted my invitation to call on the great man and introduce me to him. It was here in the simple Sirimalwatta home he shared with his consorts Menike and Kusum, overlooking the lush green paddy-fields of Dumbara that our acquaintance ripened into friendship over the next few months.
Keyt was a fine raconteur and while master film-maker Tissa Liyanasuriya and his team puttered around with their cameras, he enthralled me with the story of his life and art on which I was to base my script
In the course of one of our many conversations he spoke with some regret of the large painting he had been commissioned to do for the Ceylon Pavilion at the International EXPO 1967 at Montreal, Canada.
However, it was not the painting that had been on display but, as he seemed to remember, a large "tapestry" version. Keyt had never been invited to the exhibition and never saw this work of art as it was left behind in Montreal as too delicate to be shipped to Ceylon.
Flashback to 1966
The account that follows is largely "intelligent conjecture"' as almost all the main actors are no longer alive and as a retired pensioner, I have no access to the archives of the Foreign Ministry. As for me, I was no participant in these "earth-shaking" happenings but only a district officer in the outstations.
To the best of my recollection, independent Ceylon had never participated in any of the prestigious international expositions held, at irregular intervals, as grand national displays of tourism, industry and culture. We were now invited to participate in'EXPO 1967' to be held in Montreal, Canada. Prime Minister Dudley Senanayake, who held the Ministry of Foreign Affairs portfolio, instructed Foreign Secretary G.V.P. Samarasinghe to spare neither expense nor effort to make the Ceylon Pavilion truly memorable.
Ceylon's High Commissioner in Canada, L.S.B. Perera, wealthy race-horse owner and top administrator was a key figure in the organization. His wife Nimal was an aficionado of Ceylon's art and culture. It is, therefore, most likely that it was Mrs. Perera who inspired the idea to have a large painting by our greatest artist, George Keyt, as the centrepiece of the Ceylon Pavilion.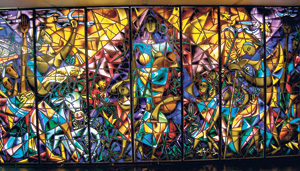 A closeup of the stained-glass reinterpretation of Keyt's -'Lanka Matha' (above) and how it is displayed in the foyer of the Bibliotheque (Library) Marie-Uguay, Boulevard Monk in Montreal (below)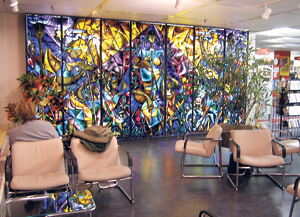 Keyt rose to the opportunity of exposure to an international audience and painted a large canvas (529cm x 260cm) of Lanka Matha/Mother Lanka in all her luxuriance as a village maiden carrying on her hip the punkalasa (amphora) symbolizing abundance and fertility.
The identity of who was responsible for what happened next remains a mystery. This was the decision to reinterpret Keyt's mural, with his consent, in the medium of stained-glass panels (not a "tapestry" as the artist seemed to remember a couple of decades later).
The painting was transported to London. Proper research had obviously been done before Keyt's painting was entrusted to 'Studio Stained Glass' at White Friars. The studio transformed the painting into seven panels of 67cmx260cm each. These panels were then shipped to Montreal where they were meticulously reassembled at the Ceylon Pavilion to be its greatly admired centrepiece.
At the conclusion of the EXPO, a major issue that arose was the disposal of Keyt's mural. Apart from the inevitable logistical problems of shipping these panels intact to Ceylon, was the organizers' awareness that there was no gallery in Colombo that could house it for display with the extraordinary care it deserved.
The Foreign Ministry and our High Commission in Ottawa then came up with the brilliant idea to gift the mural, as a gesture of gratitude, to the City of Montreal that had hosted the exposition. That was that and Keyt's mural now disappeared from Ceylon's official records and personal memories.
The search begins -- 1984
In 1984 Rupavahini honoured Keyt's 83rd birthday with its production of 'George Keyt – Artist of Sri Lanka', scripted by me and filmed by Tissa Liyanasuriya. My friendship with Keyt continued till his death nine years later. Although our conversations ranged far and wide, to my regret, never again did we discuss the EXPO "tapestry". I did make a few desultory inquiries from a Canadian acquaintance who had visited Montreal only to be informed that this work of art was in storage in the museum and could not be displayed.
And there the search rested, in "neutral gear" as it were, until in 2007, I serendipitously met Canadian diplomat Jean-Philippe Linteau at Rohan Edrisinha's home. When I discovered that JP (as he facetiously called himself) was a French Canadian from Montreal I thought I had hit "pay dirt" and invited him to locate Keyt's "tapestry" secreted somewhere in Montreal. Unfortunately, before we could proceed further, JP was transferred to the Canadian Embassy in Washington.
Conscientious as he was, he put me in touch via e-mail with Mlle. Amelie Boucher of the Montreal Directorate of Cultural Development. I corresponded with her, in my rather rusty French, but was not able to get a photograph of this work of art. However, she seems to have sent one to JP in Washington who seems to have sent it to me – but I never received it at the time. He sent it again a few days ago.
This New Year I received the customary card from our dear friend Mahinda Pathmasiri in Montreal. We had known him since his youth as a fellow student at the Alliance Francaise while working as an assistant in a well-known optical firm. He was now in Montreal as the Chief Executive of a Canada-wide optical firm. I could have kicked myself for not having thought of him earlier.
Found at last -- 2010
I lost no time telling Mahinda of my quest and he promptly got in touch with his friend Mme. France Malouin. She, in turn, contacted M. Claude Brault of the Montreal Directorate of Cultural Development who has now provided us with the desired information about this work of art, its provenance and photographs in location.
This work of art is part of the permanent Art Collection of the City of Montreal. The stained- glass installation of 'Lanka Matha' is now beautifully displayed in the foyer of the Bibliotheque (Library) Marie-Uguay, Boulevard Monk in Montreal. It is mounted on a steel frame and illuminated with neon back-lighting (see photographs). Till now, the authorities in Montreal knew little about Keyt whose wonderful mural attracts great attention in this library. I hope that the information I have provided them will go some way to remedy this.
On behalf of the people of Sri Lanka, I must express my sincere gratitude to all those who assisted in this re-discovery of Keyt's wonderful stained- glass mural – Canadian diplomat Jean Philippe Linteau, Amelie Boucher and Claude Brault of the Montreal Directorate of Cultural Development, France Malouin and my dear friend Mahinda Pathmasiri, President-Directeur-General, Optique Nikon Canada.
On the 109th birth anniversary of Keyt which fell yesterday, we can celebrate the re-emergence of his long-lost masterpiece.
But there yet remains a mystery to be solved. Where is Keyt's original painting on which the stained-glass mural was based?