Make way for the 105th Richmond-Mahinda cricket encounter, affectionately referred to as the 'Battle of the Lovers' at the Galle International Cricket Stadium on March 19 and 20. This is the oldest cricket game in the outstations and a lot of attention is focused in this encounter.
Records show that the first encounter in the series was played in 1905 and Mahinda has triumphed 22 encounters whilst Richmond has won 20 games. From 1969 onwards a spate of draws has figured this popular encounter.
2008 was a special year for Mahinda as they won over Richmond but a spate of draws followed Richmond with almost monotonous regularity since 1969 for 41 years!
Going back on the history of this famous series, in 1939 Sirisena Hettige of Mahinda hammered 155 runs and this record lasted until 1972 when Richmond's Prasad Kariyawasam hit a whirlwind 156 to overtake that score. In that same encounter Mahinda's P.H.K.H. Ranasingha hit 162 and gave Mahinda the highest score in the series once again. This is the highest score todate in the series.
In bowling Somasiri Ambawatte of Mahinda captured 10 wickets and skittled out Richmond for a paltry 53 runs and in the second innings Ambawatte captured six wickets and cracked an unbeaten 103 for Richmond. This is another hallmark of this encounter.
Another first in the encounter is that the 12 Amendra brothers turned out for Mahinda at different times, which is probably a world record! Denuwan Rajakaruna, a sixth year player and one of the best wicket keepers in schools today leads Mahinda. He has represented the Sri Lanka Under 19 team and has toured Australia, South Africa and New Zealand. Rajakaruna's deputyis Rumesh Buddika. Buddhika too has represented the Sri Lanka Under 19 team.
Kusal Probhoda is a hard hitting batsman who has accumulated 500 runs this season. Iros Samarasuriya is his deputy. He has collected 400 runs this season.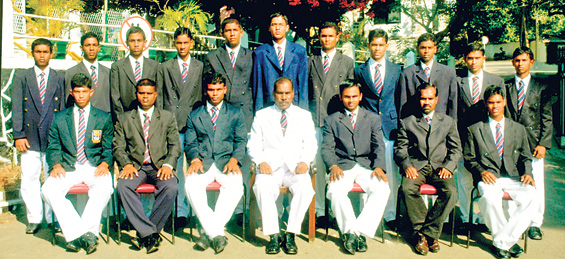 Richmond (Seated in Front from Left) - Yasoda Lanka, Tharanga Indika (Coach), Irosh Samarasuriya (Vice Captain), E.M.S. Ekanayake (Principal), Kusal Probodha (Captain), Damith Prasantha (Master-In-Charge), Dananjaya de Silva. (Back Row from Left): Hasitha Madushan, Prabasiri Waduge, Kalana Sasanka, Sadaru Dantanarayana, Chamodi Piyumal, Supun Dissanayake, Danushka Jayawardena, Dilipa Priyadarshana, Suraj Palliyaguruge, Charith Priyadarshana, Mahesh Sandaruwan.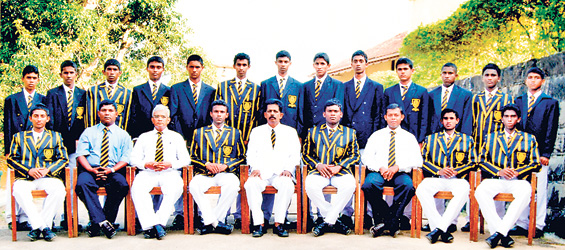 Mahinda (Seated in Front from Left) - Tharaka Nimesh, Harsha Munasinghe (Coach), K. Wimalasena (Prefect of Games), Kaushalya Gajasinghe, R.M. Werahara (Principal), Denuwan Rajakaruna (Captain), K.M.D. Prasad (Master-In-Charge), Rumesh Buddhika, Nisala Tharaka. (Back Row from Left) - Chandu Piripun, Sohan Kariyawasam, Chalana de Silva, Udara Jayasinghe, Dilan Buddhika, Sachith Lakmal, Hasitha Sandanuwan, Dinudu Sampath, Dimuthu Ruwan, Supun Chanaka, Indira Gallage, Niriwatte Thikshala, Hashan Kumuditha.