A top-level probe got underway as allegations spread that the famous 'Sigiriya Warriors' or Giant Honeybees nesting on the rock had been destroyed by officials of the Central Cultural Fund.
There has been no order to destroy the Giant Honeybees and in fact strict instructions have been given that no harm should be done to them because they are part of the unique "mixed heritage" of Sigiriya, said a perturbed Central Cultural Fund Director-General Sudarshan Seneviratne, who himself rushed to the site to hold the inquiry on Friday.
Sigiriya is not only a heritage site but also part of a wildlife sanctuary, the Sunday Times understands.
The inquiry came as reports spread that CCF officials had allegedly burnt and sprayed a chemical powder to destroy two hives close to the paws of the lion.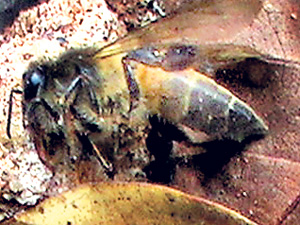 Dead honeybees: Pic Kanchana Kumara Ariyadasa
Officials have only been instructed to contain the bees at Sigiriya while many measures have been taken to protect visitors who bring in a revenue of Rs. 1.1 million daily, he explained.
Why would we take such crass action as to burn and destroy the nests, when we know the value of this "mixed heritage", both cultural and natural, found only at Sigiriya and nowhere else in the country, he asked, adding that other heritage sites are only urban. "We are also well aware that Sigiriya is a wildlife sanctuary and we will crack down on anyone who destroys any creature here," he assured, explaining that he saw several hives there on Friday.
Wildlife officials who come down hard on any violations have so far not indicated that there has been destruction of the hives, the Sunday Times understands while another angle which other sources pointed out should be followed is whether mischief-makers had a hand in planting stuff to create trouble.
Explaining the containment measures being taken,Prof. Seneviratne said a steel mesh (net) was being put up to localize the bees to the area where they were, not only to stop the attacks but also to prevent them from nesting in the fresco pocket.
"To safeguard visitors, both local and foreign, we are also insisting that they don protective jackets if they are going beyond the fresco pocket," he said, adding that plans are underway to set up two wellness centres, behind the ticket counter at Sigiriya itself and Moragahamulla to treat anyone stung by the bees. "We are hoping to have a permanent doctor at the Sigiriya centre."
Meanwhile, our correspondent Kanchana Kumara Ariyadasa reports that on March 4, CCF officials chanted pirith by the side of the rock to safeguard it from the bees.
Then on March 6, the media in the area had been informed that the pirith ceremony had worked and the bees had left, he states, explaining that on March 10, a Deva Shanthiya was organized at the foot of the rock where there was kiribath in plenty and a kattadiya apparently visited by a god, incanting that the Bambaru had fled and the sudu mahaththuru will come to Sigiriya in their numbers. The kattadiya had indicated that poojas should be held every six months to keep the bees away.
However, when our correspondent did some checking he had got to know that two hives had allegedly been burnt or destroyed with some chemical powder.
Only one hive, hidden in a deep crevice of the rock with about 100,000 bees is left, he had learnt.
Bee expert says they are essential for our survival
The Bambara colonies at Sigiriya should be protected, stressed Dr. R.W.K. Punchihewa who has done extensive research on the Giant Honeybees or Rock Bees, pointing out that they are the most important pollinators in Sri Lanka.
"Destroying the Bambaras means we are destroying nature. They are much more important than elephants. Sri Lankans cannot survive without this pollinator and the long-term effects would be disastrous," he warns in an e-mail interview from California, where he is working on a research project on bees and fruit pollination.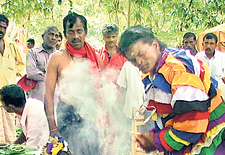 Shanthikarma: Did it go wrong?
The bees are a 'keystone' species, it is learnt. Offering to help the Bambaras because he feels it is his duty, Dr. Punchihewa says there are about 60,000 bees in an average colony which number, however, can go up to about 100,000. Destroying them would have a chain reaction, according to him. The seed production would be seriously affected if an area does not have these bees, without seeds plants will not survive, without plants a forest will not survive and without forests, the country will not survive.
During the migratory period when the process of pollination takes place, there are about 50 colonies at Sigiriya, according to Dr. Punchihewa. "Some decades ago I counted nearly 100 colonies."
When asked about the consequences of the hive-destruction, he explains that usually bees will attack only if humans attack them. Even if a single bee gets crushed, there will be a retaliatory attack by the whole colony.
The way to deal with these bees is not to destroy them but to prevent them getting disturbed and becoming aggressive, by having an 'ecological restoration programme' with the use of appropriate plants to deflect (change) their flight path. It is crucial to ensure that humans do not interfere with their flight path, he says.
Deflecting their flight path is a short-term remedy, which should be followed by offering them alternative nesting sites in the long term by the use of several plants we have in Sri Lanka. While the ecological restoration programme is not difficult or costly it will enhance the beauty of the area, he says.
Although many are the times he has offered to help manage the bees, there has been no response, the Sunday Times learns. About two years ago, Dr. Punchihewa was part of a team that produced a TV documentary on 'Warrior Bees' with the National Geographic Society, Washington DC.
These bees are believed to be the incarnation of the fallen soldiers of King Kashyapa who defend this rock fortress.
Meanwhile there has been speculation and superstition that the destruction of the Bambara colonies at the Sri Dalada Maligawa in Kandy before the visit of Prince Charles during Sri Lankas 50th anniversary of independence, resulted in a "curse" which saw the Maligawa coming under LTTE attack.