In the sweltering noon heat last Thursday, supporters of Mangala Samaraweera escorted him in a procession along the streets of Matara.
He handed nomination papers at the District Secretariat a day ahead of Friday's deadline. Along the route, crowds had gathered around a small table at the main bus station. They were signing a Janatha Vimukthi Peramuna (JVP) backed petition demanding the release of retired General Sarath Fonseka from Army custody. The procession veered there. Samaraweera and his supporters placed their signatures too.
When they parted ways to embark on an almost six-week long campaign for the April 8 parliamentary elections, another chapter that highlighted the paradox of Sri Lanka's politics began to unfold. Samaraweera is credited with putting together - the United National Front (UNF), the JVP and other lesser-known opposition political parties - in a coalition that backed retired Gen. Fonseka at the January 26 presidential election; much the same way he brokered a deal between the JVP and the then Government of President Chandrika Bandaranaike Kumaratunga in 2004. That saw JVPers joining her Cabinet and the birth of the United People's Freedom Alliance (UPFA).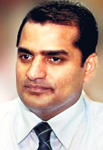 Senaka de Silva: Belgium seeks his extradition
However, the deal brokered last November to back Gen. Fonseka was more politically significant. It brought together two archenemies, the United National Party (UNP - through the UNF) and the JVP, which held diametrically opposite political philosophies, especially on the economic front. For ten weeks or more, neither made accusations against the other. They went their separate ways towards the common objective.
That fragile situation is fast changing. As a political analyst jocularly noted, it was like peeling a ripened orange. "The skin is off, and the peels have been parted. You can no longer put it together as an orange," he said alluding to the break-up of the Fonseka coalition.
For 27 years, since he followed his father, Mahanama's footsteps, to take to politics in Matara, Samaraweera has been a staunch backer of the Sri Lanka Freedom Party (SLFP). During 21 years as a parliamentarian, he served as cabinet minister holding many portfolios including media and foreign affairs. In those years, the avowed SLFPer vowed to keep the UNP and its symbol, the Elephant from gaining ground in Matara.
Last Thursday, however, his mission had changed. He was a candidate contesting the southern district under the Elephant symbol. Though it was the 'common symbol' of the UNF, it still belonged to the UNP, the largest constituent partner of the Front. And that too, after his Sri Lanka Freedom Party (Mahajana Wing) was fractured with one of his key allies, Tiran Alles, joining hands with retired Gen. Fonseka and the JVP under the National Democratic Alliance (NDA).
The new alliance was very much the old, and perhaps some stale wine, in a new bottle with a new label. Other than the JVP, there were three new additions - retired Gen. Fonseka, an old soldier, Tiran Alles, who prospered selling mobile phone services in the then battle-torn north and Arjuna Ranatunga who made a name playing cricket. The trio were the new players in a new-look JVP joining the political firmament under a new brand name or number plate.
Placing his signature for retired Gen. Fonseka's release from Army custody, was a dilemma not only for Samaraweera who was in Matara. It was the same with many other leaders of the UNF in Colombo. Gen. Fonseka and the DNA are potential rivals in the forthcoming parliamentary elections where the opposition would get split. The UNF has now together distanced itself from the former Army Commander and its one-time ally, the JVP. It reflected the pithy Sinhala proverb that spoke about kissing the hand that cannot be cut off.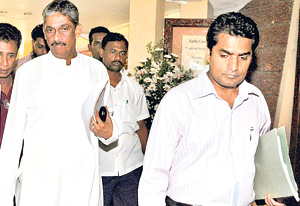 Senaka seen with Gen. Fonseka at Cinnamon Lakeside Hotel the day after the Presidential election
There were several reasons. Main among them is the fact that the political battle lines were clearly defined when the UNP, the main constituent partner of the UNF decided that the Elephant would be its symbol. Added to that were the periodic revelations following CID investigations about allegations of corruption, violations of exchange control regulations and other serious charges.
These have badly dented retired Gen. Fonseka's credibility, particularly among those who voted for him at the Presidential poll, and especially those who voted to protest corruption under the present dispensation. He had first denied some of them but they later turned out to be correct. The fact that his son-in-law Danuna Tillekeratne is a fugitive from justice has not helped him either.
With more revelations to come, there is little doubt, the image of retired Gen. Fonseka as a soldier who took to politics to battle corruption is fast receding. Denials by him of involvement by family members have been proved wrong and he has to answer questions on how he inherited foreign funds. CID detectives probing the deposits of more than Rs 75 million (including US $ 527,000) are to question him after revelations that he was the recipient.
The constituent parties of neither the UNF nor the DNA have so far commented on these revelations. UNF leader Ranil Wickremesinghe, however, declared that his Front was strongly opposed to the way in which Gen. Fonseka was arrested and is going to be dealt with. "Why cannot the Government produce him before civil courts? Why don't they take necessary action there? This is a dictatorship like in Burma," he told the Sunday Times.
However, an Army source said the former Army Commander would face charges before a General Court Martial with regard to his conduct when holding office as Chief of Defence Staff (CDS). "As for other offences, he will face charges in the civil courts," the source said speaking on grounds of anonymity.
UNF-DNA talks
Though the opposition parties had chosen to go different ways, there was considerable behind-the-scene activity in the recent weeks. This led to wild speculation in sections of the media. The Sunday Times today reveals the exact developments and the stalemate that followed.
On February 20 (Saturday), Tiran Alles, now a close associate of retired Gen. Fonseka and his family, sought a meeting with UNF leader, Wickremesinghe. He was now playing the role of emissary for the National Democratic Alliance (NDA). He had wanted to ascertain whether retired Gen. Fonseka would be made deputy leader of both the United National Party and the United National Front if he were to decide to contest under the elephant symbol. UNP sources said that Alles was told that no official positions could be assured but an offer was made to appoint the former Army Commander as the first name on the National List. An offer had also been made to accommodate even his wife Anoma as a candidate.
These sources pointed out that the JVP as well as others in the opposition backing them had earlier declared they were willing to form a common front under the leadership of Wickremesinghe. They had even agreed to him becoming the Prime Minister if they won a majority or as Opposition Leader if they lost. However, the UNF was insistent that all should come under the Elephant symbol.
As a compromise, Wickremesinghe had offered Alles a new formula. The UNF was willing to allow its allies, if they joined, to contest under the Swan symbol in the districts of Kalutara and Matara. The UNF would thus not field candidates in these two districts under the Elephant symbol. The UNF was also open for discussion on "allowing one or two more districts" for candidates to contest under the Swan symbol. The move would have not only helped retired Gen. Fonseka but would have come handy to Mangala Samaraweera as well. Alles was expected to convey this to Gen. Fonseka.
Thereafter, last Monday, Wickremesinghe met with Anoma Fonseka to discuss matters further. Also taking part in the discussion was the former Army Commander's attorney Wijedasa Rajapaksa, who is UNP's candidate for Maharagama electorate in the Colombo district. At this meeting, Wickremesinghe agreed to offer Gen. Fonseka the post of deputy leader of the UNF. His wife Anoma had declared that her husband did not want such a position. She had said that the retired General did not wish to be viewed as "doing a contract job" for the UNP. After spending some time discussing Gen. Fonseka's case before the Supreme Court, Wickremesinghe had withdrawn from the discussion.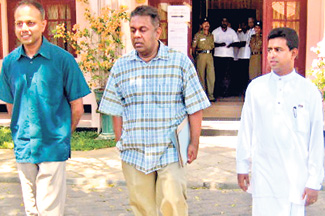 Sagala Ratnayake, Mangala Samaraweera and Buddhika Pathirana outside the Matara Secretariat after they handed over nomination papers on Friday.
Last Thursday, JVP's Anura Kumara Dissanayake, had a meeting with Wickremesinghe. It was a last ditch attempt to ascertain whether a grand opposition coalition was possible at all. Wickremesinghe is learnt to have re-iterated his offer to concede both Kalutara and Matara districts for the JVP and its allies to contest under the Swan symbol. However, he had explained that the UNF had decided that he should be the party leader and Prime Ministerial aspirant.
That was how the NDA went its way fielding Gen. Fonseka in Colombo whilst fielding mostly JVPers for other districts. On the NDA National List, the first two names are those of Anura Kumara Dissanayake and Tiran Alles.
A noteworthy feature here is the absence of any name representing the minority community.
The slowly but surely widening divide between the UNF and the NDA is becoming clearer. The fundamental rights application of Anoma Fonseka before the Supreme Court last Tuesday seeking the release of her husband from Army custody showed it all. Prominent UNPers who were present on the earlier occasion were conspicuous by their absence in Courts. Nor were many UNP supporters present. This was the first signal that UNF support for the retired General would no longer be forthcoming.
Criminal record
There was more embarrassment for Gen. Fonseka this week as new revelations emerged from CID investigations. It has come to light that his closest aide, personal secretary and campaign manager for last month's presidential elections is a convicted criminal. The role of Senaka Haripriya Arnold (Sha) De Silva first came to public focus after he made a hurried trip with Gen. (retd.) Fonseka to Mumbai (Bombay) ahead of nominations for the presidential election. It came to light that he had been indicted in courts for an offence relating to VAT (Value Added Tax) and there had been a court order debarring him from leaving the country.
CID detectives found there had been a discrepancy in the number of the passport he held and the passport number given to the Immigration authorities. It was only thereafter that his passport was impounded. Senaka de Silva was arrested together with Gen. (retd.) Fonseka on February 8.
This week, the Criminal Investigation Department (CID) headquarters received documents from the Belgian Police seeking the immediate extradition of Senaka de Silva to Brussels. They have declared in the documents sent that he had been tried in absentia by a Belgian court for a criminal offence involving cheating. This was for hacking into a bank account and transferring money in 2004. The court sentenced him to two years rigorous imprisonment.
The Belgian authorities had not been able to locate him until his name received wide publicity. However, CID authorities are unable to comply with the request since there is no extradition treaty between Sri Lanka and Belgium. Hence, the matter has been placed in the hands of the Attorney General's Department. It is examining whether there are legal ways in which he could be sent to face charges in Belgium.
CID detectives say that de Silva had also served three and half years, part of a longer sentence, at the Welikade Prison in late 1980s for robbery. He had been released before the completion of his term due to good behaviour. This was in case no: 386424. He had been discharged from the Army on disciplinary grounds when he held the rank of Lieutenant though he had continued to use the higher rank of Captain. Detectives this week received confirmation from the University Grants Commission Chairman Professor Gamini Samaranayake that de Silva did not hold any doctorate from any Sri Lankan university though he used that title.
In the weeks ahead of last month's presidential election, opposition leaders including Ranil Wickremesinghe, Mangala Samaraweera and senior JVP politicians had to seek appointments from Senaka de Silva to meet Gen. Fonseka. He officiated as the retired General's secretary and was responsible for all the administrative aspects of his campaign.
The Sunday Times learnt there was frequent friction when such meetings took place with senior opposition leaders unable to chat with Gen. Fonseka on a one-to-one basis. Often, they had to ask Senaka de Silva and even Tiran Alles to withdraw from the room.
It seemed ironic that a lieutenant, discharged from the Army for misconduct, was directing retired Majors General and other officers during last month's presidential poll campaign. During that time, the talk did the rounds in UNP circles that Senaka de Silva was the prospective Defence Secretary if Gen. Fonseka had won. The same circles spoke of Tiran Alles being the Secretary to the President. However, Alles denied he had such plans.
Money in safe
In a related development, CID detectives on Thursday questioned Asoka Tillekeratne, mother of Gen. Fonseka's son-in-law Danuna Tillekeratne, on the discovery of more than Rs 75 million in currency including US $527,000. She was asked to reveal the identity of the person who carried the currency notes in a brief case. The person's image is clearly shown in the surveillance cameras installed in the premises of the local bank in Thimbirigasyaya. In a statement earlier, Ms Tillekeratne had said she did not know the identity of the person.
However, she had admitted on Thursday that the person was a relative. The person in question operated a reception hall in Kotte and had also been a caterer. Detectives found that he had left Sri Lanka to a West Asian country. Detectives also checked another personal account in a local bank in the name of Ms. Tillekeratne and found a balance of nine million rupees. The have initiated action to freeze this bank account too.
Books, maintained at Gen. Fonseka's office at Rajakeeya Mawatha and seized by CID detectives, have made a string of revelations. About Rs 20 million has been paid to a person who was handling media work in the UNP before he associated himself with Gen. Fonseka's campaign. About Rs 15 million has been spent on retired Army officers appointed co-ordinators at the electorate level. A retired Major General, now evading arrest, has been paid Rs 72 million to "carry out campaign-related work" including the recruitment of retired soldiers.
Military inquiry
On Friday, CID detectives continued their interrogation of Gen. Fonseka at his annexe in Navy Headquarters. He was making statements to them on the detection of explosives/weapons in a temple in Maligawatte as well as some follow-up matters. These included what went on at the Cinnamon Lakeside hotel on the night of January 26 and thereafter. Detectives are to interrogate him further.
The Army's Chief of Staff, Major General Daya Ratnayake, has concluded recording 'summary of evidence' against Gen. Fonseka on Friday. He will forward his report to Army Commander Lt. Gen. Jagath Jayasuriya. The Sunday Times learns that the composition of a General Court Martial headed by acting Chief of Defence Staff, Air Chief Marshal Roshan Gunathilake will be announced next week.
The revelations unfolding as a result of the CID investigations, no doubt, will continue to affect Gen. Fonseka's credibility during the election campaign. It would be a dilemma for the JVP that will do all his promotional work in the Colombo District, particularly when it has remained silent on the string of allegations against the leader of its new alliance.
UPFA crises
For the UPFA, Basil Rajapaksa, as national organiser has taken over its campaign. He surprised many on Friday by handing over a document declaring his assets to Gampaha District Secretary P.A. Abeysekera. He urged him to forward the document to Elections Commissioner Dayananda Dissanayake. Ministers Dallas Alahapperuma and Susil Premajayantha have been named as media spokespersons for the campaign.
President Mahinda Rajapaksa, though not at the centre of the campaign like during last month's poll, still had to involve himself in some crisis management.
The problems came from former UNP pole-vaulters who joined the UPFA. Minister Gamini Lokuge turned up at 'Temple Trees' with his letter of resignation in hand. He wanted to quit the UPFA. He was opposed to Chandana Kathirearatchchi being named a candidate for Colombo district. It took some time for Rajapaksa to convince Lokuge. He promised to visit Kesbawa and tell Lokuge's supporters to vote for him. This he did. However, Lokuge supporters noted that Rajapaksa did not say much about Lokuge during the meeting.
Another issue came when former parliamentarian and Minister, Mano Wijeyaratne telephoned Rajapaksa to say he would not contest from Kegalle. This is if Buddhadasa Vittanachchi was named a candidate for Kegalle Distrct. Wijeyaratne felt he would lose preference votes coming to him. Rajapaksa promptly telephoned Wijeratne's wife Bharati. He told her to persuade her husband not to be foolish. Rajapaksa's charm offensive worked. Wijeyaratne also changed his mind.
There were several Ministers who were incensed that NFF leader Wimal Weerawansa, had arranged a book launch at Temple Trees and invited a large crowd to witness it. They said it was a bad precedent and would also reflect badly on their polls campaign. The matter was conveyed to President Rajapaksa by Minister Dallas Allahapperuma.
Weerawansa's book 'Garu Kathanayake Thumani' (or Honourable Speaker) is a compilation of speeches made by him in parliament with regard to the then separatist war and the need to safeguard the country's sovereignty and integrity. Rajapaksa learnt that a crowd had turned up for the book launch and decided to ignore the protests. He praised Weerawansa for both defending him and the armed forces during critical moments. This was something some of his own party men had been shy to do. That no doubt was a morale boost for Weerawansa whose billboards have sprung up in most parts of the City of Colombo. He was called the panchayuda or a five-pronged weapon used in the years of yore.
With nominations closed and more than 7,700 candidates in the fray the next five weeks are going to see some intense campaigning around the country. The 14 million registered voters are not going to have a problem with the quantity to chose from; it is the quality that seems to be the problem.