The Educate Lanka Foundation is run by 50 enthusiastic students and young professionals in the United States, who work on a voluntary basis. Founded in 2006, the non-profit organization firmly believes that education is the foundation of every country and helps underprivileged children obtain the education they rightfully deserve.
One of the significant obstacles students have to overcome is the cost of complementary needs such as uniforms, books, transportation and school supplies. And as a result, those who cannot afford these necessities end up dropping out of school.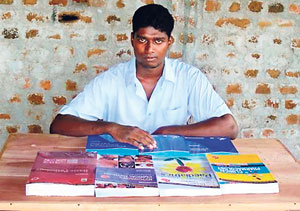 One of the students the foundation has helped
Over the past three years, the Educate Lanka Foundation has helped ease this issue by providing scholarships to deserving students who show promise of academic excellence. With the aid of fundraisers, donations and grants, the Educate Lanka Foundation has touched the lives of 200 students of varied ethnicities, religions and education levels in Sri Lanka.
The Education Lanka Foundation is the only Sri Lankan charity to be voted among the top 100 charities in the Chase Community Giving Programme on Facebook and has won a $25,000 donation from Chase Bank. The Foundation vied with over 500,000 US based Charities in the first round.
The selected charities now have the opportunity to qualify for the top prize of $1 million from Chase Bank in the second round.
The five runners- up will receive a donation of $100,000 each. The winners will be chosen based on the number of votes accumulated during the voting period from January 16 -22 .
Facebook users will have the opportunity to vote via the direct link on Facebook (http://apps.facebook.com/chasecommunitygiving/charities/858948) or through the Foundation's website (www.educatelanka.org)
With the help of your vote, the $1 million dollar prize would be utilized to fund 1000 students for five full years as well as pave the way for educational infrastructure investment such as the building of science labs, libraries and computer labs.
"You can provide education to thousands of students and change their future with just a click of a button! Vote for Educate Lanka Foundation and help us make that difference in a student's life," Manjula Dissanayake, President of Educate Lanka Foundation told the Mirror Magazine.