Controversial businessman Harry Jayawardene abused and threatened a Business Times journalist on Friday saying he could send her 'to a place where you won't ever come back from."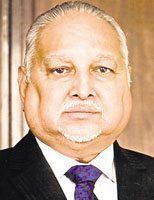 Harry Jayawardene
The ugly incident by one of Sri Lanka's richest men occurred at a seasonal cocktails hosted by a Colombo five-star hotel in full view of many top corporate executives who watched in amazement at the threats and intimidation levelled at Business Times journalist Duruthu Edirimuni Chandrasekera.
"Everyone watched but did nothing to stop the abuse," recalled Ms. Chandrasekera, who said she told Mr Jayawardene that his intimidation and threats would not stop her from performing her professional functions.
The Business Times, the financial and business arm of the Sunday Times, has reported extensively on serious issues and conflicts between Mr. Jayawardene and his other directors at Stassens and its related companies.
The directors, who have also faced threats from Mr. Jayawardene, have gone to court against the hostile tycoon. In all these stories, Mr. Jayawardene has refused to comment when asked to do so by the newspaper.
He also lost the Sri Lanka Insurance Corp (SLIC), which his group acquired and later saw it reverting to the state, following a Supreme Court judgment which found the transaction was flawed.
Seeing the Business Times reporter at the function, Mr. Jayewardene accosted her, accused the paper of printing a 'lot of lies and fibs' (about him)' and said: "I will take you to the cleaners – you will not have money to pay! You will be begging on the streets – begging. I have all that you wrote under your name and all of it is lies I will sue the lot of you – you wait and see what will happen to you."
He called the reporter a "street t..t and a b…h' at this point, as Ms. Chandrasekera moved away. But Mr. Jayawardene followed the reporter and continued his hostile oratory with threats and vile abuse for a while.
Mr Jayawardene, who once had the backing of a President, is well known for threatening a Customs officer, many years back at pistol point.
A complaint has been lodged at the Fort Police by Ms. Chandrasekara.