MEDAN, Indonesia, Dec 5, (AFP) -Indonesian police on Saturday questioned a man they believed accidentally started a fire in a crowded karaoke bar that killed 20 people.The blaze broke out late Friday in the third-floor club, part of the larger M City entertainment complex in the city of Medan, North Sumatra province.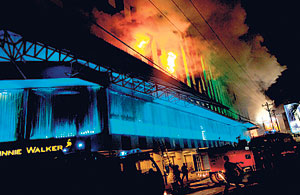 Indonesian fire fighters put out a blaze in a karaoke club in Medan on December 4. AFP
It spread quickly to other floors and raged for an hour before firefighters were able to bring it under control.
"Twenty people were killed in the fire. Eleven were male and nine were female," Medan police chief Imam Margono told AFP.
"They were killed because they got trapped on the third floor in the karaoke lounges. The lounges were near a kitchen (and) the third floor was sound-proofed, so there was no ventilation."Most of the victims reportedly died of smoke inhalation.Police said a short circuit was initially suspected of having started the fire.
But further investigations pointed to a cleaner who had tried to tidy an area of carpeting by burning excess material.
"We have found a suspect. He's a member of staff at the entertainment complex," Margono said. "He tried to tidy up the carpet on the third floor by burning excess threads. The carpet quickly caught on fire."Medan Fire Department chief Vukko Bakkara told The Jakarta Post newspaper firemen had difficulty evacuating the building because most of the karaoke lounges were locked when the blaze broke out.