Even if a front-page report in the Sunday Times last week by the Diplomatic Editor did not lead to much discussion, the related events were still chilling.
President Mahinda Rajapaksa sought a meeting with India's High Commissioner Alok Prasad on Thursday (October 15) evening. There were fears of an attempt that night, to destabilise the democratic system through illegal means. It was in short, the fear of a mutiny in the Forces engineered by those disgruntled with the Government. That prompted him to inquire about help from India. Prasad, who has since concluded his term and left Colombo, contacted his Government in New Delhi.
If most Sri Lankans, who were unaware of the developments, retired to their beds, there was hectic activity that night both in Colombo and in New Delhi. A diplomatic source said Indian troops including paratroopers were placed on high alert at one of their bases. As contingency plans were being looked at, telephone lines between the two capitals were busy.
Defence Attaches in some leading diplomatic missions in Colombo were woken up. Colleagues were asking one another about reports of any possible attempts that night to disturb the life of the community. Most were perplexed. None had a clue.
Defence Secretary Lieut.Col. (Ret.) Gotabhaya Rajapaksa himself had not taken these reports too seriously, though he had indeed been told by some retired senior officers and some serving officers to be careful. In fact, it was Prasad who told him of what the President had told him of these so-called plans afoot. The Defence Secretary had felt it was too premature for any requests from foreign Governments, but there it was, India had already been alerted and acting fast.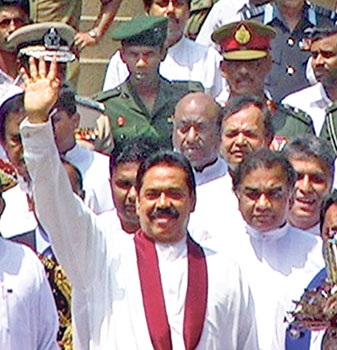 Gen. Fonseka walking behind President Rajapaksa as they came for the Matale rally
Hours later, telephone calls that led to panic proportions within the Defence Establishment winded down. One kept telling the other that there was no cause for alarm. There was no truth in claims of any anti-democratic move. Word had got around the diplomatic grapevine in Colombo as well. One western diplomat told another that the story had its roots in some retired military men who had mistakenly assumed a possible conspiracy when none really existed. It appeared that conspiracy theories touted by politicians over numerous issues had spread to some of the retired Army officers. They formulated their own stories, not based on any hard intelligence.
President Rajapaksa was very much in control and had the fullest backing of the State security apparatus. A new set completely loyal to the President and the Defence Secretary were now at the helm at Army HQ. By Friday morning last week, questions were being asked how the panic button came to be pressed.
For its part, New Delhi made clear India was ready and willing to help Sri Lanka if the democratically-elected Government faced any threat by un-democratic elements. Naturally, to avoid any misapprehension over their involvement, all they needed was a formal request from the Sri Lankan President. There were similar situations where India has come to the aid of democratically-elected governments in the neighbourhood.
Fonseka bashing
In November 1988 the then Prime Minister, Rajiv Gandhi, ordered 1,600 troops to the neighbouring Maldives. Sixty armed cadres of the People's Liberation Organisation of Tamil Eelam (PLOTE), then a guerrilla group, had arrived in a freighter in the seas off the Maldivian capital, Male. Later, they reached the island capital in speedboats to attack the National Security Service (NSS) headquarters and gain control of Male.
They were mercenaries hired by a Maldivian national to topple the Government. President Maumoon Abdul Gayoom, who escaped capture by the PLOTE cadres, requested help from the United States, Britain and India. Within 12 hours, heavily armed Indian paratroopers began landing in Male. Within hours, that saw Gayoom regain full control of the Indian Ocean archipelago.
However, that night's false alarm did force the Government to trace back the events. It was only five months ago that troops militarily defeated the Tiger guerrillas. During the military campaign and thereafter, the Government has been affording top priority to the welfare of the troops. These moves have earned for it plaudits from the troops. However, adding confusion to the situation that week was the controversy surrounding the Chief of Defence Staff, General Sarath Fonseka. The Sunday Times in these columns on October 11 and 18 revealed fuller details about a dialogue he has initiated with the Opposition.
The latest Government Minister to join the public attack on General Fonseka for this move is UNP 'pole vaulter', Hemakumara Nanayakkara, non-Cabinet Minister for Agriculture. He told a public rally (Janahamuwa) in Elpitiya: "LTTE leader Velupillai Prabhakaran was killed by none other than the President. They are trying to bring puppet leaders to claim the achievement. The UNP and the joint opposition which do not have a candidate are trying to give the credit to former Army Commander General Sarath Fonseka. This is a democratic country. We will not allow a military rule. The people will not allow that. It is a sorry state of affairs for a military leader to come to politics. It is not good for that person as well as the country."
Video footage of his speech was aired on Friday night on a local television channel. Earlier, Ministers Lakshman Yapa Abeywardena, Susil Premajayantha and Mervyn Silva, as revealed last week, made critical remarks. Also joining in this week was an Army officer, Major General (now retired) Gamini Jayasundera. He still wears Army uniform as Commandant of the Sri Lanka Cadet Corps. He said at a ceremony linked to the visit of cadets from SAARC countries that no single person in the Army could take credit for the military defeat of Tiger guerrillas.
The credit, he said, should go to President Rajapaksa. Members of Wimal Weerawansa's National Freedom Front (NFF) distributed leaflets opposite the Fort Railway Station on Wednesday saying moves to have Gen. Fonseka enter politics were an "international conspiracy" -- a typical response for any move that embarrassed the Government. The leaflets bore the names of "Ranil, Mangala and Tilvin" and accused "the United States and Britain" of backing them. Their leader, Weerawansa was on a visit to Britain while his partymen were Britain-bashing.
Gen. Fonseka was present together with armed forces commanders at a felicitation ceremony for Central Province war heroes at the Aluvihare Stadium in Matale. In what was a reference to him, President Mahinda Rajapaksa, the chief guest, said, "I remember when the Army Commander was to be given an extension in service, there was a protest. Some sections of the media too got involved. There was a protest in Colombo.
"Some said the Commander was not even fit to lead the Salvation Army. Whenever a journalist was attacked or a white van was used for abductions, the Army was blamed. They criticized the Army, but they did not attack me. I said allow us to liberate the country. The Navy Commander (then Vice Admiral Wasantha Karannagoda) was criticized. When Colombo came under an LTTE air attack, they told the Air Force Commander to resign. We are bound to protect the Commanders. We had the strength and courage to do that. If we are taken before a war tribunal, I said I will face it. We protected the soldiers. Today we are proud of that."
Rajapaksa added, "Leyin, Yakadayen, Ginnen pamanak weerayek thananna be" (You cannot be a hero by shedding blood, by power or resort to arms). If we want to protect the bravery in the war front, the soldiers should act in a disciplined manner in the village. I make one request. To protect this bravery, you should have a heart that does not surrender to the power of wealth. That is how you will be a hero. The whole nation salutes you."
In defence of Fonseka
However, Opposition UNP leader Ranil Wickremesinghe at an interactive session (Janahamuwa) at Homagama on Sunday argued that "the country needs a clear explanation as to who brought victory in the war, whether it was one of the Rajapaksa family or the ex-Army chief General Sarath Fonseka. Calling upon the President to sack the Ministers who criticised Gen. Fonseka, he said, the parade and speech of the CDS were blacked out by the State media. He said this was a breach of media freedom since the public had the right to know what Gen. Fonseka said at a national event.
Wickremesinghe said, "If Gen Fonseka goes to answer the seven MPs who attacked him, he breaks the rules. This applies to heads of all three armed forces. Some of the senior Army officers asked if this is the case with Gen. Fonseka what will be our fate?" He charged that those who breach Army discipline and those who took away the prestige for winning the war away from the Army are "traitors."
On Friday night, Gen. Fonseka, a US Green Card holder, which affords him permanent residency in that country, flew to the United States accompanied by his wife Anoma. Also travelling was his Military Assistant at the Office of the Chief of Defence Staff (OCDS), Brigadier Athula Silva and two commando bodyguards. They boarded a Dubai-bound flight for an onward connection and were due to arrive in Washington DC yesterday. Until Saturday (October 17), Gen. Fonseka's visit to the US, as revealed last week, was to be part official and part holiday. Official engagements included a meeting in Washington with Robert Blake, Assistant Secretary, South and Central Asian Affairs in the State Department. Another was his presence at the US Pacific Command (PACOM) headquarters in Hawaii. This is to take part in ceremonies where the present commander, Admiral Timothy J. Keating relinquishes office.
Last Saturday, US Ambassador Patricia Butenis, diplomatic sources said, told Gen. Fonseka the US Government had withdrawn the invitation extended to him for the PACOM event. This was conveyed to him during an hour-long meeting at 'Jefferson House', the official residence of the US Ambassador at Colombo's residential Horton Place. According to these sources, the US Government has been compelled to do so in the light of Thursday's release of the US Department of State report to the Congress on 'Incidents During the Recent Conflict in Sri Lanka'. In the light of the references made in the report to Gen. Fonseka, then Commander of the Army, the sources said, "it would be untenable for the US Government to officially host him at any event."
War crime report
This has led to Gen. Fonseka's entire trip, now pruned, becoming an entirely private visit. He is thus travelling to US mainly to renew his Green Card. According to authoritative sources in Washington, since he is viewed as a would-be US citizen and thus subject to that country's laws, Gen. Fonseka is likely to be interviewed by Immigration officials before they decide to allow him entry. US Immigration authorities recently followed this procedure in respect of some Sri Lankan officials connected to the defence and security establishment. They had been interviewed for one or two hours. Earlier, Gen. Fonseka was expected to return to Colombo on November 17. In the light of some official programmes being cancelled, he is now likely to return on November 7.
The State Department's 68-page report to the Congress said that "A media outlet reported on July 18 that at a celebrity event in Ambalangoda, Army Chief General Sarath Fonseka stated that the military had to overlook the traditional rules of war and even kill LTTE rebels who came to surrender carrying white flags during the war against the LTTE." Military officials have strongly denied Gen. Fonseka having made any such remarks.
Within hours after the Department of State handed over the report to the Congress, Stephen Rapp, the US Ambassador at large for War Crimes Investigation, the Washington Post reported on Friday, had called for a "genuine" investigation "into allegations of war crimes by Sri Lankan troops and Tamil rebels." The newspaper quoted Sen. Patrick J. Leahy (Democrat-Vermont), Chairman of the Appropriations subcommittee on the State Department and foreign operations, who authorized the report, as saying that it "eliminates any reasonable doubt that serious violations of the laws of war were committed by both" sides.
A full and independent investigation is needed, and those responsible must be held accountable, he had said.
The report contains multiple allegations that the Tiger guerrillas forcibly recruited children as young as 11 to fight, killing relatives who objected. It also alleges that the rebels used suicide bombers to kill government officials, police officers, and that they regularly fired on civilians attempting to flee the war zone. It cites a February 13 report to the U.S. Embassy by a foreign government alleging that rebels killed 60 civilians who were trying to escape by boat.
Even before the report became public on Thursday night, copies had been given to the Sri Lanka Government. The Foreign Ministry reacted angrily to its contents. A statement on Thursday morning said the report "appear to be unsubstantiated and devoid of corroborative evidence." It said "there is a track record of vested interests endeavouring to bring the Government of Sri Lanka into disrepute, through fabricated allegations and concocted stories."
It added, "Thereby these interests hope to fan, once again, the flames of secessionism and to undo the concerted efforts of the Government and people of Sri Lanka, for rehabilitation and national re-conciliation. The people of Sri Lanka, therefore, have every reason to be concerned that this report to the US Congress may be abused for a similar end."
Gag on media
The US Embassy in Colombo responded the same afternoon saying the report "does not reach any legal or factual conclusions." Information concerning the majority of incidents cited in this report originated in first-hand accounts communicated by persons from within the Government-declared No Fire Zones and locations close to fighting, the Embassy added. The State Department report can be accessed on its website http://www.state.gov/documents/organization/131025.pdf
Besides the Foreign Ministry's response, the Sunday Times learns that another official Government announcement will be made in the next day or two. It is to declare that the Government will make a full study of the report and respond to all accusations and references made. The move, no doubt, reflects the contradictions in the conduct of Sri Lanka's foreign policy, a primary cause for one international debacle after another. Ironic enough, it coincides with a European Union report that strongly indicates Sri Lanka will not receive an extension of the GSP Plus preferential tax concessions. See details in Focus on the opposite page.
On Friday night, the Military Spokesman Brigadier Udaya Nanayakkara issued a media release through the Media Centre for National Security, a place set-up to counter LTTE propaganda and to give the official version of the military offensive against the terrorists. The release was headlined 'Prosecution against those who publish false media reports using the identities of senior Army officers'.
This was a follow up, or so it seemed, to a statement by him the previous week where he referred to a "defect" between the Government and Gen. Fonseka adding that this was "baseless and not true".Friday's press release was more detailed in that it quoted from Section 120 of the Penal Code, a Gazette notification, the Army Act and Emergency Regulations - all in one - which made reference to those who 'excites or attempts to excite feelings of disaffection to the President' etc.,
It said that "it has already been observed that certain individuals who intend to engage in political work continue to use names of serving senior Army officers for baseless reports in some print media". One was not left with much guessing to do as to who these "certain individuals" were "who intend to engage in political work".
The point was made even more pointed later down in the press release. It said, "Officers serving the Army are completely barred from political work and use of their names for personal political gains and agendas", and went on to say this is "illegal and liable for prosecution" and that the Defence Secretary had already instructed the Police to take "necessary action with immediate effect". Then, it sent a salvo across the bow to the media to stop such reporting as well, which might have been better had it come from the Director of Information to emphasise the civilian nature of the Government.
As we stated last week in this column, the Defence Ministry has taken up the position that those still in uniform must refrain from engaging in political activity. Its position was that while the 'war' against the LTTE required greater concentration in combat capabilities, the required disciplinary aspects of a 'disciplined force' such as the Army had to be re-instated now that the 'war' was over.
There was a feeling that certain officers at top-brass level had got 'carried away' with the victory over the LTTE and begun entertaining 'other ideas' which had to be curtailed. In short, they had to be brought 'down to earth'. They feared the indiscipline could filter down to the soldiers, and it was this aspect that was reflected in the President's speech at Matale earlier this week in the presence of the military top brass.
With Gen. Fonseka's departure to the US on Friday, the Government would find a breather in the speculation that the Opposition was promoting him as a Common Presidential Candidate to contest President Rajapaksa. Gen. Fonseka has scrupulously avoided making any comment on those lines, but then, neither has he made any categorical denial in public, and one cannot say that he has not stirred the pot.
Who's meeting Ranil?
In the meantime, Opposition UNP Leader Ranil Wickremesinghe complained in Parliament on Friday that ten Ministerial Security Division (MSD) officers who are part of his security detail had been questioned by the anti-terrorism Special Investigations Unit (SIU) and asked for details of the people Wickremesinghe meets.
They have been asked if any Government Ministers meet the Opposition Leader, Wickremasinghe told Parliament. There was no response from the Government to this accusation, which, if true, is a serious allegation. An Opposition Leader in any democratic country should be in a position to meet whomsoever he wishes to without the prying eyes of the state apparatus.
Wickremesinghe was to say that "if he can meet with my people, why can't I meet with his Ministers", and went on to suggest that he can meet them even without his MSD officers knowing. It seemed that he too was keen on stirring the pot.
But the Government's recent edginess to democratic dissent was growing. The brazen attack on the residence cum political office of UNP's Puttalam district MP Range Bandara the same day that he had been part of a UNP team that went to 'inspect' the under construction residence of a family member of President Rajapaksa at Deniyaya is a case in point.
It was understandable to a point that the President got worried about the events that made him want to alert India last week, but the events surrounding the speculation as to whether Gen. Fonseka would enter politics were greatly over-blown.
This week's developments show the Government has to contend with critical issues both domestically and internationally, especially following those reports by the US State Department and the European Parliament. This is amidst preparations for Presidential elections. Party leaders who met President Rajapaksa days before his departure to Vietnam concurred with his view that the Presidential elections should come first.
The nagging question for the President is whether the Supreme Court judgment that took away a year from the second term of President Chandrika Kumaratunga by virtue of holding early elections, something that benefited President Rajapaksa eventually, would mean that he must sacrifice as much as two years from his first term should he go for early Presidential elections. What portends in the coming several weeks will no doubt have a bearing on the polls, whether they be Presidential or Parliamentary.