Voting at yesterday's Southern Provincial Council elections got off to an indifferent start, but picked up later in the day in a relatively peaceful atmosphere, although a few incidents of intimidation and harassment were reported to authorities from several areas in the Province.
Two hours into polling time, a mere 30 per cent turn out was reported by both independent observers and election officials, with Galle district faring the worst, with just 20 per cent.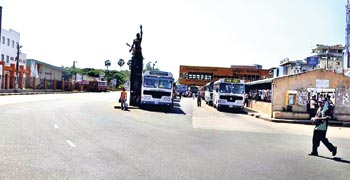 Polling day: A deserted Galle town.
Although there were no major incidents of violence, polls observers reported at least 30 cases of election law violations despite heavy police presence.
Keerthi Tennakoon from the Campaign for Free and Fair Elections (CaFFE) said violations included the distribution of propaganda hand bills close to polling booths, the use of convoys carrying party supporters in an intimidating manner and the display of fresh cut-outs and posters among other cases.
Meanwhile President Mahinda Rajapaksa was seen mingling with the crowd yesterday, outside his private residence and even made a visit to the local fair.
When asked what the next election would be, the President answered: "It could be a General or Presidential. However, I have two more years in office," he said, apparently indicating it would be a general election.
Meanwhile, Galle town was almost deserted with a skeleton public bus service and many shops opting to put up shutters early in the day, according to reports.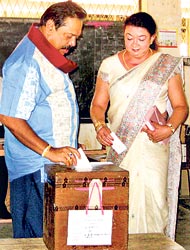 President Mahinda Rajapaksa and Shiranthi Rajapaksa casting their vote
However several persons from all sides of the political divide commented on the lack of enthusiasm on the part of the voters that saw a poor turn out.
UNP Galle District MP Gayantha Karunatilleke said that there was a general lack of enthusiasm among the people because they were burdened by other burning issues such as the high cost of living, etc.
JVP leader for Matara District Sisira Kumara said there was a general lack of interest to vote in yesterday's polls and many would have stayed away convinced that the whole exercise would not be free and fair.
"The reason for this could be more than one, but one thing was clear the voter turn out was not encouraging this time around. However, Mass Media Minister Lakshman Yapa Abeyewardene however defended the voter turn out saying many could not vote because they were employed in other parts of the country.
"Otherwise it was the usual low turn out at PC elections," he added. Election analysts, however, attributed the low turn out to voter apathy on one side and over confidence on the other.
Reports from Chathuri Dissanayake, Nadia Fazlulhaq, Damith Wickremasekara, Gamini Mahadura and Wasantha Chandrapala. Pictures by Gemunu Wellage, Gamini Mahadura, Krishan Jeevaka Jayaruk and Wasantha Chandrapala
Moves to switch ballot boxes: UNP
UNPs chief candidate for the southern Province Bandulal Bandarigoda has complained to the Elections Commissioner, other elections officers and the Inspector General of Police, Army commander, and the Navy commander about a plan to rig the polls in some areas by changing the ballot boxes.
In a letter addressed to Commissioner of Elections Dayananda Dissanayake Mr. Bandulal Bandarigoda has complained that they had received information that the ballot boxes stuffed with forged papers were being prepared in Boossa and Galle Fort army camps and Magalle Navy camp.
According to him some teams had been deployed to change the ballot boxes in selected polling stations in the Galle District.
Highlights of election law violations yesterday
Matara :
Propaganda handbills distributed around the Kadduwa polling station in Matara, Akuressa and Komangoda temple in Kamburupitiya, Matara, bearing the symbol and candidate number of UPFA candidates Chandima Rasaputra and Manoj Sirisena.
Propaganda handbills bearing the symbol and number of UPFA candidates Aruna Gunaratne, Bandu Ranawaka and Kanchana Wijesekare distributed around the polling station in Pathegama Vidyalaya in Devinuwara.
Voters threatened by a group of people to vote for UPFA candidate Chandima Rasaputra at the polling station in Thihagoda National School in Kamburupitiya.
Election propaganda activities seen in Kiyaduwa National School.
Fresh posters of UPFA candidate Danny Abeywickrema seen around the Beruwala temple in Hakmana.
UPFA candidate Hemal Gunasekare's supporters seen distributing propaganda handbills in Beliatta Road in Hakmana.
Propaganda handbills distributed by supporters of UPFA candidate Sarath Weerawansa near Bandaranaike Vidyalaya, Motagedara.
Banners and cutouts displayed near the office of UPFA candidate G.W.Prathapasinghe, near Rahula Vidyalaya.
Fresh posters of UPFA candidates Bandu Ranawaka, Sarath Weerawansa and Chandima Rasaputra put up in Kamburupitiya.
Propaganda handbills distributed by supporters of UPFA candidates Bandu Ranawaka and Sarath Weerawansa from a vehicle bearing the number S.P.J.H. 3014.
Around 8.20 a.m, two UPFA supporters arrested by Matara Police while distributing hand bills of UPFA candidate H.S.Nandana (candidate No.21) in the vicinity of St. Thomas's Girls School, Dharmaratne Mawatha polling station in Matara.
An election related violation reported from Walukarama Maha Viharaya, Kottegoda polling centre in Devinuwara polling division where S.K. Ajith, a polling agent of the JVP was not allowed to enter the polling station by the SPO.
An incident was reported around 8.10 a.m. at Devagiri Viharaya-Puwakwatte polling station , Weligama polling station by the ARO despite the relevant permission letters being produced.
Hambantota
UPFA supporters reportedly transported by vehicle bearing number 58 8333 to polling booths in Tangalle.
Four incidents of election propaganda reported near polling booths no 7, 12, 20, 34 in Tangalle where handbills bearing candidate numbers were distributed.
Galle
A person had been distributing hand bills of UPFA candidate W.D.Chamil Padmala to voters inside the polling station of G/ Walgambagala Kanishta Vidyalaya of Bentara Elpitiya polling division, without objections from SPO. Another group of 60-80 people were seen distributing hand bills of the said candidate in the vicinity of the same polling station.
UNP election propaganda street decorations seen near the polling station in Dangahawila Junior School in Karandeniya.
Fresh banners and cut outs displayed near polling booths in Telwatta area.
Unconfirmed reports say voters were turned away in Galle, Baddegama and Kottawa areas.
Two persons not allowed to vote in Deniyaya Hakmana polling booth due to a difference in the name in the NIC and the polling card.
Incidents of voters being transported to polling booths by candidates in Hakmana and Urubokka in buses cabs and vans.
SOURCES: Police, monitoring groups CMEV, CaFFE and PAFFREL and our correspondents
More Picture >>>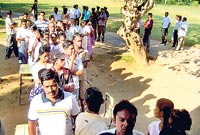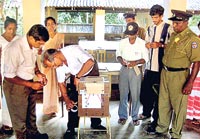 Yesterday's scenes at polling stations from Matara. (Above)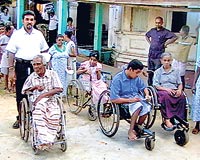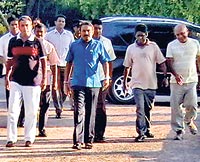 Yesterday's scenes at polling stations from Galle (above)