Three employees of a local NGO were taken into custody yesterday in connection with the posting of obscene pictures purported to have been taken at the recent Government-sponsored 'Beach Carnival' in Hikkaduwa, police and officials said.
The three suspects working for the Alcohol and Drug Information Centre (ADIC) were picked up by the CID after months of investigations following a complaint by the Ceylon Tourist Board authorities. The suspects were produced before Colombo's Magistrate Aisha Abdeen and remanded till Tuesday.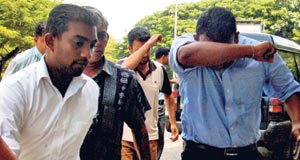 The suspects being brought to courts.
Detectives alleged that the three suspects had doctored the pictures by using hi-tech equipment inside the ADIC office, with the apparent knowledge of their bosses.
The tourism authorities had complained to the Terrorist Investigation Department and the CID since the fake pictures were circulated to VIPs here and abroad in an apparent bid to tarnish the image of the country.
The detectives said they believed the whole operation was pre-meditated and they were looking at possible political links.
According to officials, the three suspects had allegedly gained entry to the beach carnival held in June, and later produced a fake photo gallery to damage the image of the organizers. The pictures in question, featuring local girls in the nude with foreign men were apparently taken in 2006 at a location on a beach in Thailand.
Investigations claimed Hikkaduwa was nowhere in the frame.