Hemantha Jayatunga is one of those rare individuals who remain unfazed through the obstacles that life throws at us. In his book, disability is not inability. The loss of both legs, being a heart patient and a kidney transplant patient and suffering from diabetes may have taken its toll physically but it certainly hasn't extinguished his zest for life.
"I underwent many medical complications and as a result both my legs were amputated and I am now confined to a wheelchair," he says matter-of-factly. Wheelchair-bound he may be, but he is fully employed in his business venture 'Aaron Creations', which produces Christmas and seasonal greeting cards.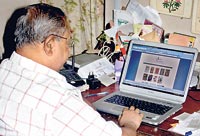 Hemantha: An able creator of cards
A chance suggestion by a friend, when Hemantha was on the lookout for miscellaneous jobs after being immobilized, resulted in him launching this greeting card venture four years later. 'Aaron Creations', which is incidentally named after his grandson, crafts a range of interesting cards for the festive season.
The greeting card designs that feature colourful motifs, nature scenes, wildlife pictures, Christmas, seasonal and cultural elements, are printed on art board and gloss laminated. The cards are customized with logos and special messages according to the customer's requirements. Designs, sizes and other details are also personalized to the customer's taste.
Hemantha currently supplies cards to a number of corporate clients as he does not have the means to market the cards independently. His clients include big companies such as DFCC Bank, Chemanex Ltd, Singer Finance Ltd, Bartleet Group and the David Peiris Motor Co.
Encouraged by the feedback he receives, he hopes to contact as many corporate clients as possible, take in more orders and double his sales this year. By canvassing months prior to the season, he says he would be able to attend to all orders in a well-timed and efficient manner.
The response he has received thus far has been heartening. With companies complimenting his prompt service, many requests been made for birthday and other festive cards.
The income he gains is used for the drugs he needs and also to maintain a domestic to help run his home. But he is also mindful of others in need.
Rs. 2 from the sale of each card is also contributed towards The Kidney Patients Trust Fund. "My philosophy is to live a peaceful life and help as many people as possible. I am a God fearing man and I don't expect any luxuries," he says simply.
To place an order for seasonal greeting cards call Hemantha on 0112 791275 or visit him at 767/4a, Millagahawatte Road, Malabe. Enquiries about orders can also be mailed to hemanthapj@yahoo.com