September is the Literary Month – the month when activities to promote literature and the reading habit are held. The State Literary Festival and the International Book Fair are the two biggest events held to mark the Literary Month. All leading bookstores offer discounts during the month.
An outstation location is generally selected for the annual State Literary Festival when seminars on topics relevant to literature are held and annual awards to the best literary works in different categories are presented, thereby recognizing the talent of writers.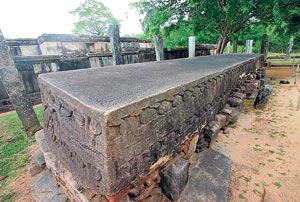 'Gal Pota' in Polonnaruwa bears an enormous inscription of King Nissankamalla (1187– 96). It is eight metres long and 4.3 metres wide. It records amongst other things, Nissankamalla's brief
invasion of India in glowing terms and details of his relations with a number of foreign states.
This year the festival was held in Polonnaruwa. The Book Fair held at the BMICH premises draws huge crowds every year and around 400 stalls exhibit books, journals, magazines and stationery items. They offer attractive discounts as an incentive to readers to invest in books.
Sri Lanka boasts of a rich literature from the time of the ancient kings. The development of the Sinhala script, just like architecture, painting and sculpture, had a close link to Buddhism.
Rock inscriptions dating back to the 3rd century B.C., provide positive proof of ancient Sinhala writing. Inscriptions believed to have been written during the time of King Devanampiyatissa have been found. These refer to caves being gifted by the laity to the Sangha. There is evidence that by about the 4th century C.E., there had been a considerable amount of Sinhala literary writing on Buddhist themes. Mention is made of a dozen poets who flourished during the reign of King Aggabodhi I (560 – 601).
The poems written by visitors who came to see Sigiriya, known as 'Sigiri graffiti' are well known.
Common-folk from all parts of the island have written these. Thoughts expressed in beautiful verse convey feelings of deep emotion.
'Siyabaslakara' written in the 10th century contains 400 verses. Two works in prose – 'Sikhavalanda Vinisa' and 'Herana Sika Vinisa' also belong to the same period. A rock inscription of a 'katikavata' (ecclesiastical edict) belonging to the period of King Parakramabahu I (1153 – 86) is well known.
The Polonnaruwa period ushered in a new era of Sinhala literature under the patronage of the kings and queens. The writers received a lot of encouragement. The name of Gurulugomi stands out. Gurulugomi is renowned as one of the rare masters of Sinhala classical diction and style.
'Dharmapradipika' testifies to the range and quality of the author's knowledge of Pali and Sanskrit wisdom and his grasp of the subtleties of the Buddha's teaching. Though he is not known to have written any work of poetry, his 'Amavatura' has been described as a prose-poem of deep feeling, lucid and dignified.
Parakramabahu II (1231 – 71) ruling from Dambadeniya was a prolific writer.
The books attributed to him include a Sinhala translation of 'Visuddhi Magga', 'Vinaya Vinniscaya', 'Dalada Siritta' and 'Kawsilumina'. Literature flourished during his reign with several well known works being written. These include 'Buthsarana', 'Daham Sarana' and 'Sanga Sarana' by Vidya Chakravarti, 'Pujavaliya' by Buddhaputra and the first Sinhala grammar – 'Sinhala Sanda Lakuna' by Vedeha Thera, and 'Saddharmaratanavaliya' by Dharmasena Thera.
Parakramabahu IV (1303 – 33) is credited with the translation of all the Jataka tales. During the reign of Parakramabahu VI (1412 – 67) of the Kotte era, famous scholar monks like Totagamuwe Sri Rahula Maha Thera of Vijayaba Pirivena, Vanaratana Maha Thera of Padmavati Pirivena and Veedagama Maitriya Thera of Sunetra Devi Pirivena thrived.
This was also the era of the 'sandesa' (message) poems. In each, a message is sent through a bird, seeking blessings or protection from a diety. 'Parevi Sandesaya' and 'Selalihni Sandesaya' as well as 'Kavyasekera' are the best known works of Sri Rahula Thera.
Among other 'sandesa' poems are 'Kokila Sandesaya', 'Hamsa Sandesaya' and 'Gira Sandesaya'. Among other famous works are 'Guttila Kavya' by Wettewe Thera, 'Budugunalankaraya' and 'Loweda Sangarava' – both by Veedagama Maitriya Thera.
Internal conflicts and the advent of the Portuguese affected literary activity until a slow resurgence during the Kandyan period. A literary revival was seen during the reign of Kirti Sri Rajasinghe (1747 – 80) as was the revival of Buddhism.