It was noon Saturday (September 5) when Air Traffic Controllers at Japan's Narita International Airport cleared Sri Lankan Airlines flight UL 454 to land. The Airbus A-330 taxied to a halt at an arrival gate in Terminal 2.
On board was a VIP - Prime Minister Ratnasiri Wickremanayake. In Sri Lanka's precedence table of Government leaders, he ranks number two, just after the President. He was the first to alight from the aircraft and walk through the air bridge. Accompanying him were his Private Secretary Indika Chandratilake, Assistant Superintendent of Police Norman Silva from the Prime Minister's Security Division (PMSD) and Sergeant Dhammika Wijesinghe (PMSD). There were also two persons described as secretaries.
D.M. Ratnayake, Minister Counsellor (Commercial) at the Sri Lanka Embassy in Japan greeted the Premier and his entourage. It was when he tried to hurriedly clear formalities did they realise that Wickremanayake had not been third time lucky. For unexplained reasons, officials at the Prime Minister's Office (PMO) in Colombo had obtained for him a visitor visa and not a diplomatic one that is issued gratis(free) from the Japanese embassy in Colombo. Neither did the Japanese embassy think it fit to provide the Premier the respect and courtesy of a diplomatic visa, which usually facilitates entry at airports. Wickremanayake himself may have not wanted any fuss about his visit. On two previous occasions, he had arrived at Narita airport with visitor visas. He was then lucky enough for an understanding immigration officer stamped his passport when told by the Sri Lankan embassy official that he was the Prime Minister of Sri Lanka, and waved him through.
Like on those two previous occasions, this time too, the PMO had asked the Sri Lanka Embassy in Tokyo to arrange for 'protocol assistance'. This had been done and the Ministry of Foreign Affairs in Japan duly informed. More information of the PM's visit was not forthcoming either from the Ministry of Foreign Affairs in Colombo or the PMO, and the embassy told quite clearly that he was, like the previous times, going to be on a private visit. His host in Japan is a Sri Lankan travel operator in Tokyo, but this time he had timed the visit to coincide with a Buddhist ceremony in Kobe where he was to be hosted by the Temple authorities. Since all worked well during the two past occasions, officials in Colombo as well as Tokyo believed, there would be no cause for alarm this time too.
Unfortunately, for all concerned, all hell was to break loose. A woman immigration officer decided to get tough. She insisted that Sri Lanka's Prime Minister and his entourage had to go through the normal immigration channel. Of late, jittery about the entry of wanted terrorists slipping into Japan, all visitors are compulsorily finger-printed and photographed. Airlines arriving in Japan make announcements on their flights about this arrangement forewarning passengers.
Ratnayake's appeals to the madame immigration officer fell on deaf ears. She was there to interpret the regulations strictly. 'All those with visitor visas must undergo this procedure'. He therefore saw to it that the Sri Lankan Prime Minister remained in a room in the arrival area whilst he engaged the officer.
Ratnayake telephoned the Sri Lanka desk officer at the Japanese Foreign Ministry and related the plight he and the Sri Lankan Prime Minister were in due to an obstinate immigration officer. The Foreign Ministry official telephoned the immigration officer and explained. What ensued was a war of words between a Sri Lanka desk officer and the woman officer. She reprimanded him for interfering in her job, and refused to make any concession and insisted that the rules must be followed.
Premier Wickremanayake was left with no choice. He went to the Immigration Desk. An officer finger printed him, whereupon a photograph is taken automatically - no doubt a Japanese invention. His private secretary, the bodyguards and others went through the same routine.
This was how the Prime Minister of Sri Lanka arrived in Japan for his private visit and to take part in the exposition of the sacred relics of Lord Buddha. It was taking place in Kobe from September 5 to 10 at the Royal Grand Hall of Buddhism.
According to the website (www.moj.go.jp) of Japan's Immigration Bureau, Ministry of Justice, a new law amending parts of the Immigration Control and Refugee Recognition Act came into effect on November 20, 2007.
These new laws, according to the Ministry, are "part of a framework for preventive measures against acts of terrorism." They assert that "any foreign national, who is required by the new law to be fingerprinted and photographed, refusing to submit to these new provisions, that person will not be permitted to enter Japan, and will be required to leave the country."
Pirith Noola
It seemed ironic that the Prime Minister of a country that had only four months earlier defeated terrorism had to prove he was not a terrorist himself. In addition, that too in Japan, a country that has staunchly backed President Rajapaksa and is Sri Lanka's largest aid donor. No amount of coaxing by Commercial Counsellor Ratnayake helped. One officer was unimpressed by all this, and kept to the letter of the law, not the spirit of it. Ratnayake had in fact pointed out that Wickremanayake held a diplomatic passport. He was bluntly reminded that such passports qualified for VIP formalities only on official visits. The temple ceremony, it was pointed out was, not one of them.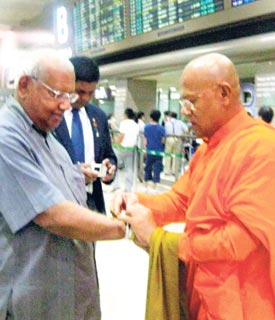 PM at Narita; After the finger-printing.
As reported last week in this column, Foreign Minister Rohitha Bogollagama had given leave for Sri Lanka's Ambassador to Japan, Jayantha Palipane. Palipane had applied for leave much earlier to attend his daughter's graduation in London, a much looked forward to event of any family. The graduation ceremony had been on September 4 (the day before the Prime Minister was to arrive in Tokyo.) Despite the fact that his presence was not required by the PMO, the Ministry had granted him leave, but in any event, Palipane had left London the day after the graduation ceremony for Tokyo - the same day Wickremanayake and party were due in Japan.
The Prime Minister had taken the fiasco at the airport in his stride, but he was naturally not happy with events that had just unfolded. Outside in the waiting area were his local hosts and some Sri Lankan Buddhist monks with connections to Japan who were there to tie the pirith noola on his wrist.
Once Colombo was informed of what had happened, the Sri Lankan embassy's Charge d' Affairs Chamari Rodrigo was ordered to lodge a formal protest with the Foreign Ministry at how the Prime Minister was treated.
She had a meeting with Yusuke Shindo, Director, Southwest Asia Division of the Ministry of Foreign Affairs in Tokyo's Kasumigaseki to lodge a strong protest. Shindo, the point man for Sri Lanka, accompanied Japan's special envoy Yasushi Akashi on his two visits to Colombo this year. He also accompanied former Prime Minister Takeo Fukuda when he visited Sri Lanka in July to open the Japan aided Sigiriya Museum.
On his arrival in Tokyo, Ambassador Palipane followed suit by raising the matter at a higher level, this time with the Director General of Foreign Affairs at the Foreign Ministry with whom he sought and obtained an appointment. Reports reaching Colombo said the DG tendered and apology. Additionally, the Director General had also said, that he would be travelling to Kobe to personally extend his apologies on behalf of the Government of Japan to Premier Wickremanayake. The Immigration Bureau in Japan, The Sunday Times learnt, had insisted in its report that the immigration officer adhered to the law, and hence, could not be faulted. However, Sri Lankan officials countered the arguments saying that is an "internal matter for them." However, they said, "We had sought protocol assistance and received confirmation from the Foreign Ministry that Japanese Immigration will be informed of the arrival of the Sri Lankan Prime Minister." As a sequel, the Sunday Times learns, Japan's Ambassador in Sri Lanka, Kunio Takahashi is to seek a meeting with Foreign Minister Bogollagama, to extend an official apology on behalf of his Government.
Unfortunately for Ambassador Palipane, he became the sacrificial lamb in the entire episode. He was in London on approved leave from his Minister attending his daughter's graduation. He was not asked to attend to the Prime Minister because the latter was on a purely private visit while in Tokyo. The Kobe segment was attended to by the temple authorities. The Sri Lanka embassy was asked only for 'protocol' assistance at the airport which was obtained through the Japanese Foreign Ministry. The issue was all because the PMO had obtained the wrong category of visa for the Prime Minister from Colombo. The fact that the Japanese Government was prepared to apologise meant that the Sri Lanka embassy could not have been in the wrong. But on Thursday, the Foreign Ministry sent Palipane a communication saying he was being recalled on the twin grounds of the Prime Minister's fiasco, and his non-co-operation with the Kobe ceremony.
Monk deported
It was President Mahinda Rajapaksa who had assigned Prime Minister Wickremanayake and Minister Chamal Rajapaksa to take part in the religious event in Kobe. The Minister arrived in Osaka's Kansai airport on the 4th and travelled to Kobe ahead of Wickremanayake as the President's special envoy. He was heading a twenty-member delegation. He was received by Chamari Rodrigo, Charge d' Affaires and Chandana Weerasena, First Secretary. The two senior embassy officials were in Kobe receiving Minister Rajapaksa and the responsibility of receiving Premier Wickremanayake fell on Commercial Counsellor Ratnayake.
Premier Wickremanayake was not the only one to face embarrassment in Japan. There was also an unpleasant encounter for Minister Chamal Rajapaksa, who was the President's Special Envoy (please see our page 1 story on this ugly episode). A member of the Buddhist clergy from the Sri Lankan Minister's delegation of twenty was deported from Japan back to Sri Lanka soon after arrival. It turned out that he was on the blacklist of Japan's Immigration Bureau for illegal entry in 2004. Somebody had slipped him into the Minister's delegation so that he could make use of the Minister's status to slip into Japan once again. The attempt proved futile.
Issues related to immigration appear to plague the Foreign Ministry. Not so long ago, Canadian Parliamentarian Bob Rae was granted a visa to travel to Sri Lanka but was stopped at the Bandaranaike International Airport (BIA). He was asked to take a return flight.
Just two weeks ago, Britain's High Commissioner Dr. Peter Hayes was summoned by Foreign Minister Bogollagama to be told of Government's displeasure over the departure of a Sri Lankan passenger to Britain without a valid visa. The move, Bogollagama argued, had violated Sri Lankan immigration laws. The British High Commission (BHC) explained the visa waiver was because the passenger, who had been deported earlier, had won an appeal for asylum in Britain.
With the Government insisting that all foreign nationals and diplomatic missions in Colombo should strictly adhere to local immigration laws, the latter, perhaps quite understandably, have become assertive of their own positions. They seem to insist that Sri Lankans follow their laws too. This was again at play last Thursday when outgoing Foreign Secretary, Palitha Kohona, applied for a 'non official' visit visa to Britain. The Sunday Times learnt he had requested the visa within two hours as he had to take his New York bound flight in a rush. He was on his way to assume duties as Sri Lanka's new Permanent Representative (Ambassador) to the UN.
However, British High Commission officials were unable to heed his request. The reason, the Mission contends is - Kohona has not given his fingerprints and time was short. UK Immigration laws now require that biometrics (fingerprints) are obtained from those obtaining visas. In the event of an official visit, biometrics is not required. In such an event, the Foreign Ministry of the country concerned issues a Third Person Note (TPN) and the visa is issued. However if they are on a private visit or non-official visit they need to provide biometrics. The only exception is the Head of State, according to the UK law. All others including Ministers, if they are on a private visit, would have to follow the normal visa procedure like all others.
Pointing out that the High Commission does not comment on individual cases, a BHC news release on Thursday said that reports of a political bias in the issue of visas were unfounded.
Foreign Minister Bogollagama told Parliament on Thursday that Kohona was not denied a visa by the British High Commission. He avoided comment on the fact that Kohona had not given his fingerprints. However, Bogollagama told the Sunday Times in an interview (See Page 12) there was "lack of so-called content in (Kohona's) visa application and the time factor." Kohona left for New York on Thursday.
Meanwhile, the remarks made by Norway's controversial Minister Erik Solheim, to Aftenposten.no have also had its sequel impacting on this country. Sri Lanka's Ambassador to Norway, Rodney Perera, had lodged a strong protest with the Norwegian Foreign Ministry on behalf of the Government.
'With great pleasure'
The Government viewed Solheim's recent call for an inquiry into the video aired by Britain's Channel 4 purportedly showing Sri Lankan soldiers executing scantily clad persons, the Ambassador had said, "with great displeasure". Solheim had wanted the United Nations to get involved in the investigation.
The Government has already made public the fact that the alleged Channel 4 video is doctored. An official statement of a sovereign government, he had pointed out, should not be so callously disregarded by a senior member of another government. This is without any recourse to an exchange of views at appropriate diplomatic channels. He has said Sri Lanka is extremely perturbed over the following quotations attributed to Minister Solheim:
"And there is overwhelming evidence that there are structures within the state apparatus that is behind many of these killings.
" The Tamil population has suffered great distress under the Rajapaksa regime as a result of the war against the rebel group LTTE, also known as the Tamil Tigers. "It happened when he (President Rajapaksa) won the election that the state began using guerrilla tactics."
Ambassador Perera has said that it is totally unacceptable to criticise a Head of State who is elected and is carrying on a vibrant agenda to safeguard the democratic rights of the people while having to overcome obstacles put forward by undemocratic militant forces. Norway was involved in the peace process even after the election of the President and it is now preposterous to point out his election as being part of a "Norwegian imagined" problem.
Contrary to last week's report and the wide belief in Colombo's political circles, Solheim is not directly contesting tomorrow's parliamentary elections in Norway. It was erroneously reported last week that the polls were on Sunday.
In 2001, Solheim left Parliament and has not stood for elections since then. He is of course an important member of the Socialist Left party, a member of the ruling coalition (for instance, the leader of that party is an MP--contesting again-- and is the current Finance Minister of Norway). Solheim may possibly have used the Sri Lanka situation over the years to rise up in the Establishment in Norway. As facilitator the position helped him to be a 'top diplomat' of Norway and he went on to deal with other Foreign Ministers and countries. Then he got involved in various peace initiatives including Sudan, Latin America and the Middle East. He became more and more prominent in the media in Norway as a result. He has not remained silent in the recent past on Sri Lanka.
Government leaders note that he did issue strong statements in the beginning of the year on civilian casualties right up to his famous interview on BBC's Hardtalk when he said that Sri Lanka should have a Federal system. The remarks angered senior Government leaders. Government leaders were further angered last week at claims by their envoy in Colombo that Solheim's remarks to the Aftenposten website were directed at winning votes of Norwegian Tamils. How can he win votes, if he is not contesting asked one of them, though he may have aimed at winning votes for his Socialist Left party, even though his credibility is now severely tested with the Sri Lankan Tamil-Norwegian voters, having failed to deliver to them eventually.
As the Ministry of Foreign Affairs continues with plans to spend Rs 40 million for the eighth Ministerial meeting of Asia Co-operation Dialogue (ACD) in Colombo on October 15, it has now transpired that only five Foreign Ministers attended the last sessions in Astana, Kazakhstan. They were from Iran, Korea, Russia, Tajikistan and Bahrain. Even Sri Lanka's own Foreign Minister, Bogollagama, did not attend and was represented, as it happened to be, by Jayantha Palipane, then Additional Secretary in the Ministry of Foreign Affairs. Other delegations were at official or state minister level. It is still not clear how many Foreign Ministers will take part in the Colombo event.
This week, hosting the Iftar (breaking fast during the holy month of Ramadan) for the 3rd consecutive year, Foreign Minister Bogollagama stated that he began the tradition of hosting Iftar following his appointment as the Minister of Foreign Affairs. He also stated that this tradition of celebrating important festivals and observances associated with the four major religions practised in Sri Lanka would continue.
This year, the Iftar was held at the residence of Minister in Kotte on September 8, and began with the breaking of the fast at sunset followed by 'magrib' prayers after which the distinguished gathering were hosted to a sumptuous dinner reflecting the food preference of the Muslim community.
The invitees to this year's Iftar included the Deputy Minister of Foreign Affairs, Ministers, Parliamentarians, the Governor of the Western Province, Senior Government officials, Heads of Missions from Muslim countries including Bangladesh, Iran, Iraq, Kuwait, Indonesia, Qatar, Saudi Arabia, UAE, Pakistan and Palestine, dignitaries and the officials of the Ministry of Foreign Affairs.
But elsewhere in the world, Sri Lanka seems to have got a right royal snub. US President Barack Obama has dropped Sri Lanka's Ambassador in Washington DC Jaliya Wickramasuriya from his Iftar dinner he usually hosts at the White House. What makes it worse is that his predecessor George W Bush invited our then Ambassador Devinda Subasinghe for this traditional dinner which started in the US after the 9/11 attack as a conciliatory move to appease the Muslims worldwide.
All the South Asian Ambassadors based in Washington - India, Pakistan, Afghanistan, Bangladesh, and Indonesia, Malaysia etc., Even the Israeli Ambassador has been invited - but not the Sri Lankan.
In complete contrast, neighbouring Canada has decided to honour outgoing Ambassador Dayananda Rupasoma Perera, PC with a medallion for his distinguished services. Now, it must be remembered that the Sri Lanka Mission in Ottawa came in for some flak from the Government here for issuing a visa for the Canadian MP Bob Rae (who was refused entry at the Colombo airport).
High Commissioner Perera, whose term has prematurely ended was presented this medallion at a formal farewell luncheon hosted in his honour by Ken Sunquit, Assistant Deputy Minister, Asia and Africa, Chief Trade Commissioner, Foreign Affairs and International Trade of the Canadian Government. It was held at the ninth floor of Lester B. Pearson Building in Ottawa on Wednesday. The High Commissioners for India and Pakistan were among the invitees.
Daya Perera, one of Sri Lanka's top-flight criminal lawyers had been under intense pressure from various quarters, mostly Sri Lankan expatriates and last month wrote to President Mahinda Rajapaksa saying that he would quit from December 31, only to get a rebuke from the Foreign Ministry to say that his resignation has been accepted with-effect-from August 31.
The Foreign Ministry has been a virtual 'firing-squad' for those serving in the country's Foreign Service. A fortnight ago, the services of Foreign Minister's own Public Relations Officer, Bernie Elmo Leonidas were terminated forthwith. This week, not only has Ambassador Jayantha Palipane, a very senior career diplomat been recalled from Japan, but the Minister's Media Secretary, Tissa Kudathihi has his services terminated with immediate effect and with no reason given.
Kudathihi has circulated the Foreign Minister's speech made in Parliament on Thursday to the media that afternoon, and was called in by the Director/Administration and handed his termination letter at 3 p.m. the same day. Such hire and fire policies adopted by the Foreign Ministry together with it wider foreign policy direction are a poor reflection on the country's Foreign Service, and do not augur well for the country.