ACCRA, Saturday, (AFP) - US President Barack Obama on Saturday condemned tyrants who enrich themselves and urged Africans to demand stronger governments as the son of an African immigrant made a landmark trip to the continent.
On his first official trip as president to the heart of Africa, Obama vowed more US help to battle disease and said conflicts such as the "genocide" in Darfur and terrorism in Somalia were "a millstone around Africa's neck." The US president, whose father was Kenyan, said these conflicts needed a global response.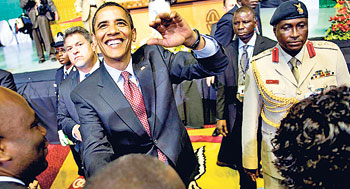 US President Barack Obama (C) shakes hands after addressing members of the Ghanaian Parliament at the International Conference Center in Accra, Ghana. AFP
"Africa's future is up to Africans," Obama said in a speech to the Ghanaian parliament which he hoped would resonate across the continent, before visiting a former fort from where countless slaves were shipped to the Americas. But he added many warnings to Africa's leaders and its people.
"Development depends upon good governance. That is the ingredient which has been missing in far too many places, for far too long," he said.
"That is the change that can unlock Africa's potential. And that is a responsibility that can only be met by Africans." "Repression takes many forms, and too many nations are plagued by problems that condemn their people to poverty. No country is going to create wealth if its leaders exploit the economy to enrich themselves, or police can be bought off by drug traffickers."No business wants to invest in a place where the government skims 20 percent off the top, or the head of the Port Authority is corrupt. No person wants to live in a society where the rule of law gives way to the rule of brutality and bribery.
That is not democracy, that is tyranny, and now is the time for it to end." "Africa doesn't need strongmen, it needs strong institutions," he declared to applause. Obama said he had instructed his administration to put a greater focus on corruption in its annual human rights reports.
Obama highlighted "genocide" in Darfur and "terrorism" in Somalia as crises that have to be battled by the whole world.
"Africa is not the crude caricature of a continent at war. But for far too many Africans, conflict is a part of life, as constant as the sun.
"There are wars over land and wars over resources. And it is still far too easy for those without conscience to manipulate whole communities into fighting among faiths and tribes. These conflicts are a millstone around Africa's neck."He praised Ghana's contribution to international peacekeeping forces but said the United States and other countries must help strengthen Africa's capacity to bring security.
"When there is genocide in Darfur or terrorists in Somalia, these are not simply African problems -- they are global security challenges, and they demand a global response."Obama offered diplomatic, technical and logistical support for efforts to improve security and "to hold war criminals accountable".
The US president also spoke of a "comprehensive, global health strategy" to help Africa confront the AIDS pandemic and other diseases which kill millions each year on the continent.