A half day workshop was conducted by the Coaching Department of Sri Lanka Cricket with the assistance of the 'Strength & Conditioning' division at the Max Academy, Khettarama on the 17th of June. This was attended by Coaches and Trainers of cricket clubs classed in Tier 'A' and 'B'.

This workshop focused on educating participants on strengthening and conditioning of players which is an essential requirement to cope with the high intensity levels that the modern game is played in and the sheer volume of games played in a season.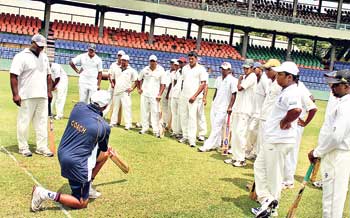 This part of the program, done by Mario Villavarayan and Dharshana Weerasinghe, covered areas in Warming up, Weight Training, Pre and Post match Nutrition, Hydration and Diet Plans etc. The Physiotherapy Division represented by Ranjith Nanayakkarawasam educated the participants on First Aid and on the management of acute injuries, essential to coaches who don't have access to immediate medical attention during training and matches.

A four day 'Level One' coaching workshop was started on the 18th of June at the Max Academy, where on completion a certificate was issued by Sri Lanka Cricket. This was aimed at educating coaches and cricketers at every level to gain a thorough knowledge of the basics of the game and for players to identify their own mistakes and correct them. In the past some players were being coached on basics at senior and international levels, programs such as this ensure that coaches and players have the know-how to address these technical issues at junior levels so that players need only to be fine tuned when they reach the highest level.

About 1650 participants have qualified through this program though only about 450 are actively involved in cricket. Malcolm Perera (manager coaching) said, "These programs are aimed at creating a more knowledgeable 'cricketing culture'."

Workshops were held in Jaffna and Trincomalee where nearly 85 coaches from areas such as Vavunia, Mannar and Batticaloa participated. "With so much interest improvement is imminent" says Jerome Jayaratne (Head of coaching).

A further eight more programs are to be conducted which are aimed at covering all the provinces, including the North and East.