One in five adults has either diabetes or pre-diabetes and one-third of those with diabetes are undiagnosed, reveals one of the first nation-wide studies to be conducted in Sri Lanka. This has startling implications for the spread of the disease here.
Diabetes can adversely affect almost every organ in your body - from your brain cells to your liver. Responsible for a staggering number of amputations, diabetes has also been known to lead to impaired vision and heart attacks. It's a frightening disease, made even more so by the fact that its incidence in Sri Lanka seems to be increasing.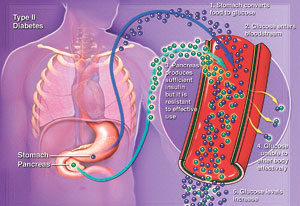 Graphic courtesy savvyhealthfitness.com
Dr. Prasad Katulanda, consultant endocrinologist/diabetologist and his team collected data from nearly 5,000 patients, representative of a wide sampling of age groups and socio-demographic sectors in the country. While the conflict in the North and the East prevented them from working with people there, the study was nevertheless taken to seven out of nine provinces in the island.
More women than men:
Some of the results of the study weren't surprising says Dr. Katulanda: urban populations (16.4%) display a higher incidence over rural populations (8.7%). The switch from rural to urban living almost always includes an upgrade to bigger portions of fattier foods but often includes a steep drop in activity level - both recognized as major contributing causes to diabetes. Reflecting these findings, the Western Province had the highest rates of incidence while the Uva Province had the lowest. Also well known is the relatively low incidence of Type 1, insulin dependent diabetes (4.4% in Sri Lanka); but that more women (10.9%) have diabetes than men (9.8%) in Sri Lanka was something of a surprise.
A little over 10% of Sri Lankan's population currently has diabetes and thirty-six per cent of all diabetic subjects were previously undiagnosed. But the biggest finding may have been the high incidence of pre-diabetes. Before a person develops type 2 diabetes, they almost always have pre-diabetes, a condition in which blood glucose levels are higher than normal but not yet high enough to be diagnosed as diabetes. So much so that Impaired Glucose Tolerance (IGT) and Impaired Fasting Glucose (IFG) have both been identified as two intermediate stages in the progression to diabetes mellitus, with experts labelling them together as 'pre-diabetes.'
Research has shown that some long-term damage to the body, especially the heart and circulatory system, may already be occurring during pre-diabetes. But by early diagnosis and effective treatment of pre-diabetes, doctors can help patients nip the disease in the bud. At an estimated incidence of 11.5%, (higher than the incidence of diabetes itself) it seems inevitable that without immediate and effective intervention, pre-diabetes cases will mature into diabetics and that an overwhelmed healthcare system would be left scrambling to cope.
Taking both diabetes and pre-diabetes into consideration, overall, 21.8% of the population had some form of dysglycaemia - a state in which glucose levels are not properly controlled by the body.
Speaking with MediScene, Dr. Katulanda stated that the primary aim of the study had been to gauge just how many adult Sri Lankans had diabetes (of all types) and pre-diabetes.
The team was looking for the differences not just between urban and rural people, but men and women of different social backgrounds, and physical types. The association of anthropometry, (higher body mass index and larger waist circumference), high blood pressure, dangerous lipid levels, family history of the disease along with other lifestyle factors with diabetes and pre-diabetes were keenly studied. When it came to age, the dynamics are simple - the older you are, the higher your risk. The age group of 70 years and above had the highest prevalence of diabetes in both urban (42.5%) and rural (18.5%) populations.
West vs East:
Diabetes is no longer perceived as a western disease; instead its prevalence in Asia has begun to outstrip that of western countries. It is estimated that nearly 80% of the global population with diabetes live in developing countries.
Obesity has long been identified as one of the main causes of diabetes, but it turns out that in Sri Lanka your weight becomes a problem much earlier than originally estimated. While in the west those with a Body Mass Index (BMI) of 32 are considered obese and at risk for diabetes, in Sri Lanka you need only have a BMI of 18 + to see the risk of your contracting the disease actually double.
This makes us particularly vulnerable particularly as our population expands and begins to adopt a more urban lifestyle.
Looking forward:
A conservative estimate of the prevalence of diabetes in 2030 places the figure at around nearly 14% in Sri Lanka. Looking forward, Dr. Katulanda emphasizes the importance of spreading awareness and getting one's glucose levels regularly checked. Particularly for those of us living in urban areas, smart dietary choices and frequent physical activity are more crucial than they have ever been.
Otherwise as a society, if we are not careful, we might find that the price we pay for our prosperity is more than we can afford.
Should you be evaluated for pre-diabetes?
Take a look at the following questions to determine whether you should test yourself now. If you answer yes to one or more of these questions, you may very well be at risk.
Do you have a relative with type 2 diabetes or heart disease?
Are you overweight or do you have a lot of abdominal fat?
Are you 45 or older?
Do you have high blood pressure?
For women who've had children, did you develop diabetes during pregnancy or have a baby who weighed more than nine pounds at birth? If you have polycystic ovary syndrome (PCOS) you are also at risk.
Do you have high cholesterol, high triglycerides, low good 'HDL' cholesterol combined with a high bad 'LDL' cholesterol?
Do you live a sedentary lifestyle?
About the study
The cross-sectional study was titled The Sri Lanka Diabetes and Cardiovascular Study (SLDCS) and was conducted by the Diabetes Research Unit of the University of Colombo and the Oxford Centre for Diabetes Endocrinology and Metabolism, UK.
Data was collected between August 2005 and September 2006. SLDCS tested a sample of adults, aged 18 and over, using a multi-stage, random-cluster-sampling technique - in essence they did their best to get a sample as representative of the general Sri Lankan populace as possible. Field teams of medical graduates and nurses, specially trained in research methodology, interviewed subjects and administered tests.
Questionnaires collected extensive information on the subjects of the study, including details of their family history, personal medical history, physical activities and smoking status. Actual testing involved checks for impaired fasting glucose and impaired glucose tolerance.