How many of the war affected children now living in IDP camps could be deaf? This is what worries Dutch national Tineke de Silva, the Founder Principal of Dr. Reijntjes School for the Deaf (Sawan Sahana Sewa) in Rawatawatte, Moratuwa.
Dr. Reijntjes School for the Deaf came into existence following a Lankan- Dutch union in the 80's.
Tineke was a trained teacher attached to a school for the deaf in Netherlands for 12 years. In 1973, after meeting her husband Susiri De Silva she made her first visit to Sri Lanka in 1974 to see what the country was like. To give up everything in Netherlands and settle down in Sri Lanka after marriage was somewhat difficult for Tineke. However, on her first visit itself she was fascinated by the beauty of the country - especially by the rural settings, the village folk and their way of life- all of which touched her deeply, says Tineke.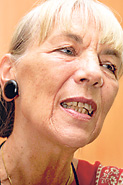 Dealing with deaf children has always been Tineke's passion.
Dealing with deaf children has always been Tineke's passion and she was concerned that so many of the deaf children in interior parts of the island were deprived of an education due to their impairment.
"The parents thought they were mentally retarded; principals of the schools in those areas said that because the child is deaf it is not possible to teach them without adequate facilities," Tineke explained adding that she was then spurred to start a school with the aim of educating them to take their place in society. The outcome was the Dr. Reijntjes School for the Deaf in Moratuwa.
The Dr. Reijntjes Foundation for Deaf Children in Sri Lanka was launched in 1983 in Netherlands to collect funds for the setting up of the school in Sri Lanka. However, in February this year, the Sri Lankan Trust for the Deaf, an extension of the Dr. Reijntjes Foundation in Netherlands, was set up to coincide with the school's silver jubilee.
Established in February 1984, with just eight deaf children, two teachers and a matron, Dr. Reijntjes School for the Deaf in Sri Lanka now caters to about 100 children with hearing impairments between the ages of six and 18. The school is named after Dr. Reijntjes who was an ENT doctor in Netherlands whom Tineke had worked with. The children in the school came from all parts of the island such as Puttalam, Anuradhapura, Moneragala, Tissamaharama, Kirinde etc. They are the poorest of poor, some of them orphans, while others are single-parent children. Then there are children who are born to deaf parents and have hearing-impaired siblings too.
Over the years, as more and more children kept coming in, more buildings and more facilities were added. The classes are categorized not according to the age but on the cognitive level.
The school is now equipped with an IT centre, vocational training centre, library, speech therapy centre and hostel. When they complete their schooling, the children receive vocational training in areas such as agriculture (scientific agriculture which is more result oriented), printing, hair dressing and beauty culture, wood work and sewing after which they are directed to suitable jobs. In addition, classes are conducted in yoga, meditation, dancing etc.
Each student is given individual speech therapy lessons
The children are being taught in sign language. In addition each student is given individual speech therapy lessons. "When you are born deaf, you can't develop your speech, so most of the children here have to be given speech therapy," Tineke says.
Hearing aids are provided to the students from school free of charge. Speaking about the special skills of children with hearing impairments Tineke says such children possess unusual talents and that they are keen observers of the world. Due to their deafness, the concentration level of these kids is rather high, she also adds.
"Up to now about 500 deaf children have gone back to society. This is a child-friendly school, what we have here is more like a family. They are united; being with students who share the same conditions in fact gives them a sense of courage and that is uniting them.
Also children in these conditions need continuous attention and here they receive that much needed love, care and affection," says the principal whose plea to the public is "if you come across children like these who are from poor rural families who need assistance, just bring them here." Tineke De Silva can be contacted on 2655786.