Sports
---
Food for thought for the big league of cricket!
Cricket a game that has a history of more than 100 years has been very slow to globalize. The ICC has generally been very selective and was difficult to convince of a country's credentials to play at the highest or the top league as we call it. The case of Sri Lanka was classic! After solid performances from the 1950's, 60's and 70's, Sri Lanka finally reached the cricketing heights only in 1981.

There were many reasons being given for this delay, but nothing could have been acceptable as she had proved herself against every major cricket nation. Sri Lanka had not only held its own against the top nations but had beaten Pakistan in the process, when seeking full membership. But it was a case of Sri Lanka having to wait with the two big brothers then England and Australia very firm in their thinking that the game had to see more development. However with the great commitment of the then cricketers obviously too numerous to mention in this column and administrators who were finally spearheaded by the late Great Gamini Dissanayake Sri Lanka was finally able to achieve Test Status! The road to tests was very tough and challenging then and it was finally over come thanks to the committed group of people.

Hard on the heels of Sri Lanka's elevation to test status it was the turn of Zimbabwe and one felt that they were justified too with some good names available at that time. Pycroft, Houghton, Fletcher, Curren and Tricos to name a few were the main stays of the team then, who were also very competitive and was able to hold their own against top opposition.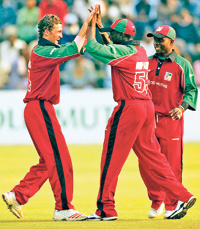 Zimbabwe will now play in the lower division.



However in 1999 the ICC took the unprecedented move to promote Bangladesh sans a proper First Class Tournament and the ill effects has been seen now with Bangladesh struggling to find their feet after almost 10 years of cricket. Whilst it is a great joy to witness the development of cricket in the world and with no disrespect meant to Bangladesh, they hardly had any credentials note worthy to play test cricket at that time. May be their victory over Pakistan in a 1999 world cup game was an exception but had no real merit. Add to the rather disappointing performance of the Bangladeshi's up to now and the current political turmoil in Zimbabwe which has removed them from Test Cricket, suddenly the top league looks very lop sided with the weak teams being very weak and unable to compete.

In the wake of that the ICC appears to have taken a step in the right direction by including Zimbabwe in the Intercontinental Cup involving Associate Nations such as Ireland, Canada, Kenya, the Netherlands, Afghanistan and Scotland in a seven-team top division. The United Arab Emirates, Namibia, Bermuda and Uganda will play each other for the ICC Intercontinental Shield.

This two tier system will have teams of almost equal strength pitted against each other which will naturally be good contests. From a Zimbabwe point of view It will be a huge opportunity for the young cricketers of that country to prove themselves to the ICC by performing in the series to confirm that they are worthy of their test place. However the detriment they should guard against is possible losses, which may create a situation where the very position Zimbabwe enjoy could be threatened and questioned! It could only reduce their chances that much further.

Stemming from that and looking at some of the non contests between top cricket playing countries in the world, I am strongly of the View that the ICC should look at a two tier system for the main countries too in both Tests and ODI's. If introduced this system will to a great extent reduce the gulf between teams and create much better competition. The best method could be for the ICC to look at the rankings to have the top 8 teams playing in the same league and may be have the last two teams playing in a championship involving the Associate Nations top tier. The winners and the runner up could join the top 8 teams for another year and look at playing at the highest level until the ICC is convinced that they are after all worthy competitors and worth their place in the big league. Once that area is covered and the ICC finds the infrastructure and the standard of Cricket is in place, they could look at withdrawing the last two teams in the Test Championship from their competition with the Associate Countries and may be limit the tournament only to the Associates with a view of promoting them to the next level. I feel one could adopt the same system to the ODI's too. As the world has 12 top ODI teams, one could look at a top Tier of 10 teams amongst the Elite League with the last two like in Tests joining the Associates.

This system will motivate National Teams to perform better to stay in the top league and also give the lower ranked teams the added incentive and a very good reason to keep improving as they would see the pathway to cricketing greatness. The ICC on the other hand will have a system in place understood by everybody to promote and relegate teams. However the objective should be to have the best teams playing and competing which will naturally ensure the interest being maintained and will eradicate situations such as the 2007 world cup where teams not worth that prestigious slot such as a World Cup played and killed the interest levels to huge extent.

Knowing the ICC who is also looking to globalize cricket and to generate commercial interest and funds may take a different route all together. But it is a common belief amongst the vast majority of cricket fans in the world that the game in certain tournaments and situations has suffered due to these factors and need it corrected sooner rather than later.

= Roshan Abeysinghe is a leading cricket promoter and an international cricket commentator
|
E-mail
|
views[

1

]