Sports
---
Living to swim and swimming to live
By Natasha Fernandopulle and Chathuri Dissanayake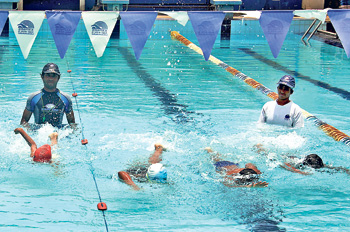 Learning to swim under watchful eyes trained coaches. Pic by M. A. Pushpa Kumara

It is all about you and water. No boundaries. But the ones you set for yourself. This is pretty much the feeling you get when you swim. And this week we look at the benefits of swimming, not particularly as a sport but as a way in which you can keep fit and as a skill for life.

"Swimming has no stress on your joints, there is breath control, it is cooling – especially in the tropics and more than a sport, it is a life saving tool," says Julian Bolling, Director, Rainbow Swimming Academy, adding, "You don't need to swim as a sport in particular but use it is a life saving tool – because you can either save yourself or someone else's'."

Swimming is considered one of the best aerobic exercises along with cross country skiing, running and jogging, to name a few, which results in burning more calories.

Learning to swim takes a longer process unlike most sports where you can just get out there and play, "It is a supervised sport," Bolling added.

Ruwan Manawadu, Head Coach, St. Joseph's College, Colombo said, "When joining at an older age the duration to learn can be longer," adding, "It all depends on one's flexibility." He went on to explain that if you are involved in other sports you tend to learn to swim faster due to your agility and flexibility.
In terms of the learning process he said that it all starts with water familiarisation where for example with kids they splash small amounts of water on their faces followed by blowing bubbles in the water. He says that once these steps are done there is a great chance of getting rid of that fear of the water. Once familiarisation with water is done you can move on to movement followed by breathing. "It's a gradual process," Mr. Manawadu said.

Being able to swim allows you to do other water sports like surfing, kite-surfing, diving and wind surfing, to name a few, Bolling said, adding "And I think it is the coolest sport based in water!" On a more serious note he added, "Plus when a tsunami comes this is the only skill that can help you."
Bolling also spoke of aqua therapy, which is similar to physiotherapy where the movements you do on land, can be done in water.

The whole family can be involved in the sport, therefore making it more or less a family affair. "You can create your own pace," he said, adding, unlike any other sport where you have to play at the same speed as your partner. "You feel a huge sense of accomplishment once you have learnt to swim," he said, smiling.

"One must be careful of one's health issues," Manawadu said, adding that in terms of asthma there is no reason to not learn the sport due to debate of whether the illness can be worsened but said that it would be best to learn to swim when the sun is out.

"Swimming is recommended because it is a low impact physical activity," said Major General Thuriarajah, "But to get the benefits of the activity you need to sustain the activity for at least 20 minutes."
He went on to explain that method/technique is important as well, for example, your hips should be steady and not move from side to side, your arm recovery should be relaxed, your breathing must be coordinated with the arm strokes and the kicking of your feet should be steady.

In terms of safety he said that a common mistake is made when not sticking to your lane and therefore bumping into others in the pool. In some pools the content of chlorine is high, he therefore suggests wearing goggles.

Just like in any physical activity it I always advised to warm up and cool down therefore remember to stretch before and after, which can be done in or outside the pool. He also advised strengthening the muscles in terms of weight training, push-ups and pull-ups.

"Almost 20% of Olympic medal winners have been asthmatics and took to swimming and athletics because they had asthma," Major General Thuriarajah said adding that swimming helps increase your lung volume and expand your lungs therefore it be beneficial for asthmatics.

However in extreme illnesses like epileptic fits one must take controlled medication, he said and always be supervised, even by a member of the family, in order to avoid an unnecessary complications.
The tagline of Swim Australia – 'Swimming is a gift for life,' highlighting the value of possessing the skill of swimming therefore giving you all the more reason to get into that pool and learn to swim!
|
E-mail
|
views[

1

]