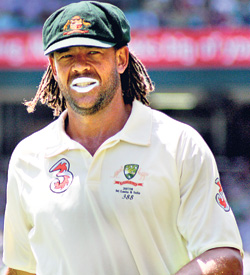 Aussies are bound miss Symons says Willis
Sky Sports pundit Bob Willis says the Australian Ashes squad announcement won't have England's players in a spin.

Looking at the squad Australia have named for the Ashes, the batting line-up will strike fear into the England players.

But I don't think you can say the same about the bowlers.
First and foremost they haven't got a spinner. Nathan Hauritz has proven to be a pretty ordinary bowler and he's going to be used to block one end while the seamers bowl from the other. England need to target Hauritz if he plays. Without him they've got to rely on Stuart Clark and Simon Katich because they haven't selected Andrew Symonds.
I was very surprised by that omission. Listening to Ricky Ponting the day before the selection I think he wanted his old friend in the side - and from the tone of his press conference during the announcement he sounded disappointed Symonds wasn't in the quad.

His line was that other people had come in while Symonds was out being disciplined and they'd done well enough to keep their places - but personally I don't think you can compare Shane Watson or Andrew McDonald with Symonds as a cricketer. Watson can't stay fit, he's got a worse injury record than Freddie Flintoff, and while they like his aggressive batting down the order, I don't think he's a threat as a bowler.They are gambling a lot on Brett Lee and Stuart Clark staying fit and if they do then it's not a bad bowling attack alongside Mitchell Johnson. However, I personally don't feel Lee has caused England that many problems over the years.

England's problems have been with bowlers like Glenn McGrath who move the ball around, rather than people who bowl fast. In fact, most of England's batsmen like pace on the ball and I don't think Lee will be a huge threat.
Their lack of spin might be crucial at Cardiff because I don't see how the groundsman can produce a pitch that isn't going to turn. They've already been docked points from next year's Friend's Provident Trophy because of an unsatisfactory pitch so there are clear warning signs that the pitch is going to turn.
Can Nathan Hauritz bowel England out? I don't think so.

Much has been made of the inexperience of the Australian squad, but when these squads are named you've got to think about the eleven that are going to take to the field.

Katich and Phil Hughes have now slotted into Justin Langer and Matthew Hayden's shoes and with Michael Clarke and Michael Hussey in the middle order and probably Marcus North at six and Brad Haddin at seven the batting line-up looks strong.

The four bowlers will be Lee, Clark and Johnson (if fit) plus Hauritz. If they want to leave out the spinner they can play Watson or McDonald and leave the slow bowling in the hands of Katich, Clark and North.
So the fact that 10 of the 16 haven't played Test cricket over here before isn't that relevant, but of course that team sheet is not as intimidating as it was when names such as Warne, McGrath and Gilchrist were on it.

Players like that only come along once in a lifetime, not to mention fantastic performers like Hayden and Langer as well. But the ICC rankings don't lie and Australia are still number one in the world by a distance.

They went to South Africa and won in their back yard, which was a pretty fabulous achievement after losing to the same opposition in Australia, but England can look at the three Test matches that South Africa won and there really were chinks in the Australian armour.

They tried the leg-spinner Bryce McGain and the off-spinner Jason Krejza early in that Australian summer and both have been cast aside. Hauritz got a few wickets against New Zealand, but I don't think he should trouble top-quality batsmen.

I see both sides being stronger in batting than bowling. It's one thing for Anderson, Broad, Onions and Swann to bowl out a very ordinary West Indies side, it's quite another bowling against that Australian line-up.

Australia remain odds-on favourites for the Ashes, simply because of that last result two years ago. Yes they have got worse following the retirement of their three star players, but the batting certainly hasn't got any worse.

And can we really say England have improved enough since then. Is Alastair Cook a better player? Is Ravi Bopara up for the test of facing the Australians at number three? Have we replaced Harmison and Hoggard? Will Flintoff overcome his injury problems? England haven't improved enough to put them on a par with Australia, but I think they are a better side than they were Down Under.

And following the Australian squad announcement, I think they can grow in confidence just a little bit more.

Cricket365