Sports
---
Duleep Mendis removed - Minister not kept informed
By S.R. Pathiravithana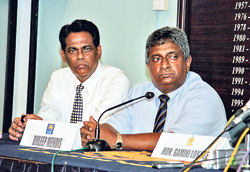 Have the old friends fallen out? First the new SLC, IC chairman D.S. de Silva employed an additional CEO and now he has struck CEO Duleep Mendis' name off the 2011 organising committee list. The two cricketing veterans played in Sri Lanka's inaugural Test match against England in 1982. (Picture by Ranjith Perera)

Sports Minister Gamini Lokuge has summoned the Sri Lanka Cricket Interim Committee for a meeting in the coming week regarding the removal of its CEO Duleep Mendis from the 2011 World Cup Committee.
Last week SLC Interim Committee chairman D. Somachandra de Silva took a unilateral step and removed Mendis from the World Cup organising committee and replaced him with the SLC secretary Nishantha Ranatunga. He took this step without informing either the rest of the SLC interim committee or the Minister of Sports.

A much disturbed Sports Minister Gamini Lokuge speaking to The Sunday Times said: "I have given them the authority to go ahead with the work regarding the 2011 World Cup as it is way behind schedule. However they must keep me informed when they take any step of this magnitude."

Mendis was involved in the organising of the 2011 World Cup from its inception and it was he who prepared the initial WC bid document on behalf of Sri Lanka Cricket.

Meanwhile the ICC has called up a meeting of the World Cup co-hosts India, Pakistan, Sri Lanka and Bangladesh in Dubai on June 3 to seek an out of court settlement to the case filed by Pakistan.
Pakistan took Cricket's governing body the ICC to courts against their decision to remove Pakistan as a co-host of the 2011 World Cup. They alleged the manner in which the ICC decision was taken was "legally flawed...unfair and discriminatory" and that Pakistan intended to fight for its right as co-host.
Last week Pakistan's cricket chief made an unannounced tour of Sri Lanka and India and met the Sri Lankan officials and the World Cup 2011 organising committee chairman Sharad Pawar and he subsequently made an alternate proposal to the ICC saying that they would like to remain as a co-host and play their fourteen matches either in Dubai, Abu Dhabi or even Malaysia. However it seemed that India was not impressed with this alternate offer.

On this development Minister Gamini Lokuge has indicated to the SLC that any official who leaves the island on any mission has to obtain his prior approval.
|
E-mail
|
views[

1

]