The year 1983 is not one to look back on with pleasure. Yet, amidst the confusion, a modest man came, made some little ripples that built up into a tsunami-like wave, ending up as this significant book. The man was Gerhard Kapitan, a maritime archaeologist and ethnographer, intent on recording the traditional fishing craft of this country.
"In February 1983," he begins, "I decide to stay for some time in Sri Lanka….. in Hikkaduwa, from where I made several excursions. One brought me to Galle (where)…..to the north of the bay I came across a…..boat….described by James Hornell……(but)which did not correspond with Hornell's statements and illustrations. Back in Sicily…and now sure that the boat…..had not yet been reported…. I decided to return……and to record them in photographs and scale drawings."
He planned to cover the whole of the coast, but was unable to go to the East and North during 1985-1995, the period he was tramping the beaches. So he missed the boats there, which have now disappeared forever. But in the West and South he was able to record the oru, the last working boats with dugout hulls. It is in this area that the oru lasted longest, and he had time enough to record them thoroughly, before the tsunami swept them away.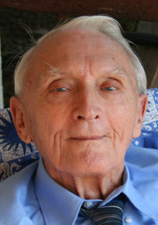 Gerhard Kapitan
His book, "Records of Traditional Watercraft from South and West Sri Lanka"(prepared for publication by Gerald Grainge and I) has now seen the light of day as the Nautical Archaeology Society (NAS) Monograph Series No.2 and British Archaeological Reports (BAR) International Series No. 1931. It will last long as the foundation for oru studies.
Kapitan set out to record boats, somewhat unconventionally. He lodged in modest guest houses along the beach, made a few friends at each area, and with their help moved among the fisher-folk like a fish in the sea. He did his library search meticulously. What he did not do was to hobnob with the Colombo academics and intellectuals and persons on the make – they saw the value of his work, but wanted only to use it – not help him to publish it (more later!).
His greatest gift (apart from his knowledge of boats) was that he was a magnificent photographer who would track down and photograph every traditional wooden boat, every variant of the main types, and often return to re-photograph a particular boat. He was a good draftsman and he transferred his measurements on to graph paper, always to the same scale – 1:20 – with model-building enthusiasts in mind. The important details were in larger scale. Altogether there are 178 photographs and 62 drawings, making it the most comprehensive study of the oru, ever.
He identified five types of watercraft – Rafts, Vallam, Oru, Angula and Ma-del-paru – with some overlap. Each was divided into sub-types. For instance, he identifies 36 types of oru and 6 types of ma-del-paru. But, he notes, 3 different types of craft used for ma-del fishing, paru, oru and vallam. Classification was based on types of fishing, differences in off-shore sea conditions, and characteristics of beaches, etc. All these he distilled into a Classification of types, which he considered the ultimate purpose of his research and field work.
In the late 1980s I was trying to discover how our old ships had been built, and already was in contact with Prof. Vini Vitharana, whose "The Oru and the Yathra" fascinated me. When I met Kapitan, he was already far into his work and had made some questionable contacts, to whom he had handed over material but who, by then – were elusive, shall we say? It was a rude shock to realize how little I had progressed: it was obvious that his work had to be published before I could think of starting mine. So I made it my business to collect all his writings, letters and drawings and, then, literally push him towards a publisher.
Finally he came up with a plan for a 2-volume work: one of photographs and one of drawings. His plan for the first was drawn up, and I searched for a publisher – Colombo academics and publishers were impressed but, alas! financially strapped, so we looked for funds and publishers all over the world. At a Maritime Museum Conference in Fremantle, I spoke about his work and a hat collection was spontaneously made by the Museum, and sent to Kapitan. Wendy Van Duivenvoorde, who had worked with me on the Avondster project, very nearly won over Texas A & M, but Kapitan could not close the deal. He himself tried German publishers, but without success.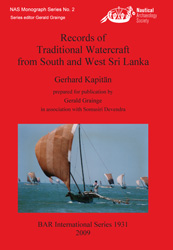 Gerhard's book, "Records of Traditional Watercraft from South and West Sri Lanka"
Finally, at a Field School in Galle in 2007, I showed the folio of drawings to Sarah Ward from the Nautical Archaeology Society, and there I found the publisher. But, by this time, Kapitan had fallen ill and mislaid much of his drawings. Fortunately, his photographs were yet with him (though our Archives, too, had a album); I had the prints of his drawings and the early and final drafts of the projected first volume and, in the NAS Monograph Series Editor, Gerald Grainge, we had the editorial skills.
Gerald and I decided that he would collect Kapitan's previously published papers in English and German and compose the chapters without going outside Kapitan's own research. Our two years or so of collaboration was hard, tough and educative: with the book published, an inner emptiness engulfs us both!
Of course, we added a few chapters and appendices in our own names. I had contributed Chapter 1 (the Introduction) at Kapitan's request. I realized it was necessary to use diacritics to give the correct pronunciation of Sinhala and Tamil words, using only those that could be used on a Word Processor, to get future foreign researchers to use it as a standard.
So I added an appendix on "Standardization, Orthography and Pronunciation". What gave me greatest satisfaction was putting Kapitan's notes and lists of craft into the classification, which he considered the most important part of his work. Kapitan's lists of Sinhala and Tamil Nautical Terms and Names of Watercraft, and his own description of his surveying methods (from an earlier work) were added as appendices.
Gerald Grainge – yachtsman and known expert on ancient boats – contributed an sppendix on "Thoughts on the sailing qualities of the oru – and some afterthoughts", after exchanging views with Dr. Ray Wijewardene, our first (and only?) Olympic solo-yachtsman. Ray has sailed all our boats and loves them as only a yachtsman would. Gerald's is probably the first scientific study how an Oru is built and sailed. Finally, to round it off, there is a chapter on "The making of an oru in Sri Lanka" from Prof. Vini Vithana's The Oru and the Yathra.
Ethnographers, historians, researchers, yachtsmen, lexicographers, nautical archaeologists: quite a cosmopolitan bunch of collaborators, when I come to think of it! And, this motley crew, and the making of the book itself, was put together by Dr. Gerald Grainge, the lynch-pin of this endeavour.
The book was ready, publishers found, but cost was the next problem. NAS and BAR monographs generally carry photographs in monochrome. But the glory of these pictures cried out for colour – and that cost £ 2000. It was then that the Director, PGIAR, Prof. Nimal de Silva recognized the heritage value of the book and offered a substantial part of that as PGIAR's contribution. A German Institution donated the rest and so this book became a Sri Lankan, German, British and Italian production with a single aim – the rescue of the memory of the last of the traditional Sri Lankan nautical culture: truly, a fit memorial to a unique, millennia-old watercraft.
Gerhard Kapitan deserves not only our thanks, but the nation needs to thank him. He certainly deserves to be recognized and honoured. Can the Ministers of Cultural Affairs, Fisheries and Tourism read the book and make a recommendation to the President? Copies are, at present, only available with PGIAR. (I am told that it "is now available worldwide through the distributors of BAR titles, Hadrian Books Ltd. Information about the book will be sent to the main archaeological booksellers such as Blackwells, Oxbow Books and the David Brown Book Co in the US and they will get their supplies through Hadrian Books" at a shelf price of £ 45)
Fittingly, Gerhard Kapitan has dedicated the book to his daughter, Mari, in German – and Sinhala.