The country estate of Sri Lanka's most prominent architect, the legendary Geoffrey Bawa--Lunuganga, remains today a living testimony to the Bawa vision, a magical retreat where tranquil vistas and secluded nooks beckon the visitor.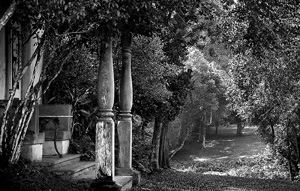 Lunuganga: View down to Ha ha. Pictures by Dominic Sansoni /ThreeBlindMen
Veteran photographer Dominic Sansoni's exhibition 'Lunuganga-In Black and White' to be held at the Barefoot Gallery from today, May 24 to 31 in connection with the Geoffrey Bawa Commemoration Week captures with startling clarity aspects of Bawa's genius.
The exhibition is of photographs made for Sansoni's recent book "Bawa: the Sri Lanka Gardens" published by Thames and Hudson in 2008 and all proceeds from the sale of prints will go direct to the Geoffrey Bawa Trust.
The Geoffrey Bawa Commemoration Week organised by the Trust is being held to mark the 6th anniversary of Bawa's death. This year also marks the birth centenary of Geoffrey's elder brother Bevis and The Studio Gallery in Alfred House Road will stage a special exhibition of drawings by Bevis Bawa from today to the 31st for which entrance is free. Bevis, famed for his garden Brief was also a talented caricaturist and the exhibition offers a rare glimpse of his work.
Other noteworthy events in the Bawa Week:
Friday, May 27 at 6 p.m.
The annual Geoffrey Bawa Memorial Lecture, by Singaporean architect Mok Wei Wei at the Sri Lanka Foundation Institute ( free entrance )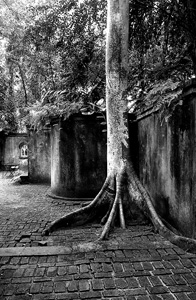 Lunuganga: Tree and wall
Exhibitions at Lunuganga (May 24th-31st)
Suspended in Tranquillity by the Anoma Wijewardene Art Group,
Lunuganga Time Stands Still--Photography presented by the Photographic Society of Sri Lanka.
Open days at No.11, Geoffrey Bawa's Colombo Residence - May 26th, 28th and 31st. Free entrance but pre-registration required.
Visit Lunuganga
May 25th May to 31st ( 50% discount on entrance charge )
Bawa & Beyond Bawa Tours by Architect Channa Daswatte, (registration required ).
May 29th - Parliament and Beyond Bawa houses of Architects
May 30th - Colombo Tour of Bawa & Beyond Bawa
May 31st - Lunuganga, Brief Garden & a Geoffrey Bawa designed House down South with morning tea at Brief and lunch at Lunuganga
For more information on all events see www.geoffreybawa.com