NEW YORK - At least once a year, come September, the world's political leaders make their annual pilgrimage to New York to address the General Assembly sessions of the United Nations.
But there are several politically controversial leaders, including the late Hafez al-Assad of Syria, Libya's Muammar el-Qaddafi, the late Saddam Hussein of Iraq, Sudanese President Omar Hassan al-Bashir and the late Kim Il Sung of North Korea, who for reasons of their own, scrupulously avoided the world body.
Still, there were many, like Cuba's Fidel Castro, Zimbabwe's Robert Mugabe, Iranian President Mahmoud Ahmadinejad and Yassir Arafat of the Palestine Liberation Organisation (PLO), who braved a potentially hostile reception in New York to make their way to the General Assembly sessions despite unruly demonstrations.
When Castro visited the UN back in 1995, he virtually got enmeshed in New York politics when he jokingly said he wouldn't vote for the city's Mayor Rudy Giuliani at least for one reason. "It's not just because he didn't invite me to dinner, but because on my way into town from the airport, there were such enormous potholes (in the streets)."
Score one for Castro. His well aimed potshot on New York City potholes -- a statement of fact -- was clearly the lead para in news stories of the day. But he clearly did not endear himself to Giuliani.
When Arafat arrived in New York, he had to be helicoptered into the UN building because of the mass anti-PLO demonstrations in the streets outside the world body. But he still made it to the Assembly Hall in one piece while a controversy still rages as to whether he really carried a hidden gun in his holster.
With Libya taking over the presidency of the General Assembly in September this year, there are rumours that Qaddafi will make his maiden appearance at the UN and preside over the opening sessions.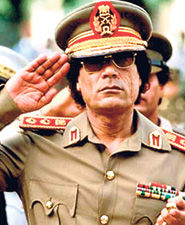 Qaddafi: Hailed as king of kings
And if he is still as flamboyant as he was in his youthful days, Qaddafi is expected to arrive with a retinue of female body guards and literally pitch his tent outside the UN (as he has done at several overseas gatherings by refusing to stay at hotels). But perhaps this time, the ageing leader may opt for a five-star hotel.
The presidency of the General Assembly will be a double-header for Qaddafi who is the current chairman of the powerful 53-nation African Union (AU). At the AU election last February, he was hailed as the "king of kings" while he continued to peddle his pet project: a United States of Africa with its own common currency and modeled on the European Union.
Qaddafi, who has been in power since September 1969 in the aftermath of a bloodless military coup that ousted the pro-American King Idris, is also one of the world's most unorthodox political leaders. A country where oil accounts for about 90 percent of export revenues, Libya has used its riches to make vast strides in improving education, health and the social welfare of its people.
Since his accession to power, Qaddafi has been on a US political hit-list. Libya was one of the countries designated by the US State Department as a "terrorist state"-- along with Iran, Iraq, Syria, Sudan, North Korea and Cuba.
Qaddafi incurred the wrath of the US for his onetime support to the PLO, the Irish Republican Army (IRA), the Moro National Liberation Front in the Philippines, Beider-Meinhoff in the former West Germany, the Red Army in Japan and the Dhofar rebels in Oman. However, he has now apparently severed links with virtually all of these organisations and is playing the role of an elder statesman in Africa and the Middle East.
With his decision to dismantle his plans to develop nuclear weapons, Qaddafi has strengthened his political links with the Western world, and specifically with the US, which is encouraging tourists to visit Libya. Described as a maverick in the Arab world, he has had longtime visions of a pan-Arab Islamic federation -- a goal that eluded even the charismatic president of Egypt Gamal Abdel Nasser.
At various times, Qaddafi tried to form Arab federations linking his country with Egypt, Sudan, Syria, Tunisia, Morocco, Chad and Algeria. But his ambitious plans never got off the ground.
When he visited China in the 1980s, so the story goes, Qaddafi plucked up courage to ask the Chinese leader Deng Xiaoping about a possible federation between Libya and China. China's supreme leader, who was then presiding over a country with over 900 million people, pondered for a while and asked Qaddafi how big his country was.
Told that Libya's population at that time was only a paltry three million people, Deng put his arm around Qaddafi and said rather affectionately: "When you next visit Beijing, why don't you bring them along with you."