Shehan Karunatilaka still has the tickets for every music concert he's ever been to; the Police, Suzanne Vega and Travis jostle for space alongside The Red Hot Chilli Peppers on a board tacked to a wall in his home. It's also an apartment devoted to books, there are a dozen or more in every room, including the kitchen. The ones on his desk reflect his current obsession fairly clearly – namely sports, cricket in particular. After all, his 2008 Gratiaen Prize winning manuscript, 'Chinaman: The Legend of Pradeep Mathew' is named after a rare left arm bowling style. It also stars a hoary, alcoholic sports writer attempting to make the most of his last few years by writing a comeback novel about a cricketer he reveres as the best spin bowler Sri Lanka ever produced.
Within a few pages of the novel's opening, we meet W.G. Karunasena who has little to his credit, save a few old 'Sports Writer of the Year' awards. But W.G. still manages to take over a book that Shehan intended to keep focused on Pradeep Mathew, a cricketer who has now fallen into obscurity. Speaking of his early drafts, Shehan says he was intent on telling Mathew's story straight, but the effect in the end was just 'silly' in its seeming exaggeration of the cricketer's accomplishments. "The only way to tell it was to have it told by a drunken old man, prone to exaggeration, whose memory was failing," says Shehan, and "at some point it stopped being about Mathew and it became about this guy."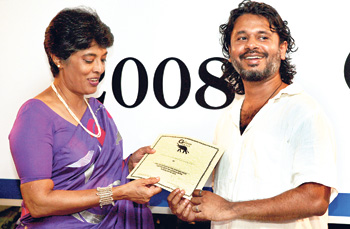 Gratiaen judge Anila Dias Bandaranaike presenting Shehan the 2008 Gratiaen award.
Shehan's first attempt at writing a novel - The Painter - met with a somewhat ignominious end. Shortlisted for the Gratiaen Prize in 2000, it has since been consigned to a box in his parents' house, and might never see the light of day again. "It started off like a pulp detective story and then aliens came....well, it's not very good," says the writer shrugging; he believes the manuscript would have benefited from a lot more research and editing. It's not a mistake he wants to repeat with Chinaman. Determined to be thorough, the author quit his job in advertising and devoted a year to reading about the game, watching matches and combing the internet. He's still tinkering with what he thinks may be his 18th draft – editing and inserting more stories.
"I didn't really know what direction it was going in, so I just wanted to collect cricket stories and there were a lot of them," he says. Some of those he heard bordered on fairy tales, featuring young, often poor but talented boys who made their way to the city to play. Having made it big, they would then completely drop out of sight – much like Mathews himself. Declaring the research 'fun', Shehan says he still wouldn't describe himself as a "huge obsessive" when it comes to cricket - merely someone who harbours the odd fantasy of bowling a truly spectacular ball – I think double googly was the term he used. It's a fantasy born of all the time he spent playing cricket as a kid, making his way up to the under 15s before giving up on the idea (evidently, with some regret) of ever playing for his country.
Still this is a book also meant to appeal to people who aren't huge fans of the game. In one of the opening chapters, titled "Sales pitch" the author declares: "If you've never seen a cricket match; if you have and it has made you snore; if you can't understand why anyone would watch, let alone obsess over what is essentially a cross between golf and a coconut shy, then this is the book for you." He seems to have succeeded in most part with this: the Gratiaen's panel of judges declared that, despite its amazing array of trivia and statistics, the novel was "only superficially about cricket," serving often as social commentary, "boldly satirizing the realities of contemporary life." They were particularly impressed with his characterisation of W.G's wife Sheila and his relationship with his son, Garfield (so named for cricketing legend, Garfield Sobers).
Included in his manuscript is a series of diagrams, sketched by Shehan's brother. Explaining that "our family bonds through cricket," Shehan says the collaboration will give readers tangible evidence of Mathew's brilliance. The novel, diagrams and all, should be ready for publication by the end of this year.
In the meantime, Shehan will be occupying himself with what he seems to consider his true calling – being a bass player. In the past he has played bass for the band Independence Square. It was the thought of forming this band with his friends that drew him back to Sri Lanka as a 22-year-old in '97, after several years spent studying English in New Zealand.
Having lived on the dole for a year before the move, Shehan wanted to come back and form a band with a friend. Here he drifted into advertising, which he believed would be easier than either journalism or teaching which he saw as his only other options.
"I drifted into that," he says, adding "I thought Independence Square would have conquered the world by my 25th birthday," and when that ambition was not realised he and Dhinesh Manuel, who was the band's drummer, formed Powercut Circus with Asvajit Boyle and Sean Fernando-Amarasekera. To make a living, Shehan turned to advertising; working as a copywriter under the banner of agencies like Grant McCann-Erikson and Leo Burnett, his work was well recognized and included 2 silvers from Sri Lanka's home grown awards – The Chillies. His time in advertising has proved valuable – Shehan says that he has taken away "techniques of forcing yourself to just sit down and generate ideas."
Shehan is also adamant that he won't begin working on a third novel until he has had a chance to travel. He has fond memories of previous trips-- he's worked behind counters in food courts and dug graves to pay the rent, and declares that one meets the most interesting people when thus occupied. Of course, his free weekends were often utilized to go see his favourite bands...and to write home.
In retrospect, he says these 'travelogues' are actually what inspired him to write – "I found those got a better reaction than any songs I wrote, or any ads that I did."
These days Shehan gets up at 4 a.m. to write and consequently is in bed by 10 p.m. He still seems a little surprised that Chinaman is enjoying such a good reception. Writing a novel this year was not something he saw himself doing – "I always imagined that once I had played bass, and travelled the world, then I would sit down as a fifty- year-old on an island and sip my tea and write a book." Fortunately for the author, his timing has proved impeccable.
The conclusion reached by The Gratiaen's judges bears repeating: "In his profile for the Galle Literary Festival programme, Shehan Karunatilaka writes that he could be found 'crawling along Unawatuna beach, offering massages to anyone with a printing press.' We suspect that will no longer be necessary."