The South, which has in recent months escaped the destruction of bombs was thrust into the maelstrom with last Tuesday's LTTE suicide attack at Akuressa where 15 persons were killed and at least 50 others injured. The attack has raised many questions about serious security lapses in the area, with participants at the function too voicing their concerns regarding inadequate security.
On that fateful Tuesday, the inaugural ceremony of the Meelad un Nabi celebrations at the Jumma Mosque, Godapitiya was scheduled to start at 9 a.m. but there was a delay caused by the 200 odd vehicular convoy, transporting several ministers to the venue. The bomb exploded 10 30 a.m., just as Matara District GA W.K.K. Athukorala was welcoming Minister A.H.M. Fowzie.
The blast went off near the main entrance of the Mosque. Police suspect the bomber had disguised himself as a Muslim devotee to mingle with the crowd.
The fallout of the bomb attack at a function that was attended by six ministers has already begun, with several top police officers being transferred out of the area with immediate effect. According to the Police Media Spokesperson SSP Ranjith Gunasekara, Matara SSP B.P.P.Ayupala has been transferred to Colombo headquarters, SP D.S. Karunanayake to Western Province Operation Division and ASP J.U. Ramawickrama to Police Field Force while Akuressa OIC has been transferred to Jaffna Police.
"Investigations are proceeding," the spokesperson added.
But, a police claim that they were unaware that six ministers were to be present at the function has been dismissed by organisers as the Matara Government Agent Ms. W.K.K. Athukorale had held a news conference well ahead of the event and printed invitations with the names of the ministers being sent in advance.
Eye witnesses told The Sunday Times that people had seen a man who aroused suspicion, standing near a shop by the roadside and had later joined the procession. Police had been informed of this with one person even holding the man by his hand and asking the police to check him. But the lack of interest on the part of the police had allowed the man to escape into the crowd and later carry out the attack, eye witnesses said.
Several local politicians died in the blast including the Dondra Pradeshiya Sabha chairman Linton Abeydeera (35), who married last October. He had told his wife that politics was not a safe profession and that he would contest the Provincial Council elections just one more time and then start his own business.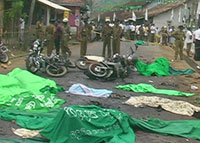 The scene of death and destruction. Pix by Krishan Jeewaka Jayaruk
Matara Municipal Council member I.H. Sirisena Thudawe, who also works as the Coordinating Secretary to non cabinet Minister Chandrasiri Gajadeera, left for the ceremony skipping his breakfast assuring his wife that he would return home by 3 p.m. to attend an alms giving at a friend's place. He too fell victim to the blast.
Among those dead were Kamburupitiya Pradeshiya Sabha Deputy Chairman Thikal Wijesekara, Akuressa Pradeshiya Sabha Deputy Chairman Upali Sarachchandra, Thihagoda Pradeshiya Sabha member Saman Beddage, Akuressa Pradeshiya Sabha member Anura Wickramasinghe, Weligama former Urban Council member Mohamed Sally Musly Hajiyar ,Kapila Hettiarachchi, the Cordinating Secretary to Minister Chandrasiri Gajadeera, Ayurvedic Doctor Anurudda Waidyathilleka, Mohammad Hajiyar, and Mohamed Naushad from Galle.
A popular mosque
By Krishan Jeewaka Jayaruk
The Godapitiya Jumma mosque is one of the oldest mosques in the country, with a history of 150 years.
The mosque is frequented by followers of other religions too because of the popular belief that if offerings were made to the mosque, those responsible for various misdeeds, including thefts could be found out.
People who lose cattle and other valuables are among those who call over at the mosque and participate in a ritual known as 'Casi Kapanawa' or offering of coins.
A family shattered by two cruel blows
SI Geishan Fernando (40) bid goodbye to his wife early last Tuesday promising that he would return before sunset, but it turned out to be their last goodbye.
"We heard on TV there had been a bomb explosion at the function attended by Minister Mahinda Wijesekara. We tried to get information on Geishan since we knew he would have been standing very close to the minister as his police guard," Geishan's elder sister, Calista Coorey said.
Geishan had been the youngest in a family of four and had left his home town Moratuwa to settle down in Colombo close to St. Peter's College for the convenience of his sons who are studying in Grade 6 and 3. "We asked Wathsala, Geishan's wife and the two sons to come to Moratuwa before we started trying to find out about him but all we got were snatches of information. So we thought of going to Matara ourselves to find out about him," Calista said.
However, before they did so, a friend of Geishan phoned and informed the family of his death. "My mother couldn't bear the shock. One and a half hours after hearing the news of his death she passed away," Calista said tearfully.
Agnes Coorey (78) had been bed-ridden for some time and her youngest son Geishan had visited her the day before the blast and had talked about channeling a doctor for his mother.
Geishan's youngest son, Rashod, had been oblivious of his father's death till the body was brought home. "He thought everyone was crying because his grandmother had died. But when he saw his father's body his grief became uncontrollable as both sons were very attached to their father," Calista said.
"Normally, all three of them waited till Geishan came home to have dinner however late he got because they were so attached to him," she explained.
The sons now scan all the newspapers they come across to check whether any photographs would have captured the final moments of their beloved father, she said.
Randil was Amma's favourite
Randil Sandaruwan, the personal security officer of Minister Mahinda Wijesekara, (who was critically injured in the blast), died on admission to the Matara hospital having suffered serious injuries in the bomb explosion. On hearing of his death, his mother has fallen ill.
| | |
| --- | --- |
| | |
| The popular good looking Randil | A mother who cannot bear the pain |
Randil had been standing close to Minister Wijesekara when the bomb went off and was conscious when he was put into the car with the minister to be rushed to hospital. However, unfortunately, he was taken out of that vehicle due to lack of space and had been sent to hospital in another vehicle that came that way.
D.G.K. Pradeep, Randil's elder brother said Randil had asked "Will I die machang" from the people in the vehicle, on his way to the hospital. "The doctors took him to the theatre to operate and after sometime they came out and said that they did their best but there were severe internal damage so hopes of survival were minimal," he said.
"We all gathered around him when he was wheeled out of the theatre. He looked at us all but I don't think he recognized anyone. He asked for some water from me twice but before we could give him any he died," Pradeep said in tears. Randil, the youngest in a family of three sons, had been the favourite of his mother. His mother Prema Kaluarachchi is finding it hard to come to terms with the death of her son, who was planning to get married soon.
"My mother and Randil were very attached to each other and took care of each other. This sudden death is a shock to all of us, but for my mother it has been too much to bear," Pradeep said. "He was tall, good looking and well built as he did body building. He was in addition a wonderful human being. The loss we feel cannot be described," he said.