Vankalai, in the Mannar district, with its numerous bird species has been declared a sanctuary by the Department of Wild Life Conservation (DWLC), a first in the area since the armed conflict erupted in the north several decades ago.
Very rare migrants: Exclusive photographs of the Spot-billed Mother Duck with a gaggle of ducklings and a couple at Vankalai captured by Kithsiri Gunawardena
This sanctuary, partly a Wetland, comprises Puliyantivu island, Tiruketiswaram, Pallimunai, Vankalai and the strips of land on either side of the causeway connecting the island of Mannar to the mainland. Covering about 4,800 hectares, it consists of arid-zone thorn scrubland and pastures, waterholes and tanks, sand dunes, mangroves, salt marshes, lagoons and sea-grass beds and maritime grasslands.
The sanctuary declared through a Gazette notification dated September 9, 2008, follows recommendations of the Ceylon Bird Club which has worked tirelessly towards making this a reality.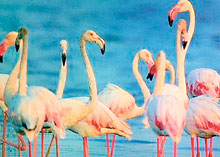 Greater Flamingos by Gehan Rajapakse
Many birds including the very rare migrants the Spot-billed Duck, the Comb Duck and the Gadwall; the rare migrant Long-toed Stint and the uncommon migrants the Peregrine Falcon, the Common-ringed Plover, Temminck's Stint and the Red-necked Phalarope have been spotted at Vankalai, says Ceylon Bird Club Committee Member Udaya Sirivardana as has also the very rarely recorded 'Eastern' Black-tailed Godwit.
Explaining that the Spot-billed Duck may have crossed over from South India, he says that the Ceylon Bird Club has in its possession valuable photographs providing proof that it is in fact breeding in the Vankalai area. A recent rare photograph (see above) taken by a Ceylon Bird Club member shows a mother duck with a gaggle of ducklings behind her at Vankalai. Only about five Spot-billed Ducks had been spotted in the half century before 2003.
Thousands of migrant birds arrive in Sri Lanka, making landfall in the Mannar region including Vankalai. Similarly when leaving the country at the end of the season, they use Vankalai as their last staging point, according to Mr. Sirivardana.
The Ceylon Bird Club has recorded 149 species of birds at Vankalai, keeping numerous records and meticulous notes, going into the area with the cooperation of the army.
Pointing out that at one given time the Ceylon Bird Club has recorded many thousands of birds of one kind, Mr. Sirivardana says that in 2003, it has a record of 5,000 Greater Flamingos being there while the same year there were 95,000 Northern Pintails, 5,000 unidentified ducks, 3,000 Black-tailed Godwits and 10,300 unidentified shorebirds.
Explaining that Vankalai has an abundant bird life because many people cannot venture there, the Ceylon Bird Club -- founded in 1943 by seven members including two of Sri Lanka's foremost ornithologists, G.M. Henry and W.W.A. Phillips -- calls upon the DWLC to continue to protect the area once normalcy returns as it was once notorious for duck shooting, although it is prohibited.
Laws will have to be strictly enforced to protect this area of great ornithological value, says Mr. Sirivardana, adding that with this record number of birds, Vankalai may qualify to be declared a Ramsar site.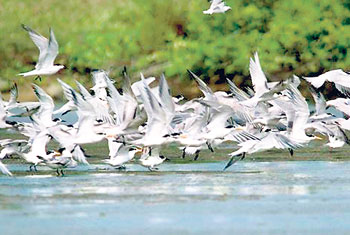 Large-crested Terns caught in mid-flight by Palitha Antony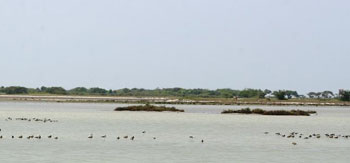 Shorebirds at Vankalai by Kithsiri Gunawardena